Steak around
How about some sizzle with that steak? You'll get it-and more-from the slabs of USDA prime beef coming out of the kitchen at Cliffs Steakhouse.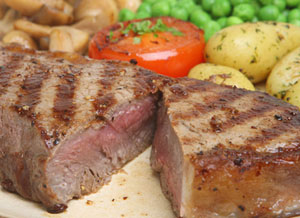 How about some sizzle with that steak? You'll get it-and more-from the slabs of USDA prime beef coming out of the kitchen at Cliffs Steakhouse.
Run by the same folks who bring you next-door neighbor Café Italiano, this cozy restaurant serves its steak (and veal and lamb, all aged 21 days) on super-hot plates bubbling with butter. It's a nod to the Peter Luger tradition-you'll even find a bacon strip appetizer, another Luger signature. But while the Brooklyn institution is known for its brusque service, here at Cliffs the attention is expert and amiable all the way.
Upon our entrance on a too-chilly-for-spring evening, the staff spontaneously offered to light the fireplace for us, a warm gesture indeed. At the conclusion of our meal, brandy on the house made for a toasty bookend.
And in between we indulged in a top-notch meal. Three juicy seared scallops-one on a piece of puff pastry-were served with a delicate sweet-acidic sauce that complemented the seafood perfectly. The scallops were one of the dishes of the day. (Listen up for these specials-the ones we tried were different and delightfully robust departures from the standard steakhouse menu.)
And so were the trenette, homemade spaghetti-like pasta. Al dente yet tender, the noodles were coated with a silky and aromatic white truffle sauce. And although we ordered a tasting portion, it was so big it could easily have fed two.
We opted to forgo the sides (mainstays like creamed spinach, broccoli and baked potato) and accompanied our entrées with a salad. Made with roasted fresh beets, beefsteak tomato wedges, red onion, lively greens and goat cheese, it was a tangy, refreshing medley that cut the "heaviness" of the meat.
Now, about that meat: It's good … damn good. Don't expect any grace notes with your entrée-order steak (we went for the cowboy rib eye), and steak (on that sizzling plate, don't forget!) is what you'll get. Ditto for other meats, like the milk-fed veal chop, our other selection. While the cowboy was mighty impressive-thick, tender with just enough fat and no sinew-it could have used a bit more char. Lacking was the great crust that makes for a smoky bite. Still, its flavor was rich and full-bodied, and there certainly was no use for the steak sauce (which tastes a lot like cocktail sauce).
Like the cowboy steak, the only thing the veal required in the way of seasoning was salt and a few grinds of fresh pepper-no surprise, since the chop was wonderfully buttery, with all the subtle flavor and succulence of the best quality meat.
What about options for non-meat eaters? They abound too, with fish (salmon, tuna, Chilean sea bass) and various pastas on the menu.
And don't be afraid to ask for special orders: As long as the ingredients are on hand, the kitchen happily obliges. Before the time came for our goodbye brandies, we had to have dessert. The carrot cake fell just shy of the mark (more Philadelphia in the cream cheese frosting, please!).
On the other hand, the pistachio gelato was pitch-perfect: not too sweet, creamy, with a good amount of nuts-the perfect prelude to our sorry-to-see-you-go snifters.
Cliffs Steakhouse
18 Sylvan Avenue, Englewood Cliffs
201-944-0233
www.cliffssteakhouse.com
Hours
Monday through Friday, noon-10 p.m.
Saturday and Sunday, 5-11 p.m.
What you should know
Steaks average $35
Full bar
Reservations suggested
Takeout available
Handicapped-accessible
All major credit cards accepted