Step Lively
A well-designed staircase can elevate a home to a whole new level.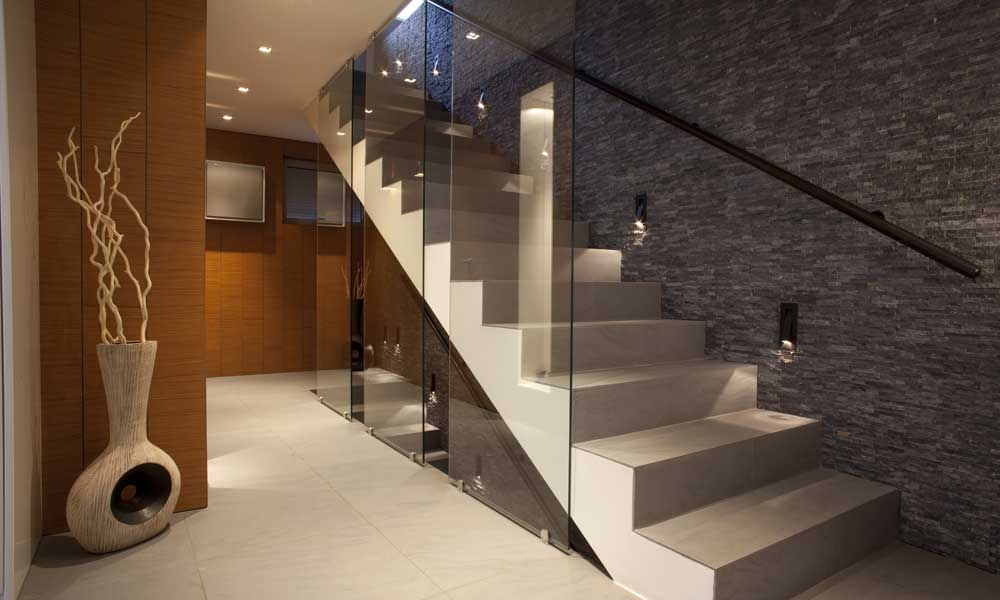 Have a tight spot for your staircase? "Open the opposing wall as much as possible," says Diane Durocher, owner of Diane Durocher Interiors in Ramsey. Step lights and glass can help too. "Glass in lieu of a wall allows light into the area and adds style and elegance to the space," says Fred Cannon, a designer with Greenbaum Interiors, which has locations in Ridgewood and Paterson.
"A sweeping curved staircase makes a dramatic statement in the main foyer," says Durocher. And its aesthetic appeal can be further enhanced by "installing beautiful newel posts, balusters, runner and trim work."
If you're trying to squeeze stairs into a small area, a spiral staircase is a sophisticated space saver. Just remember to consider the rise of the stairs. "You don't want it to feel like you're climbing a ladder," says Cannon.
The way the stairs flow from one level to the next is an important element of a grand entrance, according to Cannon. "There is nothing more wonderful than a beautiful curved staircase," he says.
There are several ways to "dress up" a wooden staircase. Says Cannon: "You can vary the railing. Use an iron railing, for example, or gold leaf."
A staircase is easily enlivened with the addition of artwork and accessories. "If you have a landing or other open area, consider adding furniture, a seating area and art to create a vignette. That adds visual interest and can be utilitarian too," says Camille Waldron, owner of Camille Waldron Interiors in Franklin Lakes.