Stretch Your Limits
Thanks to a new fitness craze, you don't have to be a bunhead to achieve a ballerina-like body.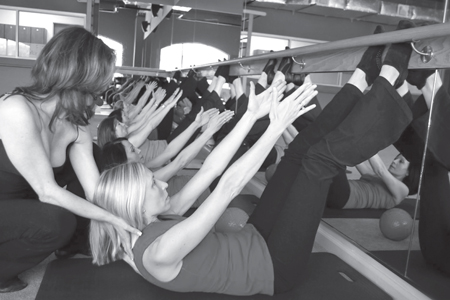 If you've ever longed for a dancer's lithe figure, you may want to consider trying a ballet-based workout class. These programs are marketed under different names—including The Bar Method, CoreFusion and Pure Barre—and promise to strengthen muscles, work the heart and lungs, boost stamina and increase flexibility without putting undue stress on joints.
That promise was enough to get Shannon Albarelli interested. A friend in San Francisco suggested she take a class, and she was hooked. "It's unlike anything else out there," she says. "It really does reshape your body." In fact, she was so enthusiastic about the workout that she opened her own studio, The Bar Method, in Montclair in 2011.
Individual studios may take slightly different approaches, but all involve very small, highly controlled movements, using the body's own weight to tone and strengthen. A combination of weight training and stretching, the process generally begins with free weights; then moves to the ballet barre for stretches targeting the legs, bottom and abs; and finishes on the floor with mat work. The aim is always the same: to tone and elongate the muscles. To achieve that, Albarelli explains, "we take the muscles to the point of failure." It's not uncommon for muscles to shake with near-exhaustion—in fact, it's a sign that you're doing the workout correctly. Yet while the process is demanding, it's not dangerous. "All of our exercises were studied by physiologists and physical therapists. They're totally nonimpact, and they can be modified for any age and for injury," Albarelli says.
Given all of its benefits—which include improved posture and a boost in energy and mental clarity—it's not surprising that the method's star is in the ascendant in the U.S. If you had to, you could no doubt sum up the regimen's appeal in a sentence: If you want to look like a dancer, you have to work out like a dancer.
barre crawl