Summer Safety
A doctor's advice on preventing children's playground injuries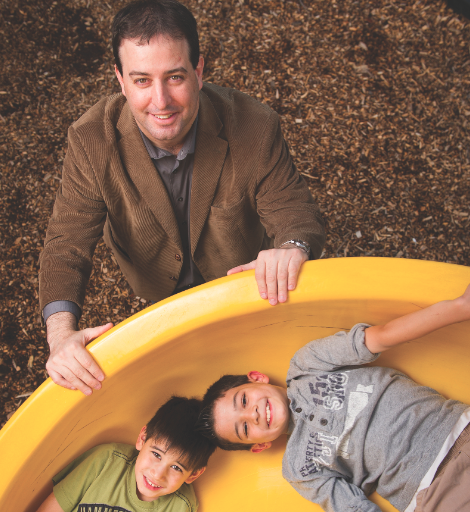 Summer means many fine things, but one not-so-fine thing for pediatricians is an increase in kids' outdoor injuries. More than 8 million children age 14 and under visit emergency rooms across the country each year for playground-related injuries, says Kyon Hood, M.D., assistant medical director of the Pediatric Emergency Department at The Children's Hospital at Saint Peter's University Hospital. "Half of our patients this spring came in because of injuries," he says, "and most of those occurred on public playgrounds."
Dr. Hood reports that one-third of these injuries were considered severe —bone fractures, joint dislocations, concussions and internal injuries, for example. "The majority are caused by falls, especially from climbing," he says. "The monkey bars are the biggest culprit."
You don't want to discourage children from playing, says the doctor. Its benefits far outweigh the risks. But to help lower those risks, he suggests:
Choose the right playground. Most are built for specific ages, with smaller, safer equipment for preschoolers who are less coordinated, he says. "Keep older kids off the smaller playgrounds. Older kids can injure the younger ones by knocking them over."
Avoid hard surfaces. Playgrounds built on concrete, grass and soil are too hard. If possible find a newer playground with a synthetic rubber surface 6 to 8 inches in depth, to cushion falls. For your home playground, put sand or cushioning rubber chips down over the ground.
Have children remove dangerous clothing. Anything that can get tangled, like hoodies with strings, scarves, jewelry and purses, could cause strangulation or an injury to an arm, leg or finger. Don't let kids wear them while playing.
Don't give kids helmets. It may seem counterintuitive, but Dr. Hood says the straps can get caught on equipment
as a necklace or scarf can. On a playground, especially a soft-surface one, helmets create more hazard than they reduce.
Pay attention. "The main key is supervision, especially with kids age 5 and younger," says the doctor.
The Children's Hospital at Saint Peter's new, state-of-the-art Dorothy 
B. Hersh Pediatric Emergency Department is ready to treat any child injured while playing, says Dr. Hood. "Any time parents aren't sure what to do after a child's injury, they should follow up with their children's physician or come to the ER," Dr. Hood says. His staff of pediatric emergency medicine specialists are always available for advice, support and, if necessary, treatment. —D.L.