Summer skin savers
You know all about UVA and UVB rays, but are you doing all you can to protect your skin from summer's dangers? Not if you're like most of us, say local dermatologists. When Bergen Health & Life asked them for tips for summer-proofing your skin, here's what they advised: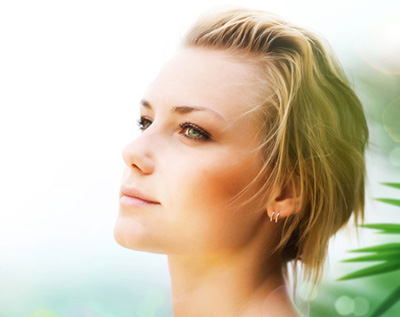 Check your meds-and your perfume too. Certain medications (such as some anti- depressants, blood-pressure drugs and antibiotics), prescription retinoids (like Retin-A) and over-the- counter retinol products can cause photosensitivity, an increased likelihood of burning with sun exposure, so check with your doctor. There's a similar problem with certain fragrances (such as bergamot and musk), which can cause a burn-like reaction in the sun. (So can citrus fruits if they touch the skin.)
Eat skin-friendly foods. Research on the protective benefits of eating antioxidant foods rich in beta-carotene and lycopene (in tomato paste) and beta-carotene supplements shows they may afford skin some natural protection, equal to about SPF 2 or 3. "Don't count on it to provide your main protection from the sun," warns Gary Brauner, M.D., a dermatologist who practices in Tenafly and New York City. "But it's a good idea for one's overall health to eat a diet rich in antioxidants anyway."
Don't skimp on sunscreen-or miss spots. Sure, you put on sunscreen. But most people don't apply enough (it should be an ounce, or enough to fill a shot glass), don't reapply often enough (every two hours) or don't cover every exposed area, according to Rebecca Baxt, M.D., a Paramus dermatolo- gist and assistant clinical professor of dermatology at New York University Medical School. Most-often-missed places: the tops of the feet, the back of the neck, the part or any exposed skin on the scalp, the ears and the lips.
And don't even think about skipping the SPF on cool, cloudy days. "Up to 80 percent of ultraviolet rays can penetrate through clouds," explains Sharon Scherl, M.D., Tenafly dermatologist and chief of dermatology at Englewood Hospital. 4Pamper your pores. If you're oily or acne-prone, opt for a lightweight gel sunscreen (lookfor the words "oil-free" and "noncomedogenic" on the label). Swipe skin with a salicylic acid toner or witch hazel to remove pore-clogging oil and dead skin cells before applying sunscreen.
Beat body breakouts. These can happen when sweat and oil get trapped against skin by tight-fitting exercise gear made from synthetic fabrics. To prevent body acne, wear loose-fitting clothing made from natural fibers or moisture-wicking materials. Shower after exercising with a body wash containing 2 percent salicylic acid or 5 to 10 percent benzoyl peroxide. (If breakouts persist, see a dermatologist, who can prescribe a stronger acne medication.)
If you've got acne, beware the sun. "Tanning slows down the skin's natural sloughing process, so pores can become clogged more easily," explains Dr. Baxt. "Skin may temporarily look better with a tan, but within a few weeks, the breakouts often return and worsen." According to Glen Rock dermatologist Sharon Galvin, M.D., tanning can also cause skin hyperpigmentation, or a dark spot left behind after a blemish heals. "People think of them as acne scars, but they don't realize that sun expo- sure makes them much worse."
Banish bugs with B-6. If you're the person the mosquitoes always attack first, try taking two or three times the recommended dose of vitamin B-6 each day, suggests Dr. Baxt. "It causes your sweat to emit an odor that people can't detect, but that insects don't like. It's harmless-whatever your body doesn't use is safely excreted out of your system." In addition, use a product with the lowest concentration possible of the insect repellent DEET, or a non-DEET repellent like citronella (found in Avon's Skin So Soft). If you're hiking or camping, you may wish to use a higher percentage of DEET (Dr. Brauner recommends 30 percent). Whichever product you use, spray it on your clothing instead of directly on your skin, and avoid perfumes and fragranced shampoos, soaps and lotions, as they attract insects.
Smart sun fashion
A Few Savvy Choices Can Help Your Skin
For your head: "Look for a hat with a wide, circular brim that goes all the way around," says dermatologist Gary Brauner, M.D. "A baseball cap only covers the top half of your face."
For your face: A pair of sunglasses, the bigger the better. "Big frames cover more of the orbital area around the eye, which is also susceptible to sun damage," says Tenafly dermatologist Sharon Scherl, M.D.
On your body: Wear a cover-up over a bathing suit (a darker color shields skin better than a lighter color). Consider wearing a swim shirt while in the water, because water magnifies UV rays by about 25 percent. Some cover-ups and swim shirts even have SPF built right into the fabric. (For a DIY version, check out RIT's Sun Guard Laundry Aid, a product that imparts a SPF 30 to your clothes when added to the wash cycle.)
Of course, no one wants to cover up head-to- toe in summertime. Just do the best you can, advises Dr. Scherl. "A long-sleeved shirt is better than a short-sleeved shirt, but a short- sleeved shirt is better than nothing!"