Summer Soup
A refreshing recipe for watermelon gazpacho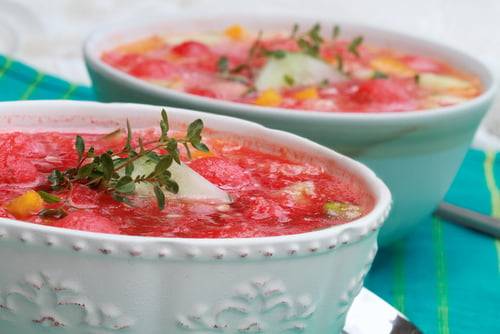 Those who attended our Best of Morris/Essex Party & Expo last spring may remember this deliciously refreshing soup, served by Mitchell Altholz, Executive Chef of the Highlawn Pavilion in West Orange. We loved it so much that we asked Altholz to share the recipe with you.
INGREDIENTS
1 small red seedless watermelon, peeled and diced
1 red bell pepper, seeded and diced
1 English cucumber, peeled and diced
8 leaves of shiso (green perilla, a Japanese basil found at Asian markets)
1 Tbs. sherry vinegar
1 pinch cayenne pepper
Kosher salt and pepper to taste
Goat cheese for garnish
PREPARATION
Peel and dice watermelon and cucumber.
Seed and dice bell pepper.
Combine the first four ingredients in blender, strain.
Stir in the sherry vinegar, salt and peppers to taste.
Chill for at least one hour, then serve in clear glass soup cups and garnish with basil and goat cheese.
Chef's tip: It's best if made a day ahead to allow flavors to blend together.
Serves 4
Related Read: Jersey Tomato Gazpacho