Summer's Backyard Bummers
A doctor explains six hazards that can strike right on your own property—and what you can do.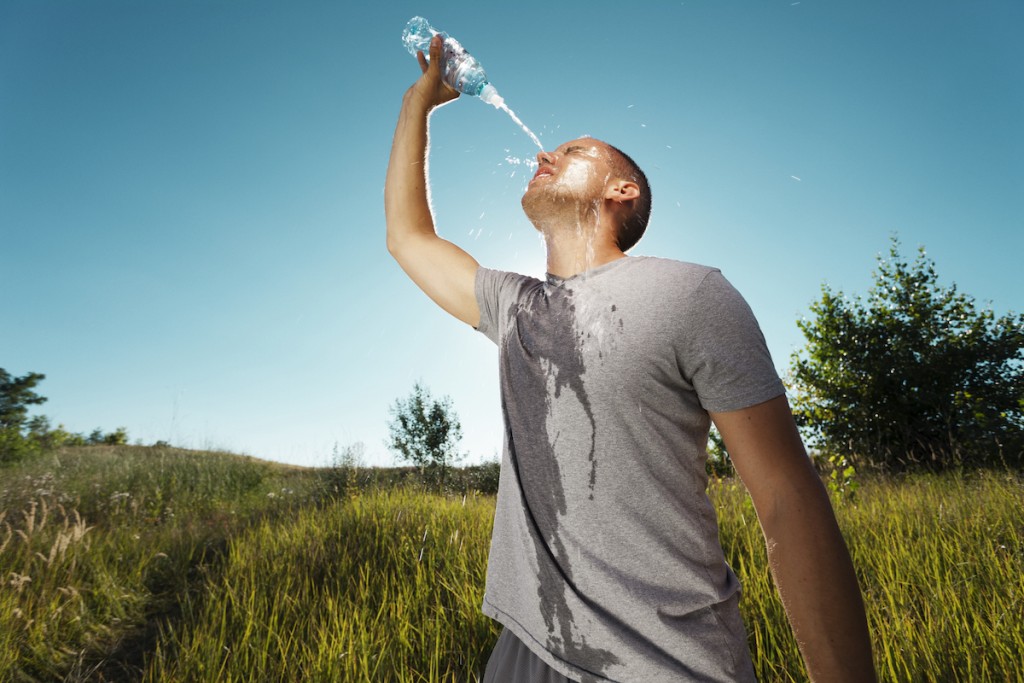 You wait all year for the joys of summer: family time, long weekends, beach getaways and barbecues with friends. But unfortunately, this season is also associated with dangers that can threaten your health—in your own backyard. So BERGEN chatted with Erika Tievsky, D.O., an internal medicine physician at Valley Medical Group in Paramus affiliated with The Valley Hospital, to learn what to do about six outdoor dangers.
Bug bites or stings
During New Jersey summers, we commonly see insects such as ants, bees, wasps, ticks, mosquitoes, spiders and gnats. The easiest way to prevent bite and stings is to wear a bug spray containing DEET (diethyltoluamide), which Dr. Tievsky says is most effective and safest for the skin. Protective clothing such as lightweight, long-sleeved tops and pants is recommended when you're going outside, as is avoiding heavy perfumes, which can attract these bugs. If you get bitten, "a mild local reaction would be described as discomfort/pain, itching, redness, warmth and swelling of the area," says Dr. Tievsky. But she adds that you should go to the ER immediately if you experience a generalized rash that within minutes develops into angioedema (swelling of the skin in the face, tongue, throat/voice box) or disorientation, dizziness or nausea/vomiting.
Firepit or grill accidents
S'mores-making and steak-grilling can quickly go from fun to dangerous if your firepit or grill isn't handled properly. The best way to avoid burns is to use a firepit or BBQ grill only in a clear area without overhangs or trees, and always to make sure adults are attending to it. Dr. Tievsky notes that you run the risk of infection with even a moderate burn, so if you're burned (even if you're in doubt whether it's serious enough), go to a doctor or hospital so that you can receive fluids and antibiotics. "We usually use topical silver sulfadiazine to prevent infection," she says. Mild burn wounds can typically be treated at home with gentle soap and water.
Food poisoning
Food spoils faster in the heat; that's why this problem is more common in summertime. Symptoms of food poisoning include abdominal pain, nausea/vomiting and diarrhea, which can be hard to distinguish from an ordinary stomach bug. "In food poisoning, symptoms generally start from two to six hours after ingestion of contaminated food, whereas with gastroeneritis, symptoms may begin as long as 24 to 48 hours later," Dr. Tievsky says. Unless you're severely dehydrated and light-headed, most cases of food poisoning can be treated at home with Pepto-Bismol. (But avoid Imodium, which can mask infections in these cases.) "The most important goal here is to rehydrate and supplement with electrolytes such as coconut water or Gatorade," notes Dr. Tievsky.
Heat Exhaustion
Hydration is always the goal in the summer. "Scheduling water drinking is strongly recommended, especially in children," says our expert, who says general guidelines recommend drinking three to eight ounces of water every 20 minutes for 9- to 12-year-old children and 34 to 50 ounces per hour for adolescents—even more during activity. This is in an effort to avoid heat exhaustion, which the doctor describes as "an elevated core body temp between 98.6 and 104 degrees Fahrenheit in the setting of a known heat exposure." Symptoms in adults include nausea/vomiting, sweating, headache, fatigue, dizziness, severe thirst and at times very mild confusion, which eases within 30 minutes of treatment. Tend to heatstroke quickly by lying down in an air-conditioned room and by consuming salty fluids to restore the lost electrolytes, says the doc.
Lawn-mower accidents
Many precautions should be taken if you mow your own lawn, including "wearing heavy shoes, not mowing a wet lawn, never pulling a running mower backward and always keeping children and pets away from the lawn when mowing it," says Dr. Tievsky. Even a minor superficial mowing-related injury should be treated; flush the wound thoroughly and apply topical antibiotics to prevent infection. More serious injuries, however, usually require surgical intervention, she notes, to repair tendon damage and to deep-clean and suture wounds.
Swimming pool mishaps
No matter how good a swimmer your child may be, youngsters of all ages require supervision while swimming in a pool—a fence around it to prevent kids from falling in isn't sufficient. And aside from the obvious drowning risk in children, adults too are prone to pool-related accidents, such as swimmer's shoulder, which can involve cramping or other muscle injuries; and swimmer's ear, an infection in the ear that's often caused by water remaining in the ear canal after swimming. To help prevent swimmer's ear, "avoid swimming in dirty bodies of water, and carefully clean your ears with a cotton swab (only on the outer area) after swimming," Dr. Tievsky advises. As for symptoms that indicate when to go to the ER after a swimming-related injury? "Signs include persistent fevers, excruciating pain and decreased range of movement," she says.