Summertime Sweets
Chill out and enjoy the last few weeks of summer with any—or all—of these perfectly refreshing frozen treats.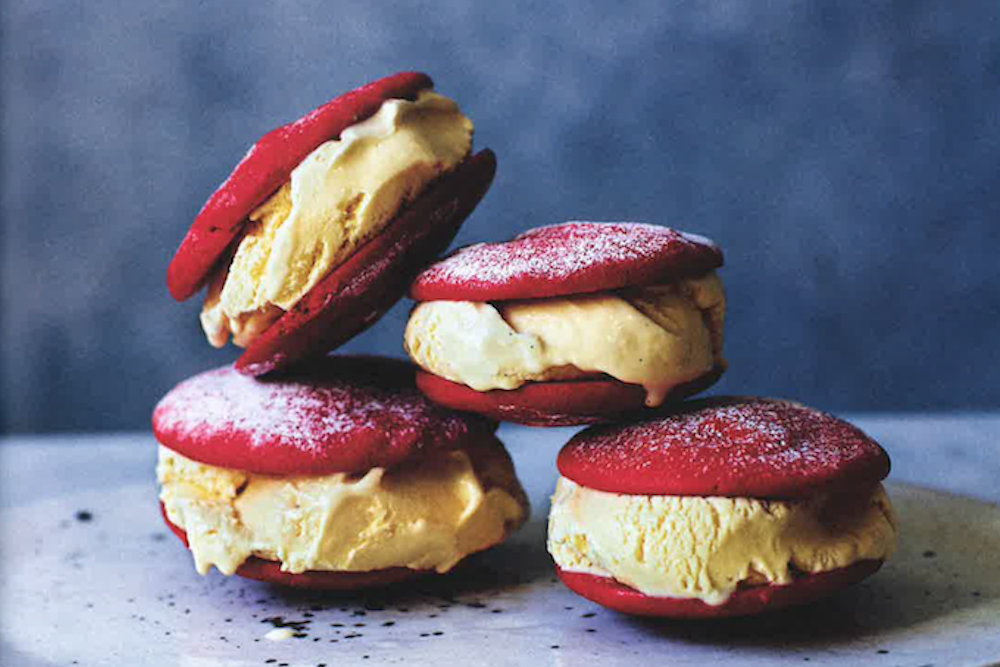 Red Velvet Ice Cream Sandwiches
Yields: 8 servings
Ingredients
2¾ oz. unsalted butter, softened
4½ oz. soft light brown sugar
1 medium egg
1 tsp. vanilla extract

½

tsp. baking powder
6 oz. plain flour
2 fl. oz. buttermilk
1 Tbs. good quality red food coloring
pinch of salt
8 scoops vanilla ice cream
icing sugar, for dusting
Directions
Preheat the oven to 350°F and line three baking trays with baking parchment.
Put the butter and sugar in the bowl of a food processor and beat for 3 minutes until light and fluffy. Add the egg and vanilla extract and beat until well-combined. Add the baking powder. With the machine on low speed, beat in the flour and buttermilk alternately. Finally, beat in the food coloring and the salt.
Spoon the batter into a piping bag fitted with a ½-inch plain nozzle. Pipe the batter onto the lined baking trays to form 16 large circles, roughly 2¾ inches in diameter. Leave a 1½ inch space between them as they will spread upon cooking.
Bake for 16-18 minutes or until they are puffed up and spring back to the touch. Cool on the baking trays. Remove the ice cream from the freezer and allow it to soften for 4-5 minutes before scooping and sandwiching it between each pair of biscuits. Gently press together with your hands before serving, and dust with icing sugar.
Tip: These sandwiches can be made in advance and returned to the freezer. Simply remove from the freezer 5 minutes or so before serving.
"Who doesn't love red velvet and ice cream? Combining two favorite treats and flavors brings dessert to the next level and will impress guests at any event you're hosting."
—Kara Schnaidt, owner, Kara Kakes, Franklin Lakes

Black and Blue Freak Shake
Yields: 4 servings
Ingredients
6 oz. blueberries
1 Tbs. water
1 Tbs. clear honey
6 scoops blackberry ice cream
12 mini meringues
additional handful of blueberries and a few blackberries
silver balls (optional)
Directions
For the compote, put the blueberries, water and honey into a small saucepan and cook over low heat for 5-6 minutes, stirring intermittently, until the berries burst. If needed, lightly mash with a masher until most berries have been crushed. Remove from the heat and set aside to cool.
To assemble the sundaes, spoon 1-2 Tbs. of compote into the base of each sundae glass. Build up alternate layers of ice cream, meringues, compote and blueberries, finishing with a scoop of ice cream, a couple of meringues and some berries. Sprinkle with a few silver balls, if using, and serve immediately.
"Top this shake with chia, flax seeds or cacao nibs to add crunchy texture and nutrients to this recipe. You can also use ice cream made with organic milk for added health benefits."
—Jane Mun, executive pastry chef, Ciel Dessert, Westwood

Watermelon and Strawberry Granita
Yields: 8-10 servings
Ingredients
1 unwaxed lime
3

½

oz. golden caster sugar
7 fl. oz. water, room temperature

½

watermelon, peeled, deseeded and cut into chunks (approx. 11 lbs. 10 oz. flesh)
9 oz. strawberries, hulled and halved, plus extra to decorate, if desired
Directions
Thinly pare the rind from the lime and put it in a small saucepan with the sugar and water. Squeeze the lime juice into the pan. Bring to a boil and simmer for 6-8 minutes until the volume is reduced roughly by half to make a syrup. Remove from the heat, and set aside to cool to room temperature before removing the lime rind.
Put the cooled syrup, watermelon chunks and strawberries in the bowl of a food processor and pulse until smooth. Pour into a shallow baking dish (ceramic or metal—a metal one will freeze fastest) and spread the bright red pulp evenly. Transfer to the freezer and freeze the mixture until the edges begin to set, for about 30- 35 minutes. Remove from the freezer and use a fork to scrape and break up the frozen portions. Freeze again, scraping and breaking up the granita every 20-30 minutes until it resembles fluffy shaved ice—the total time will take 2-4 hours.
Serve the granita in bowls or glasses, decorated with strawberries, if using.
"Before using the lime peels, clean them by rubbing them with coarse salt and rinsing off the salt with water. Then pass the peels through a fine mesh strainer before putting them into the saucepan for better texture in your granita."
—Jane Mun, executive pastry chef, Ciel Dessert, Westwood