Super Bowl
Stop sipping your breakfast from a cup. Prepare this sweet, nutritious smoothie in a bowl, and eat it as you would cereal—with a spoon!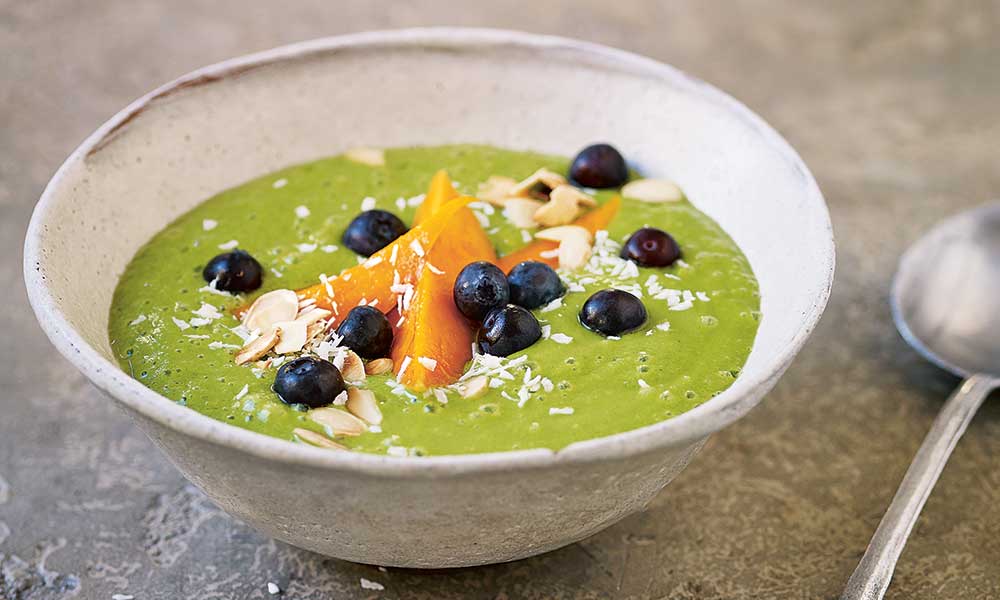 Coconut, Mango and Spinach Smoothie Bowl
(Gluten-free, vegan, raw)
Serves: 1 to 2
Ingredients
For the Smoothie Bowl:
1 cup frozen mango chunks
½ ripe avocado, peeled
2 heaping Tbs. coconut yogurt
1 heaping tsp. coconut oil
2 pitted Medjool dates
1½ cups spinach leaves
Juice of ½ lime
1 tsp. spirulina/chlorella or hemp powder
½ cup plant milk
Blueberries, fresh mango slices, sliced almonds and shredded coconut, to serve
For the Plant Milk
1 cup oats or nuts (almonds, cashews, hazelnuts or pistachios), soaked
2 cups of water
Directions
To make the plant milk (about 2 cups), blend the oats or soaked nuts and water until it turns milky. If making oat milk, do not over-blend as it will impair the texture. Pour the mixture through a strainer or pour into a nut milk bag set over a bowl and squeeze out the liquid until only pulp remains in the bag. The milk is best fresh but will keep in the fridge for three to four days.
Place the frozen mango pieces in a food processor or blender along with the avocado, coconut yogurt, coconut oil, dates, spinach leaves, lime juice, spirulina and plant milk of your choice. Blend until completely smooth and serve in a shallow bowl with the fresh mango, a handful of blueberries and a sprinkle of sliced almonds and shredded coconut.
"Plant-based milk is a great substitute for dairy, especially in smoothie bowls. It not only adds flavor and thickness to dishes, but it also lacks potentially harmful hormones, which can trigger lactaid allergies. With the variety of plant-based milk on the market, there is an option for everyone's taste buds." —Rachelle Hammami, Chef, Kitchen Cafe, Westwood
Reprinted with permission from The New Vegan by Áine Carlin © 2017 Kyle Books, and photographs © Nassima Rothacker. No images may be used, in print or electronically, without written consent from the publisher.