Surprising Seaweed
Salty and versatile, this nutrient-dense oceanic green adds flavor to any recipe, or serves as a tasty stand-alone snack.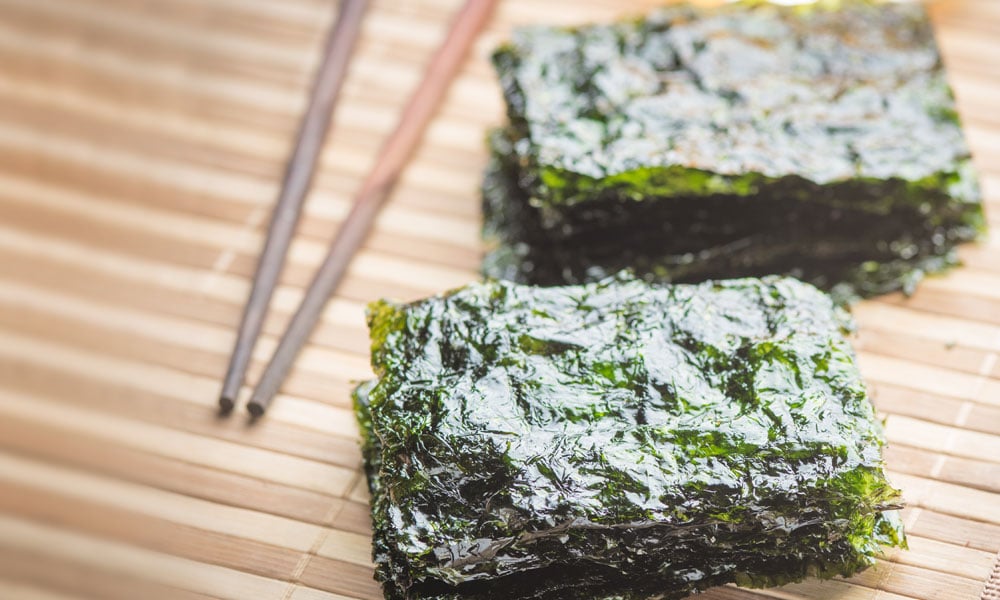 If you've ever picked seaweed out of your hair at the beach, you're probably not too thrilled at the prospect of the slippery, slimy sea vegetable appearing on your dinner plate. But bear with us: Edible seaweed, which comes in green, red and brown varieties, has a list of nutritional benefits as wide as the sea. And if you've ever eaten at a Japanese restaurant, you've likely already tasted it. Nori, the wrapper used to make sushi, is a seaweed of the red variety, and wakame, the salty green flakes you'll commonly find in miso soup, is a form of kelp, a brown seaweed. Other popular types include kombu (another form of kelp) and spirulina (an algae).
Power Up
Seaweed's benefits vary by type, but in general, it contains calcium, which promotes bone health; iron, which the body needs to create red blood cells (a 1/3 cup of kelp has more iron than spinach, kidney beans or apricots); and it's rich in fiber, specifically in alginate fiber, which can prevent your body from absorbing fat and leads to a more full feeling, helping to fend off obesity. Kelp has 22 percent of the recommended daily allowance (RDA) of potassium, and 15 percent of the RDA for magnesium. It also is a rare vegetable source of vitamin B12, beneficial to those on a vegan diet. Spirulina, often sold in powdered form, is rich in omega-3 fatty acids and protein, chlorophyll and has more antioxidants than blueberries.
Furthermore, seaweed is a dietary source of iodine, with the brown variety containing the highest levels. Iodine deficiency can lead to dysfunction of the thyroid, which controls your body's metabolism, and some believe consuming iodine (and seaweed, in general) may help prevent breast cancer. A 2012 study published in Journal of Applied Phycology suggested that high consumption of seaweed in Japan has led to a lower incidence of breast cancer in the country compared to Western nations.
Buy/Store/Serve
Common types of seaweed are available at most supermarkets and Asian marts, and it is usually sold in dried form. Those concerned about pollution in ocean water can seek out products sold by Maine Coast Sea Vegetables, a sustainable and organic sea vegetable farming company, which tests its sea vegetables for heavy metals and other contaminants.
Eat nori by making sushi at home (you can stick to vegetable rolls, such as cucumber-avocado or sweet potato if raw fish makes you nervous). It can also be shredded and added to salads or soups, or baked and eaten as a snack. Kombu is often used in Japan to make a broth known as dashi, which can be used as a base for soups and offers a boost of "umami" (savory) flavor. Wakame can be rehydrated and eaten as a seaweed salad, with sesame oil, rice wine vinegar, sesame seeds and a variety of vegetables.
Not crazy about that saltwater flavor? Get your sea veggie fix by adding spirulina to fruit smoothies or juices for an added boost of protein and antioxidants.
For those less adventurous in the kitchen, seaweed can also be consumed in the form of snack crisps available at specialty grocery and health-food stores.
Did you know?
In The Essential Good Food Guide, author Margaret M. Wittenberg explains how seaweed led to the discovery of the element iodine. It happened by accident when a Frenchman named Bernard Courtois was attempting to make gunpowder. Courtois used burned kelp to extract sodium carbonate, needed as an element for the powder. "When the characteristic violet-colored vapors we now know to be iodine rose from the mixture," she explained, "he quit the saltpeter industry and spent several months investigating the chemical reactions and properties of the newly discovered element."
Where to find it
Searching for seaweed varieties like nori, kelp, wakame, spirulina or kombu in northern New Jersey? Check out The Fresh Market in Montvale, The Market Basket in Franklin Lakes, ShopRite (multiple locations), Stop & Shop (multiple locations), Trader Joe's (multiple locations) or Whole Foods in Edgewater.