Surprising Ways to Aid Healing
Alternative medicine can be effective in improving health outcomes when integrated with standard medical treatments.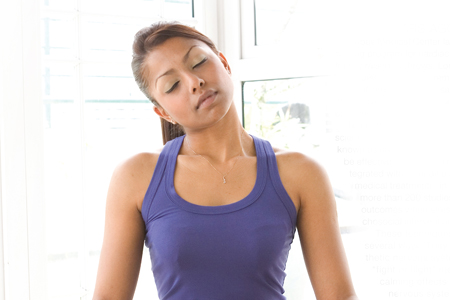 Eleven years ago, when Saint Barnabas Medical Center launched a new "holistic" healing program for cardiac surgery patients, the idea frankly raised eyebrows. Lorraine Ernst, R.N., lead holistic nurse coordinator, remembers the day one of the medical center's doctors saw her coming with her array of "complementary" services and grumbled, "If it were up to me, I wouldn't have you care for my patients."
Today, the grumbling is over. In the past decade, scientific research has shown that holistic healing, also known as complementary or alternative medicine, can be effective in improving health outcomes when integrated with—not as a substitute for—standard medical treatments. In cardiac care, for example, more than 200 studies have shown improved outcomes when stress-management and psychosocial interventions are included in treatment.
These techniques support the body in several ways. They can relax the sympathetic nervous system, the anxiety-inducing "fight or flight" mechanism, and allow the calming effects of the parasympathetic nervous system, which is responsible for the rest and repair of the body, to take over. They enhance immunity by coaxing the brain to activate the body's natural defenses. And they can stimulate the endocrine system, which governs hormones that influence stress, pain and anxiety, to release endorphins, a body chemical that can improve mood.
All these effects can result in lower blood pressure, reduced pain and—as a result of patients feeling better—shorter hospital stays. "Now that same physician who disapproved before is very happy to see us," Ernst says. "We get a lot more support."
The holistic healing program now extends to all areas of Saint Barnabas Medical Center. There are three full-time holistic nurses on staff along with one half-timer. These nurses, who are specially trained to care for cardiac and other patients using complementary medicine and therapies, offer these services to anyone who wants them. "Having the support of the whole hospital is awesome," Ernst says.
Saint Barnabas also recently added a new service: a "comfort cart" stocked with herbal teas, aromatherapy oils, music and guided imagery CD s and other comforts that patients and their families can use—they can even take the CD s home, compliments of the staff.
"We probably see about 20 patients a day, five days a week," Ernst says. "Sometimes it's just a five-minute 'Hi, how are you?' Sometimes we treat patients' family." The holistic nurses even help hospital staff with a twice-a-week meditation class. "There has been a really wonderful response to that," she says.
The "shining star" of the program, says Ernst, is the pet therapy. Specially trained therapy dogs "do everything from making you smile to lying alongside you for comfort. We had a boy in our burn 'step-down' unit who was very restless and couldn't calm down. A dog came in and he pet it with his burned hand for a moment, then fell asleep. It was incredible." The dogs are allowed in intensive care units like the burn unit; "if you follow infection-control regulations they are not a problem," she says. "There has never been an infection caused by a dog here."
A recent grant approval has let the medical center expand this program to offer training to certify dogs for therapy. The training, which takes one day per week for six weeks, does not cost the owner anything. "We currently have about 24 dog-and-handler teams," Ernst says. When a therapy dog walks the halls, staff, visitors and patients all stop to pet it, and everyone feels better. "Dogs bring an energy or presence that a patient connects with," she adds. "I have had patients who talk to the dog, not the nurse."
"We know that curing is not always possible, but healing can always happen," she says. "People feel better or more comforted because of these therapies, and they create a healing environment. In some ways the body knows how to heal itself; we just need to help it." —david levine
Holistic healing therapies at Saint Barnabas
Breathing meditation. Focusing on the breath promotes healing and relaxation, enhances immunity and helps clear the mind and reduce stress and anxiety.
Guided imagery. This therapy helps decrease anxiety and stress by using the imagination to promote physical changes that enhance the body's natural healing abilities. It also is used to foster positive,empowering thoughts to help patients regain a sense of control over their lives.
Pet therapy. Studies show that by stroking animals or simply being with them, patients can experience lower blood pressure and reduced stress.
Reflexology. This practice is based on the notion in traditional Eastern philosophy that qi (pronounced "chee"), or life energy, which flows through the body along pathways called meridians, sometimes becomes blocked. Practitioners say that by applying pressure to the soles of the feet, which have pressure sensors that respond to different parts of the body, the therapist unblocks the flow of energy and stimulates the release of toxins.
Reiki. Reiki (pronounced "ray-key") means universal life force. This hands-on therapy, developed by a Japanese Buddhist in 1922, is said to support internal healing and promote rest and relaxation by channeling the flow of energy through the palms.