Surviving Breast Cancer
Three Bergenites share their personal stories of diagnosis, treatment—and hope.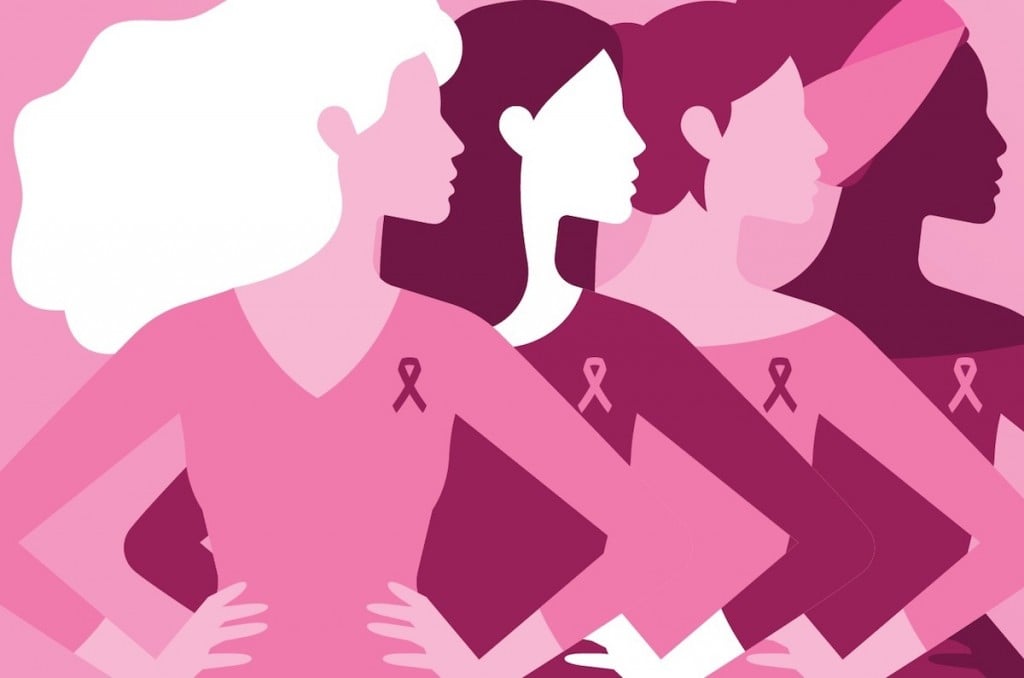 The numbers are jarring. According to the National Cancer Institute, every 12 minutes a woman in the U.S. dies from breast cancer, and one of every eight women will be diagnosed with the disease at some point in her life. Even men face a 1-in-833 lifetime risk of getting breast cancer. But as grim as those statistics sound, there's another side to the story.
The disease's overall death rate has decreased by 1 percent per year from 2013 to 2018, says the nonprofit organization breastcancer.org. That promising sign is attributed to better treatment and earlier detection. And what empirical data doesn't show is the positive impact of hope, the words of encouragement from supporters and survivors that tell patients they are not alone. To commemorate Breast Cancer Awareness Month this month, BERGEN spoke to three breast-cancer patients, each of whom shared a story of adversity, resolve and courage.
Never Too Young
Samantha Idan, 31, Englewood
Diagnosed: July 2019
Cured of childhood cancer (Wilms tumor) around age 5, Idan knew that she was twice as likely than others to get a new cancer as she grew older, but she didn't realize it would happen in her 20s. In summer 2019, Idan was in Israel dressing for a friend's wedding when she happened to feel a lump in her right breast. She went on to enjoy the wedding, but when the then-28-year-old returned home, she found that her nipple was also inverted and immediately did more research. "I read that if [a lump is] coupled with an inverted nipple, you should be checked," she says. Her worst fears were confirmed: A subsequent ultrasound, mammogram and biopsy were positive for breast cancer, and that wasn't all. She told her oncologist she had "some radiating back pain, and she immediately sent me for a CT scan, which confirmed I had metastasis to my bones." Diagnosed with triple-positive stage IV invasive ductal carcinoma, Idan recalls "thinking that I was weeks or months from death."
After discussing options with her breast oncologist, Idan chose the most aggressive treatment: six rounds of high-dose chemotherapy, followed by a bilateral mastectomy with lymph node removal in January 2020. After three months of healing, she began 40 rounds of radiation—30 to her upper right chest and the remainder to spots along her spine, iliac bones and sternum. "The recovery for this was pretty difficult for me both mentally and physically because so much pressure is put on women to be a certain way or look a certain way," she says. The last of the "active" treatments was administered in June 2020, and she's been on maintenance treatment ever since. The mother of one has also had follow-up surgeries: A kyphoplasty (in which a special cement is injected to restore the position of damaged verterbrae) to relieve back pain was done in September 2020, and her ovaries and fallopian tubes were removed in August 2021. "While this was not necessary from a cancer standpoint, it was necessary for my mental health," she says. "For most of treatment, but especially during chemo, I went into survival mode, or robot mode as I refer to it," Idan recalls. "This wasn't a decision I made or a coping strategy but more a way of my brain protecting me from the flood of feelings. I would go through the weeks and months, and they all felt like they blurred together. I did what the doctors told me to do when they told me to do it, and somehow made it through."
"The emotional aspect of this is still hard for me to talk about because I haven't figured it all out," says Idan. "But that's OK. because there is no guidebook or instruction manual. I take it day by day and am thankful when I wake up to see another one."
It's a Guy Thing Too
James Keegan, 73, Northvale
Diagnosed: December 2019
Something just wasn't right when Keegan's wife, Pat, felt a hard, pea-sized lump in his left breast in early May 2013. Believing it was neither an ingrown hair nor a pimple, the then-64-year-old father of two contacted his primary care physician, who ordered a mammogram that came up inconclusive. But a biopsy performed the same day was positive for early-stage breast cancer—a disease Keegan knew little about, particularly in men. What he and his wife did know was that he would have to treat it immediately. "Many men have an 'I'll deal with it later' attitude, but it's the first time I acted on something so fast," Keegan says. So, by late May, Keegan (who had been laid off from a full-time job a year earlier and was still seeking new employment) had already consulted two surgeons before having a mastectomy to remove his left breast and several lymph nodes. When tested, the nodes revealed that the cancer had not spread beyond the original location. In addition, a genetic exam for the BRCA1 and BRCA2 genes came back negative.
Keegan's post-surgery treatment included a year of targeted chemotherapy, which concluded in August 2014, and a switch to a healthier lifestyle. Overweight when diagnosed, Keegan started a balanced diet en route to losing almost 80 pounds. He also learned to de-stress through exercise and activity; he believes the pressure of being unemployed may have contributed to his cancer. And at the same period Keegan was on track toward better health, he finally had time and felt better to talk to others about his battle—and helping educate other men about breast cancer.
"Initially, we only told our sons and closest friends about my disease," says Keegan, now 73. "Having a disease commonly associated with women can leave a man with a sense of humiliation, and almost everything out there about breast cancer addresses women having it. But there's nothing to be embarrassed about." To reverse that, Keegan works closely with Making Strides Against Breast Cancer, Real Men Wear Pink and the Male Breast Cancer Coalition, among other groups, to raise awareness. "In joint efforts, we will end the stigma of men getting breast cancer and ultimately make more men's birthdays happen."
Good Genes No Guarantee
Beth Ann Bernaldo-Lamboy, 50, Saddle Brook
Diagnosed: December 2019
This mother of three had been a model of ideal health up to age 48. She was at a healthy weight, didn't smoke and had neither a family history of nor any genetic markers for breast cancer.
"I kept up with regular mammograms and got ultrasounds too," she says, adding that an ultrasound in June 2019 came back clear. But five months after that test, Bernaldo-Lamboy, a clerical associate at Hackensack University Medical Center, noticed what she described as a "dimple, a subtle indentation on the side" of her left breast during a self-examination. By December, a series of diagnostic mammograms, ultrasounds and other tests came back positive. Rather than a lump or mass, an MRI revealed cancer that was growing in strands toward the back of the breast, making it difficult to detect by touch.
"I cried for five minutes," she recalls, "but gathered myself and then called my husband, who freaked out. I knew I had to navigate through it, think of my next steps and be proactive. Being in healthcare for 20 years, I knew how to get things done."
Bernaldo-Lamboy opted for a double mastectomy, performed in February 2020, "for my own sanity," she says, because cancer in her right breast "could've happened later," and she didn't want to go back for a second operation. Following the procedure, she required six weeks of radiation to ensure the cancer was eliminated. "Because of COVID, my husband couldn't join me for treatments—that part was surreal," Bernaldo-Lamboy says. "He was upset and scared, but I had to be positive for him and my kids."
Reconstructive and cosmetic procedures followed, as did a bout with the coronavirus, but Bernaldo-Lamboy says she is almost as good as new—she currently deals with and manages lymphedema in her left arm. The condition, marked by swelling, is a known risk when multiple lymph nodes are removed, but Bernaldo-Lamboy recognizes that the outcome could have been worse.
"You have to be in tune with your body," she says. "My dimple was subtle, but I knew it wasn't right. If you see something, don't be afraid to ask your doctor. Remember, it's not always something that you can feel. And if you're not comfortable with a response, you shouldn't be afraid to push and advocate for yourself."
---
Busting 5 Breast-Cancer Myths
Separating fact from fiction has become increasingly difficult because of rumor mills fueled by both word of mouth and online discussions. Knowing the truth, however, is imperative when it comes to one's health, and seeking advice from a medical professional is still the best course of action. BERGEN spoke with Jill Morrison, M.D., medical director and breast cancer specialist at Englewood Health's infusion center and partner at Hematology Oncology Physicians of Englewood, who debunked five common myths associated with the disease. Here's what we learned:
Myth 1: I will not get breast cancer because it does not run in my family.
While having a family history of breast cancer puts a person at higher risk of developing the disease, "the BRCA gene only amounts to around 5 percent of all breast cancer cases," Dr. Morrison explains. "The vast majority, about 95 percent, are sporadic cases." Those who do carry the gene mutation are more likely to develop breast cancer, she adds, stressing the need for early testing among those who have a family history of the disease. Families often share the same environment, lifestyle and food—factors that can make people more susceptible to developing cancer.
Myth 2: Breast cancer always develops first as a lump you can feel.
A self-examination or visit to a doctor's office can reveal the presence of a lump, but breast cancer doesn't necessarily start from something you can feel. "We can only feel certain abnormalities: How deep the lesion is and the shape of the breast can determine whether we feel a lump," Dr. Morrison says. Mammograms as well as ultrasound and MRI are the best tests for early detection, as radiologists can determine of calcifications are suspicious or benign. "Testing can also find nodules and lumps that are smaller than what fingers can feel," she adds.
Myth 3: Breast cancer only occurs in older, middle-age women.
According to the National Cancer Institute, a woman's likelihood of developing breast cancer increases as she ages (2.4 percent of women age 50 to 60 years will get it, compared with 0.49 percent for the 30-to-40 bracket), but that doesn't preclude others from getting the disease. "It is a disease of the aging population; however, breast cancer in the younger patients is often more aggressive," says Dr. Morrison, noting that she has seen patients as young as 16 and many others in their 20s. "There's no such thing as being too young to have breast cancer. As the environment changes, so too is the age in which people get it." Though there are fewer cases, men can develop breast cancer too—roughly 2,700 new cases each year, according to the American Cancer Society. "We test and treat men exactly the way we test and treat women," she says, reminding everyone, men and women, who has a family history to get evaluated.
Myth 4: People who live a healthy lifestyle will not get breast cancer.
An individual who follows a balanced diet, exercises regularly and is in general good health decreases his or her chances of developing breast cancer, but do- ing so doesn't eliminate the possibility. "We still don't know all the reasons how and why breast cancer can start, so we can't rule anyone out," Dr. Morrison says. "A non-smoker, for example, can still develop lung cancer. So the best thing you can do to avoid breast cancer is to decrease the risk and odds, and that's by being health-conscious and getting tested regularly."
Myth 5: Wearing a bra or using birth control leads to breast cancer.
Wearing a bra or using antiperspirants do not lead to the development of breast cancer. "None of the localized issues are associated with risk—there is nothing that people can do to their body in this way that can lead to breast cancer," Dr. Morrison says. The use of birth control and reproductive support products boost estrogen, a hormone that the Susan G. Komen Foundation states is linked to increased risk of breast cancer in women after menopause. "We are concerned about that," she says, but the medications themselves have "never been proven to increase risk of breast cancer."