Tables Under the Stars
Warm summer nights in Morris County beckon you outside to enjoy the sunset, the breezes and-of course-dinner.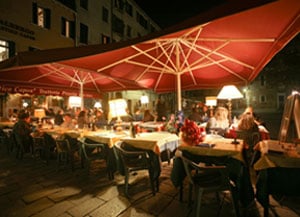 Warm summer nights beckon you outside to enjoy the sunset, the breezes and-of course-dinner. Happily, several Morris County eateries offer the experience you crave.
Alice's Restaurant in Lake Hopatcong serves up American-style cuisine along with a lake view from its breezy deck (973-663-9600, www.alicesrestaurantnj.com).
Or savor the evening air with the cracked olive tapenade-crusted Atlantic salmon at Morris Plains' Tabor Road Tavern (973-267- 7004, www.taborroadtavern.com).
Redwoods Grill & Bar in Chester (908-879-7909, www.redwoodsgrillandbar.com) offers delights from a wood-burning grill.
And since, as Hemingway wrote, The Sun Also Rises, enjoy a sidewalk breakfast at Doc's Kitchen in Denville, a perfect people-watching perch (862-209-1464, www.docskitchen.com).
Italian fare alfresco style is on offer at Benito's Trattoria in Chester (908-879-1887, www.benitostrattoria.com).
Or try fruitti di marre overlooking Lake Hopatcong on Pavinci Italian Grill's outdoor patio in Hopatcong (973-440-4300, www.pavinci.com).
Enjoy the signature branzini-sea bass baked in a sea salt crust and filleted tableside—and other Mediterranean treats at 202 Italian Bistro in Lincoln Park (973-709-0093, www.202italianbistro.com).
Enjoy live entertainment on the patios of Long Valley Pub & Brewery in Long Valley (908-876-1122, www.brewpubnj.com), and Caffe Navona in Rockaway (973-627-1606, www.caffenavona.com) which has jazz piano Wednesday through Saturday.