Take A Bite Out Of These Bergen Sandwich Shops
When a simple PB&J just isn't enough, a hero overflowing with meat, cheese and veggies will surely hit the spot. These delis will satisfy your cravings.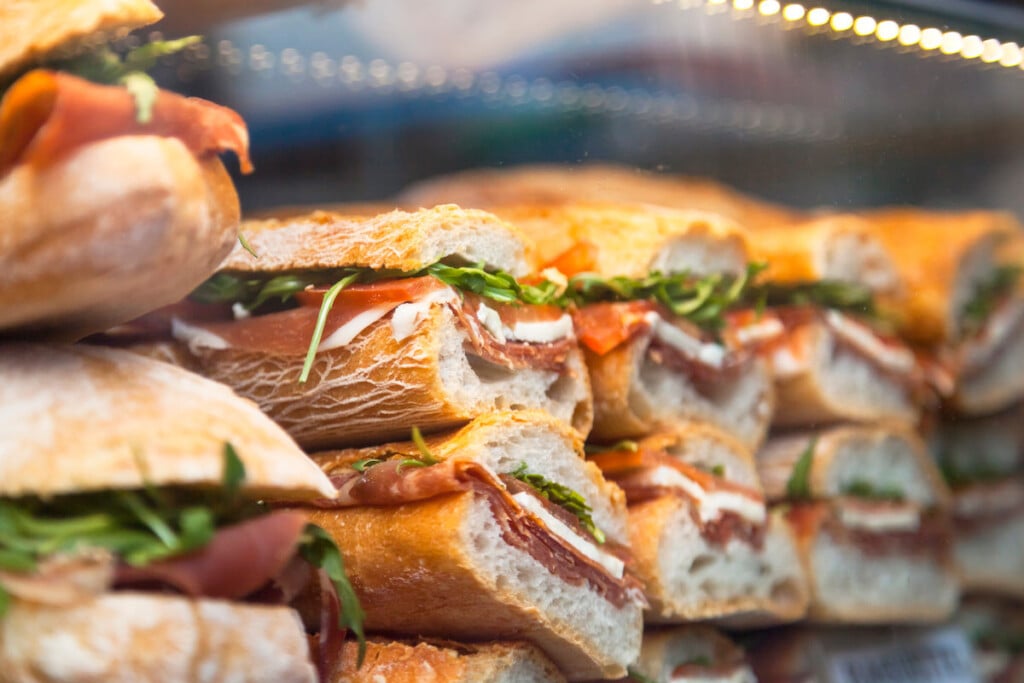 We all know Bergenites do the best bagels, burgers and pizza in the world, but here's a lesser-known-but-just-as-important fact: Some of the tastiest sandwiches on the planet are also found in Bergen County.
It's true that summer's all about barbecue, but is there anything better than soft and chewy (or warm and toasty) bread stuffed with meats, cheeses and refreshing vegetables? Our taste buds agree that sandwiches are second to none when it comes to summer foods. Heck, they're great any time of year, particularly throughout August—National Sandwich Month and National Panini Month.
Below are eight of our favorite Bergen County sandwich shops, where you can find fresh bread with piles upon piles of delicious meats, cheeses and veggies. Whether it's midday, game day or a lazy summer day, a bite from one of these delis will leave you satisfied and craving more at the same time.
Anna Maria's Deli, East Rutherford. Thanks to its fresh meats, cheeses and bread, this Italian deli has gained a large following since moving into the neighborhood about four years ago. They'll pile high any meats of your choice, from porchetta and roasted chicken to prosciutto and imported tuna. Vegetarians can build their own sandwiches or select from more than a half-dozen specialty options.
*216 Hoboken Ave., East Rutherford, 201.438.7203
Bambino's Deli, New Milford. Locals stop in for showstopping salads and entrées, but the sandwiches are truly the stars. There are more than two dozen specialty heroes and hot heroes on the menu, including the belt-bursting Great Bambino (ham, capicola, mortadella, salami, pepperoni, soppressata and—if you can believe it—much more meat and veggies). Oh, there are more than a dozen "regular" sandwiches too if you prefer an old-school ham and cheese.
*1037 River Rd., New Milford, 201.836.3354
Cosmo's Italian Salumeria, Hackensack. Don't be fooled by the small size of this corner deli; their sandwiches fill big appetites. The old-fashioned menu board isn't overflowing with options like other eateries on this list, but each sandwich is guaranteed to be full of fresh meats and cheeses. Pro tip: Try the No. 4 (proscuittini, hot soppressata, hot peppers, provolone). Pro tip 2: Stop by the ATM across the street because Cosmo's accepts cash only.
*705 Main St., Hackensack, 201.342.8076
Denaro's, Dumont. This no-fuss deli has been giving customers exactly what they want since 1962: great sandwiches that are beyond basic yet aren't overly extravagant. Cold sandwiches like their ham, salami and provolone Italian combo or hot choices such as roast beef with gravy are fan favorites.
*128 Veterans Plaza, Dumont, 201.384.4441
Giannella's Subs, Glen Rock. Build your own sandwich or select one of this deli's signature subs. Choosing, however, will be a tough task, as the options seem endless. There's the Marilyn Monroe with roast beef, ham, Swiss cheese, slaw and Russian dressing; the hot Jackie Brown with deep fried turkey, Swiss, bacon and cranberry aioli and dozens of other choices. P.S.: Don't forget the disco fries.
*175 Rock Rd., Glen Rock, 201.445.4272
Nick's Sandwich Shop, Saddle Brook. Heroes, wraps, paninis, catering… this deli does it all. Fill your sandwich with virtually any cold cut variety, grilled meat or veggie, cheese and fresh sliced veggie for the perfect meal or go with one of their specialties. Our favorite for a summer afternoon is the "Garden" sandwich, which is filled with marinated and grilled eggplant, portabello mushroom, peppers, arugula and fresh mozz. Now that's refreshing!
*505 Saddle River Rd., Saddle Brook, 201.820.2496
Schreibers Deli, Oradell. Their regular menu has a variety of hot and cold sandwich options, including the famous triple-decker New Jersey sloppy joe and vegetarian selections. Remember to keep up with them on Instagram @schreibersdeli to see the daily specials on their always-changing "sandwich board."
*231 Kinderkamack Rd., Oradell, 201.262.0203
Ted's North Delicatessen, Paramus. This family-owned deli takes pride in serving the freshest sandwiches to both regulars and newcomers. Many consider it a go-to for a morning Taylor ham, egg and cheese, but the lunch crowd can't resist the sandwich offerings. Standards like turkey and cheese and BLTs are always good choices, as are Ted's specials such as "The Goomba" (prosciutto, fresh mozzarella, sun-dried tomatoes) and The Melrose Chicken (grilled chicken, Swiss, honey mustard).
*314 Spring Valley Rd., Paramus, 201.261.9599
What's your favorite deli or sandwich shop in Bergen County? Tell us on Instagram @bergenmagnj.