Take a Hike
Trails, tips and tricks for Bergen County nature lovers.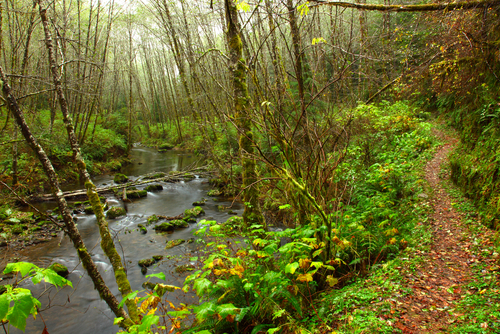 There's a wealth of options for first-time hikers and experienced outdoorsmen alike in Bergen. Trails range from flat one-mile walks to rigorous eight-mile treks that include steep uphill grades. Many of these courses will bring you upon swimming holes, waterfalls scenic vistas and historical markers. You can download or order maps of all the trails mentioned below and more throughout New Jersey from the New York-New Jersey Trail Conference (201.512.9348, nynjtc.org) or find a local hiking group at skylands.com.
Campgaw Mountain
Eight trails: Four moderate, Four easy
Rocky Ridge, Old Cedar Loop­—easy, 2.8 miles/2 hours. A more gradual ascent to the summit of Campgaw Mountain than other trails, this course provides an easier way for less-experienced hikers to savor the same scenery.
Hemlock, Indian, Old Cedar Loop—moderate, 3 miles/2 hours. This trek offers views of the New York skyline and Bergen County topography and allows leashed dogs so your pooch can enjoy the trail too.
Old Cedar, Dogwood, Gray Birch Loop—moderate, 3.5 miles/2 hours. Encompassing almost the entire park, this trail is mostly gradual with slightly challenging spots and takes you across bridged streams on your hike to the summit.
Palisades Interstate Park
11 trails: Two challenging, Five moderate, Four easy
Ross Dock to Englewood Boat Basin—easy, 3 miles/1 hour. This course includes wide, level paths that attract beginners, joggers and those looking for a scenic stroll.
Women's Federation Monument—easy, 2 miles/1.5 hours. Moderate slops and a "castle" at the end of the trail make this hike a must for slightly adventurous first-timers or hikers with children.
Peanut Leap Cascade—moderate, 4 miles/2 hours. Steep ascents can make this course challenging at times and make some previous hiking experience desirable. But streams, rivers and the ruins of an early 20th-century garden make for a memorable trek.
Ramapo State Forest/Reservation
13 trails: Three challenging, Eight moderate, Two easy
Ramapo Lake Loop—easy, 3.8 miles/2 hours. This mostly level trail wraps around the scenic Ramapo Lake and is ideal for families with young children and dogs.
Indian Rock Wanaque Ridge Trail—moderate, 4.2 miles/3.5 hours. After looping around Ramapo Lake, this trail takes you along the ridge of Ramapo Mountain and provides panoramic views at its highest points.
Schuber Yellow Silver Loop—challenging, 7.5 miles/4.5 hours. Passing through rarely-used parts of the reservation, this is for seasoned hikers. Along the way you pass waterfalls and reservoirs before reaching the summit and enjoying the panoramic Manhattan skyline.