Take A Lap In Luxury
As a Mahwah couple's tastes changed, they were due for a big splash—and a serious upgrade—in their backyard.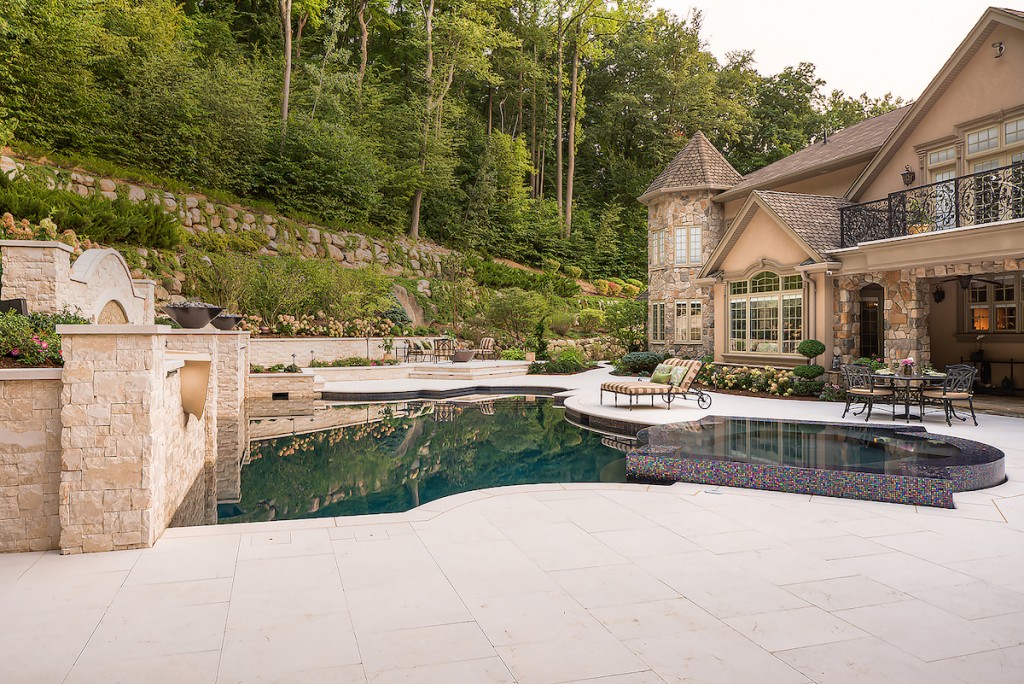 Styles and tastes had changed in the decade since a Mahwah couple had last touched the design of their backyard. She now preferred the clean and formal lines found inside their home, so the time seemed right to redo the existing free-form pool in the middle of the yard. Then the pandemic hit.
"We started work in 2020 before the pandemic," says Tom Flint of Waldwick-based Thomas Flint Landscape Design & Development, which was hired to remove the entire in-ground pool from the four-acre space. "At first, we didn't know if we had to stop and postpone everything, but fortunately we were allowed to work straight through—though we had to do it according to guidelines."
The pandemic and the resultant need to keep workers socially distant weren't the only obstacles facing Flint and his crew. For instance, they had to use caution while carrying equipment and materials so they wouldn't damage the 200-foot-long paver driveway with heating system. And when they reached the yard, gaining access to it wasn't simple either.
"We had to rip out the pool and patio and rebuild it going through a 12-foot passageway," Flint recalls.
To fit the new pool, a collaborative design effort between Flint and the homeowners, workers removed about 400 cubic yards of soil from a steep slope in the yard. Doing that allowed them to relocate the new pool a tad farther from the house than the previous pool. Moving it into the hillside allowed Flint to properly install one of the pool's main features, a big attraction for the family's three kids.
"They wanted the slide to be high enough so it's always fun," he says. "A lot of people get bored with [straight and short] slides and they end up never being used. This slide is 16 feet above water level."
The slide is built into a landscaped hill that's held back by a 12-foot wall reinforced by steel rebar. The wall is veneered with marble imported from Turkey, Flint notes, and features a half-dozen copper scuppers and two fire bowls that each spill water as well.
An infinity-edge spa, constructed from iridescent glass tile from Italy, was installed adjacent to the pool. Its dark color helps give the water's surface a mirror effect, while the specific location next to the pool was at the request of the homeowners.
"It was designed so you can sit in the spa and have a clear view of the TV in the covered area," Flint says.
The outdoor kitchen and bar—both retained from the previous design—were reworked and outfitted with the same luxurious Turkish marble. The same material was used for the patio.
"We custom-designed the patio pattern, giving each piece the same width but varied length," the designer says. "The marble doesn't get hot in summer, and the random pattern adds interest and keeps the design clean, just like the homeowners wanted."
"This was a good collaboration with the owners," Flint adds. "It wasn't their first design—they understand what it takes for a good design to work, and every detail is considered."
Text by Darius Amos
Design by Tom Flint
Photography by Adam Pass Photography