Tasty spaces
A local designer gives his Park Ridge restaurant a look that befits its acclaimed cuisine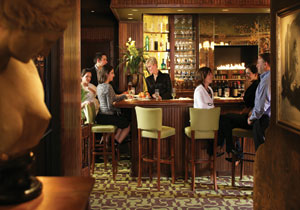 Etsy Street, Park Ridge
Designed by Philip LaBossiere Inc., Saddle River
The challenge: "The restaurant has always had a very fine food reputation," says LaBossiere, designer and co-owner of the Park Ridge eatery lauded for its creative, seasonal New American menu. "But it had become neglected and run-down. The atmosphere was no longer suitable for the quality of food prepared here." After buying the spot in 2008, LaBossiere launched a renovation that sought to add glamour while maintaining its cozy, neighborhood-like feel, all while addressing a longstanding problem: the small restaurant's often noisy acoustics.
Class action: "I wanted to give the whole place an elevated level of class," says LaBossiere of the supper club-inspired revamp.
To achieve this, he literally worked from the ground up, custom-designing a green-and-brown carpet and letting it define the color palette. Crystal candlesticks with lampshades sit on each table, while pinhole lighting from above sines down on diners: "The indirect spotlighting makes the whole table glow," says LaBoussiere. A floor-to-ceiling bookshelf evokes the inviting familiarity of a library, while an elevated fireplace flickers behind the bar.
Gettin' cozy: Fabrics help add warmth and subtract din: LaBossiere swapped out wooden chairs for chic upholstered ones, installed drapery for both style and function and covered parts of the walls in a rich brown corduroy. A dozen shaded wall sconces were added to make the space feel "more residential." Even the bathrooms match the vision: With marble counters and raffia walls, "they're really very glamorous," the designer says. The satisfying result: "People often comment on how comfortable it is to be here."