Ten Things We're Thankful For
Marking its first decade of publication, Morris/Essex Health & Life pauses to celebrate key attractions in our two counties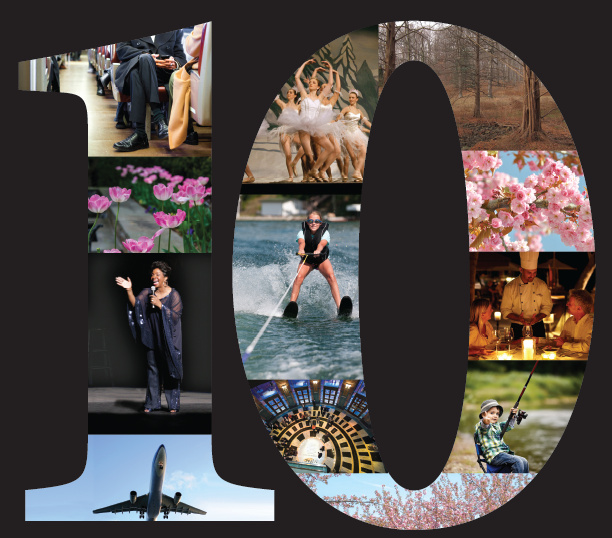 While recessions, hurricanes and elections come and go, this magazine goes on. This month, it proudly marks 10 years since it began publication as Morris Health & Life. (Essex county was added to its territory in December 2010.) Of course, a local publication is only as strong as the area it serves. Morris and Essex counties, home to nearly 1.3 million people, have given us a bounty of topics to cover and places to explore, so we decided to observe our anniversar y by celebrating our area itself. With the number "10" naturally top of mind, we've chosen 10 things for which we're especially grateful:
1. Newark Liberty International Airport
The New York area's first commercial airport and now its busiest in terms of flights, this onetime ugly duckling has morphed into a graceful swan, with AirTrain Newark, a free three-mile monorail system that runs 24/7-365, connecting terminals to each other, parking, rental cars and the convenient Newark Liberty Rail Link Station, where Amtrak and New Jersey Transit trains whisk travelers to New York, Philly and points between and beyond. The world is at our doorstep, and that doorstep is Newark Liberty.
2. New Jersey Transit's Morris and Essex lines
"Don't it always seem to go," Joni Mitchell sang, "that you don't know what you've got till it's gone?" Happily, these vital commuter-train lines to New York City were only temporarily gone— at presstime service had been restored post-Sandy, making it possible once again, for example, to zip from Montclair to the Herald Square area in 20 minutes via Midtown Direct.
3. The University of Medicine and Dentistry of New Jersey
Connecticut folk at football games can yell "Yale!", but what fun is that? Our Newark-based institution—actually a complex of eight prestigious healthrelated professional schools—has a name the mere pronunciation of which is no mean cerebral accomplishment. Seriously, it's the nation's largest health sciences university, leading the Garden State in National Institutes of Health awards and particularly excelling in diversity—it ranks third in the nation, for example, in medical degrees given to Hispanic students. (Next summer, UMDNJ will be merged with the state's Rutgers University, making its nomenclature simpler.)
4. Paper Mill Playhouse
This cultural gem in Millburn was originally an actual paper mill called the Thistle, built in 1795. It's been a theater since 1934, and its stage has featured June Allyson, Walter Pidgeon, Celeste Holm, Jane Fonda, Tony Randall, Carol Channing, Patrick Swayze, Anne Hathaway and scores of other top stars. The PM also runs afterschool and summer programs and gives scholarships to those looking to build careers in theater.
5. Mahlon Dickerson Reservation
With 32,000 acres of land, this is Morris County's largest park and a versatile destination for outdoors enthusiasts. It is home to Saffin Pond, which functions as a fishing site and an informal seasonal skating rink—it's a sight bikers, horseback riders and cross-country skiers can see from Mahlon Dickerson's 20 miles of trails. Here too are picnic tables and playgrounds, campsites and RV hookups.
6. Turtleback Zoo
Did we mention a 10th birthday? The counties' only zoological park is hitting the 50-year mark in 2013. It got a makeover in 2000, ditching antiquated cages for natural habitat areas—and it's the namesake of the neighboring rock formation whose basalt crystal pattern reminded the local Lenape Indians of a turtle's shell. Home to 275 species, Turtleback features peacocks that freely roam its 20 acres.
7. Lake Hopatcong
Having the state's largest freshwater lake cheek-by-jowl with Morris County means there's no need to trek down the parkway to enjoy the water. The lake has been a popular summer resort since the 1880s, and it's home to swimming, fishing, boating and waterskiing. There are lakeside restaurants— some reachable by boat—and if just one day here isn't enough, lakefront vacation rentals are available too.
8. Frelinghuysen Arboretum
These 127 acres near Morris Township include more than a dozen gardens, woodlands and meadows along with the mansion of the namesake family and an educational center. Self-guided tours along the trails are available, and the educational center hosts lessons, demonstrations, guided tours and special events about Morris County horticulture. Frelinghuysen is also a popular spot for local couples to say "I do."
9. New Jersey Ballet Company
For more than half a century this troupe and its partner academy, the New Jersey School of Ballet, have called Livingston home. The company tours the state every season and has also held national tours and performed in Russia. It strives to make ballet affordable for families, and some shows feature a special "storyteller" narration to help kids understand.
10. New Jersey Performing Arts Center
One of the largest such facilities in the U.S., Newark's NJPAC is home to the Grammy award–winning New Jersey Symphony Orchestra and will soon be the site of all of America's Got Talent's live episodes. Now completing its 15th season, it was established as a way to heighten education in and appreciation of the lively arts in the state. And with a regular symphony schedule and a roster of past performers that includes Bob Dylan, Jennifer Hudson, Hal Holbrook and Jerry Seinfeld, its record says, "mission accomplished."
Related Read: Best of Morris and Essex 2012