The Art of the Tart
It's not always a sweet dessert! Many tarts live up to their name with delightful savory flavors. They're easy to prepare and elegant to serve. Here's a trio you'll want to try.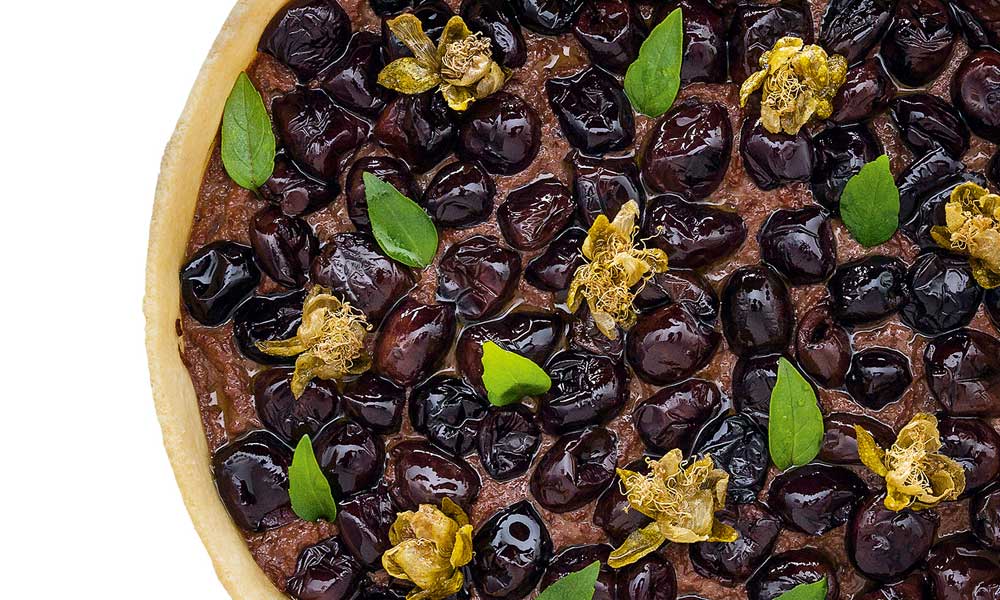 Nyons olive, tapenade and fried caper tart
Preparation: 2 hours, 15 minutes (for the tart dough) and 20 minutes (for the filling).
Rest: 1 hour.
Cooking: about 40 minutes.
Ingredients
1 recipe Savory Pâté Brisée (see below)
1/3 cup flour, for rolling out the dough
Tapenade
1¾ oz. anchovy fillets (about 12 anchovies)
2 cloves garlic, peeled
1 cup black olives, pitted
¼ cup chunk tuna in oil, drained
6 Tbs. capers
Juice of ½ lemon
½ cup olive oil
Topping
1 cup black olives, pitted
10 capers
A few leaves of dwarf basil
Directions
Preheat the oven to 300°F. On a floured work surface, roll out the Savory Pâté Brisée to 1/8-inch thick with a rolling pin. Place the dough in a buttered tart pan. Crimp the edges. Lightly prick the crust all over with a fork. Chill the prepared dough in the refrigerator for 1 hour. Prebake this tart base at 300°F for 8 minutes. Set aside to cool.
Soak the anchovies in cool water to remove the excess salt. Rinse the anchovy fillets. Run the tuna, anchovy fillets, capers, lemon juice, black olives and garlic through a food processor. Pass the mixture through a very fine sieve, then place it into a mortar and pestle it, adding olive oil bit by bit, until it becomes thick and smooth.
Bring the oven up to 350°F. Use a pastry brush to brush the tapenade over the tart crust, then sprinkle with black olives.
Bake at 350°F for 30 minutes. Meanwhile, fry the capers until they open.
Remove the tart from the oven and garnish it with the fried capers and a few leaves of dwarf basil. Serve immediately.
Savory Pâté Brisée
Preparation: 15 minutes.
Rest: 2 hours.
Ingredients
2 cups all-purpose flour
½ cup (1 stick) unsalted butter, softened
1 tsp. fine salt
3½ Tbs. water
1 egg yolk
Directions
Sift the flour onto the workspace. Add the softened butter, cut into pieces. Combine the flour and butter with your fingertips until you achieve a sandy consistency. Add the salt, water and egg yolk. Mix the ingredients until they are evenly combined. Bring the dough together into a ball. Wrap in plastic wrap. Chill the dough for 2 hours until it becomes firm.
Keep reading
Baby New Zealand spinach quiche »
Iberian chorizo and mozzarella tart »
Reprinted with permission from © Tarts: Classic and Contemporary, Sweet and Savory by Frédéric Anton and Christelle Brua, Rizzoli New York, 2016. Images © Richard Haughton.