The Best in Burn Care
For these dangerous injuries, treatment today is more effective than ever.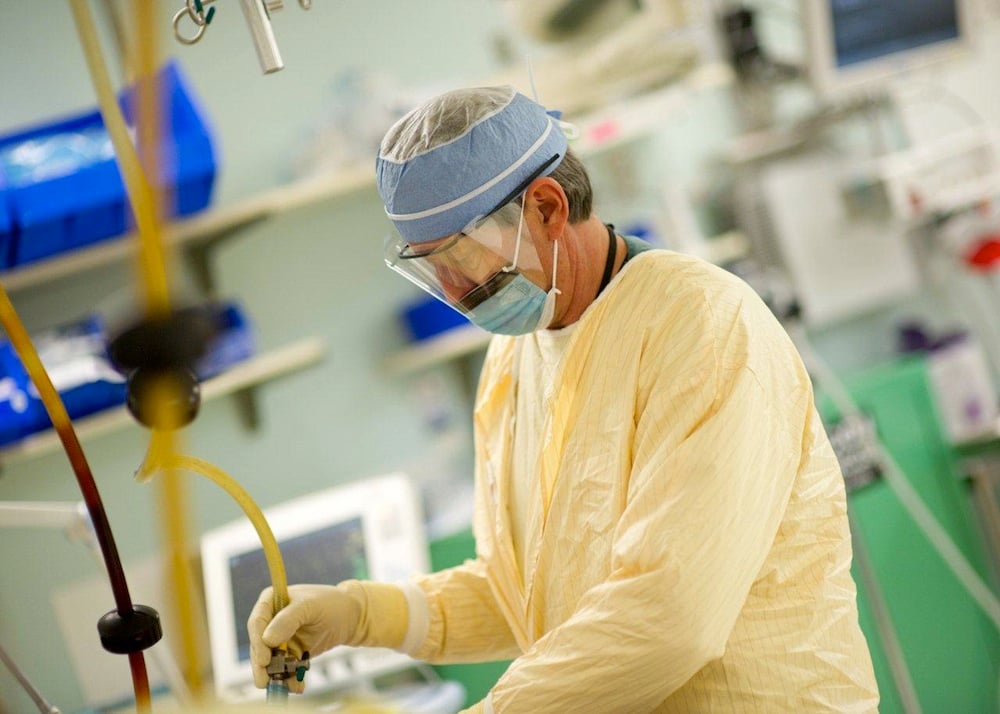 What's the oldest state-certified burn center in New Jersey? The Burn Center at Saint Barnabas Medical Center in Livingston—because it's the state's only such state-certified center.
Serious burns are relatively infrequent, but the care of severely injured victims is labor-intensive and highly specialized. Not every hospital can afford to devote the resources necessary to establish and maintain a top-flight burn unit. But Saint Barnabas Medical Center has done so since 1977. And Hani Mansour, M.D., was a witness to almost all of that history. He started as assistant medical director in 1981 and followed Frederick W. Fuller, M.D., as the Burn Center's medical director in 1988 until his retirement in 2013, when he was succeeded by Michael A. Marano, M.D.
"Each year, 350 to 400 burn patients are admitted to the center," says Dr. Marano. "Burn is a highly specialized disease, and one of most expensive to treat and care for."
Michael A. Marano, M.D., medical director of the Burn Center at Saint Barnabas Medical Center, confers with staff.
"Serious burns can affect the victim's physiology and psychodynamics," agrees Dr. Mansour. "All body organs and systems can be challenged. Care is medically and physically intense, demanding numerous hours—it requires higher-intensity care than even open-heart surgery."
Before 1977, Dr. Mansour says, people with major burn injuries were often referred to burn treatment facilities in New York City or Philadelphia. When Saint Barnabas Medical Center expanded and relocated its Intensive Care Unit in 1977, it established a separate, state-of-the-art Burn Treatment Unit. This unit was staffed by dedicated burn care–trained nurses, technicians, respiratory therapists, physical and occupational therapists, nutritionists and social workers. It included 10 burn-dedicated beds and, most important, a burn hydrotherapy room and a burn rehabilitation room. "Optimal burn care cannot be provided without these two specialized rooms," Dr. Mansour says. "Having these two rooms made Saint Barnabas unique in the state then—and it still does."
When Dr. Mansour joined the staff in 1981, it represented an enhancement of the center's burn expertise. "In those days, the people here were not burn experts; they were surgeons and plastic surgeons without specific postgraduate training in burn care," he says. The hospital decided to find a surgeon who specialized in burns. "I had trained in the U.S. Army in burn care. At that time, to meet the challenge of caring for Vietnam War veterans the Army had set up the most advanced burn center in the world. I was an Army burn surgeon for two years. Then Saint Barnabas called.
"In 1981 we had about 100 admissions a year, and by 1988 that was up to 300 to 400," he says. "But our patients were scattered all over the hospital. We needed to enlarge the unit to consolidate our patients." In 1992, with the significant support from the hospital administration, Dr. Mansour directed the development of a new state-of-the-art Burn Center, with 12 intensive care beds, 18 burn step-down beds for less intensive care, two hydrotherapy rooms and a larger burn rehabilitation room.
Today the Burn Center, led by Dr. Marano, is constantly bringing new technologies and new knowledge to the treatment of burns. "We have advanced ventilators to support patients with serious lung injuries, new antibiotics to fight infection, new biologic and synthetic skin products and new understanding of issues like nutrition," says Dr. Marano. "Without all these we would not have the same outcomes we have now."
One of the nation's largest burn units, the Burn Center is regularly inspected by the American Burn Association and the American College of Surgeons. It has a unique Comprehensive Burn Care Program extending from education in preventing burns to social reintegration of scarred burn victims after discharge from the hospital. It also has a Burn Medical Coordination Center set up for handling a burn mass casualty incident in case of disaster.
Patients are rushed to the Burn Center from all over New Jersey.
One recent advance, says Dr. Marano, is continuous renal replacement therapy. Renal failure is common in burn victims, and infection leads to organ failure, including that of kidneys, he says. "It is basically continuous dialysis," he says. "Before it was developed, anyone with kidney failure would die. Now many more patients survive."
There is an outreach Burn Prevention Program that provides community education not only on how to avoid burns but also on first aid and emergency care to prevent worsening of the burn wounds and the condition of the burn victims. Lectures are given in schools, nursing homes, emergency departments, fire departments and emergency medical services units.
Things have progressed since Dr. Mansour was a young physician in the 1970s, and nowhere more so than in the medical advances that have saved so many more burn victims than when he started. "In those days, for example, a patient burned over 40 percent of his body had only a 50-50 chance of survival," he says. "Now, nearly all of those patients survive. And with specialized rehabilitation and reconstructive surgeries, burn victims have enhanced recovery with less scarring and better functional capacity."
Looking to the Burn Center's future, current leader Dr. Marano has ambitious goals. "I'd like to see us do more clinical research," he says. "If we maintain the staff we have, expand a bit on our education programs and expand even more on research, I'll be very happy."
For immediate care or consultation with the Burn Center at Saint Barnabas Medical Center, please call 973.322.5924 or visit barnabashealth.org/sbmc.