The Bitter End
This traditional greyhound with a lavender twist will be the most refreshing (and prettiest) part of your Easter brunch.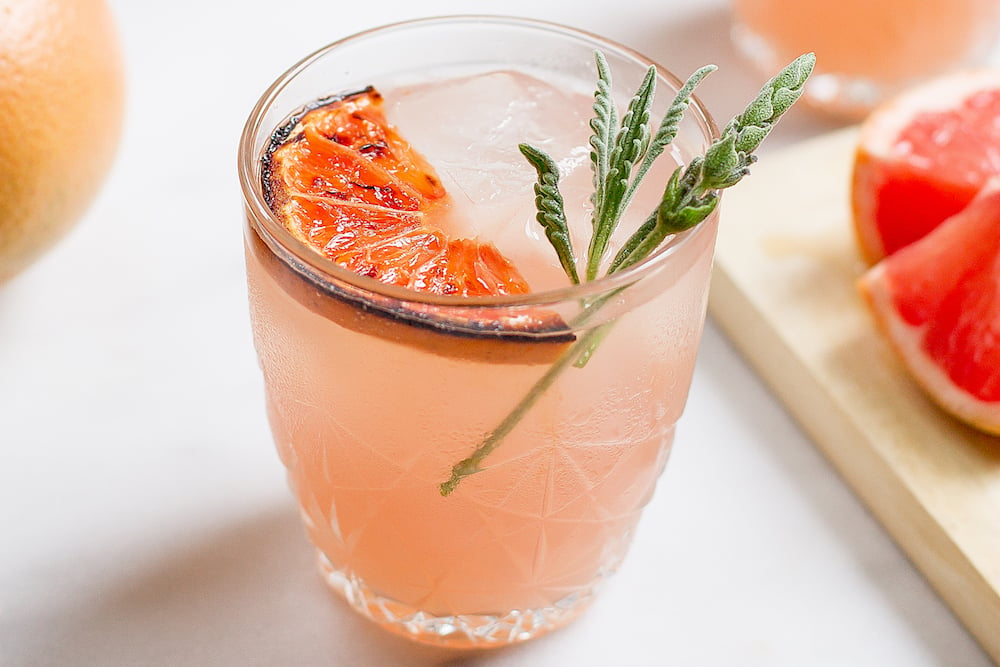 LAVENDER + BRÛLÉED GRAPEFRUIT GREYHOUND
INGREDIENTS
FOR THE LAVENDER-INFUSED VODKA:
2 cups vodka
4 Tbs. dried culinary lavender
fresh lavender, to garnish
FOR THE BRÛLÉED GRAPEFRUIT:
1 grapefruitn
1-2 Tbs. sugar
INSTRUCTIONS
For the lavender infused vodka, add dried culinary lavender to vodka. Cover and let sit for three hours, stirring occasionally. Strain through a fine mesh sieve lined with cheesecloth or a nut milk bag and store in the fridge. This will be enough for a maximum of 10 drinks—if you plan on serving more, double the recipe.
For the brûléed grapefruit garnish, sprinkle a thin coating of sugar onto grapefruit slices, then place under a broiler on high. Let broil until the sugar bubbles and edges blacken. Remove from oven and slice each round down the middle so you have half a slice for each drink.
For each cocktail, pour 1.5 oz. of the infused vodka into an ice filled glass, then top with 4-6 oz. of fresh grapefruit juice to taste. Stir in glass, then garnish with fresh lavender and a brûléed grapefruit slice.
This is a versatile cocktail—if you prefer a bellini over a greyhound, you can add prosecco instead of vodka. Either way, this light and refreshing drink is simple to make and has the perfect colors and flavors to welcome spring."
—Monica Fung, general manager, MK Valencia, Ridgefield Park
Recipe courtesy of thegooddrink.com