The Dish on Fish
The general manager of Carlstadt seafood spot Biggie's shares his fish-cooking tips with BERGEN, whether you're giving up meat during the duration of Lent or are simply trying to be healthier by swapping out those steaks and burgers.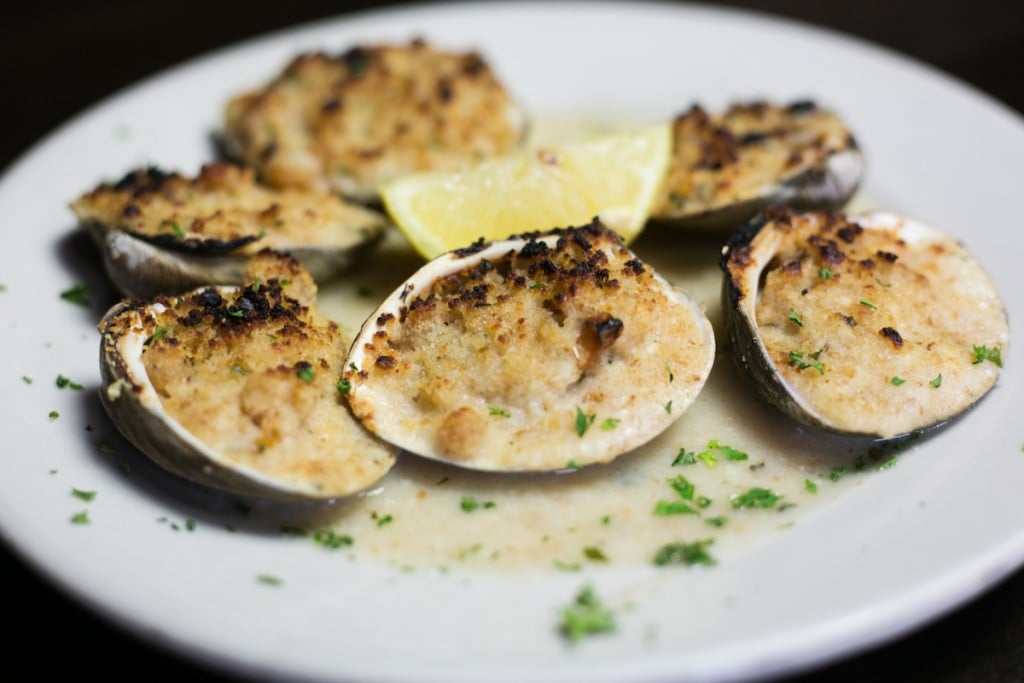 Spring is a relatively popular time to become a vegetarian, partly because it's when there are tons of ripe fruits and veggies ready for the picking. But it's also because the start of the season coincidentally corresponds with Lent, when those practicing give up meat every Friday from Ash Wednesday until Easter. So we asked Steven M. Ranuro, general manager of Biggie's in Carlstadt, to share his fish tips with BERGEN. He's a pro on the topic, considering the family-owned restaurant has been known for its fresh clams, seafood and fish dishes since its inception in 1946! Here are Ranuro's tips for how to cook fish, what to pair with it and what wine to drink with it, plus a recipe from Biggie's so you can make a delicious restaurant-style clam dish at home.
​BERGEN: What seafood is freshest and most in season this time of year?​
​SR: The great thing about seafood is you can eat it all year round. We feature seafood that is always fresh like clams, oysters and shrimp. We also put some items on special like softshell crab, which we prepare a number of different ways when it is in season, generally April through September. ​​
BERGEN: What is the secret to making a fish dish at home that is restaurant-worthy?​
​SR: The first is the quality and freshness of ingredients. You can buy some great stuff in fresh markets locally these days. Just be sure it's fresh and high-quality. The other really important factor is timing. Fish can go from properly cooked to overcooked really quickly, so you need to know your temperatures and timings [the recipe you're following should specify] and keep a watchful eye over it.​​
​BERGEN: Which side dishes pair best with fish and seafood entrées? ​
​SR: This really depends on what you like. We generally pair our fish dishes with a starch and a vegetable. For example, spinach and rice or sweet mashed potatoes and roasted asparagus. You can grill or roast vegetables, you can put seafood over pasta, you can have it in a salad. Seafood is very versatile and there are a lot of great ways to prepare it. ​​​
BERGEN: What about wine? Which kind would you recommend for these lighter meals?
​SR: You have to break down the seafood into categories and pair with wine that way. For example, light white-fleshed fish generally goes well with white wines like Pinot Grigio. Salmon could pair well with Pinot Noir, and ahi tuna goes well with Rosé. Oysters and clams could pair with a Champagne or a light white wine, but nothing washes down a dozen clams better than a cold, light beer. ​
BERGEN: What is the best way to incorporate more fish into your diet if you're trying to limit red meat consumption?
​SR: Fish is so diverse; you can have clams/oysters, shrimp, scallops, calamari, salmon, tuna, flounder, etc. and each of them has its own unique and distinct flavor profile. Find the type of seafood you like and prepare it simply. You can grill, sauteé and broil seafood and prepare it with roasted vegetables, for example. It's healthy and tastes amazing. ​​
BERGEN: Since Biggie's is a family business, what does your family typically eat during Lent?​
​SR: We always find ourselves eating at Biggie's and that doesn't change based on the season! Our family meal during Lent will generally start with a raw bar sampler (clams, oysters and shrimp) with mussels in fra diavolo sauce and/or sauteed calamari in fra diavolo sauce and clams oreganata.​
Check out Biggie's recipe for clams oreganata below, and find out more about the family business—and their vast menu—at biggies.com.
Biggie's Clams Oreganata
Yields: 2 dozen clams​
Ingredients:
2 dozen clams
​1/4 cup parsley​
1 cup oil​
1/3 cup garlic​, finely chopped
1 1/2 cup Romano cheese​
2 1/2 cups plain bread crumbs​
1 Tbs. lemon juice​
3 fl. oz ocean clam juice​
Directions:
Heat oil in a pan and add garlic. Cook until garlic begins to lightly brown​. Mix bread crumbs, cheese, parsley, lemon juice (strain out seeds), clam juice and hot oil with garlic until all ingredients are thoroughly mixed​.​
Shuck clams, broil on low for 5 minutes, cover with topping, broil another 5 minutes and serve with lemon.​