The Doc Will (Virtually) See You Now
You don't have to be technically savvy to see your doctor in a video visit.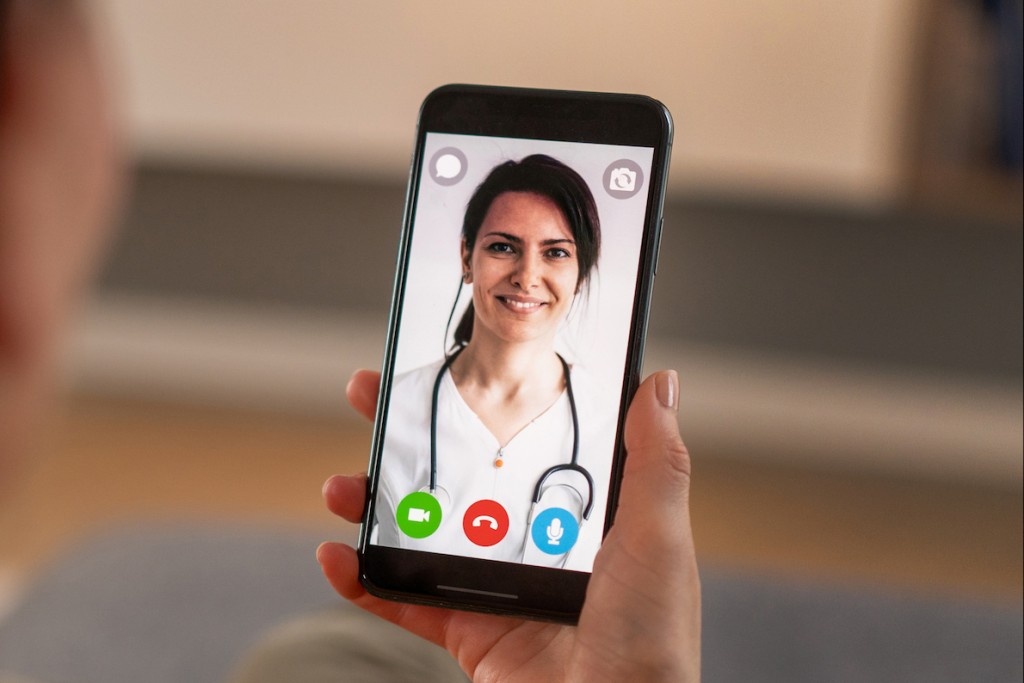 Virtual doctor visits have been available for some time, but since the COVID-19 pandemic, use of this tool has soared. Stay-at-home orders during the lockdown played a huge role, but other factors are also speeding up the adoption of telehealth.
Historically, there's been an expectation that patients and physicians need to be physically together in order to get the best possible care. But as technology has become embedded in our daily lives, we've become more open to using it for medical care. The development of straightforward apps and videoconferencing tools that make it easy to receive virtual care securely also has increased its use.
Another boon to telehealth: the growing number of medical monitoring devices available for home use. These can be used by patients to collect data that's transmitted to a physician's office, expanding the usefulness of virtual visits. Examples include blood pressure monitors, blood glucose monitors, pulse oximeters and wireless scales.
Virtual visits are popular with patients because they offer many benefits, including the convenience of being seen at home or at the office, which results in very little time away from family responsibilities or work. Being seen virtually also eliminates the need to drive to and from the doctor's office and spend time in the waiting room.
Given all the advantages, it's easy to see why this new way of receiving care has taken off.
BENEFITS OF VIDEO
Being able to see each other offers several advantages that lead most doctors and patients to prefer video visits to phone calls. For example, if a patient has a sore throat, she can show the doctor the back of the throat and tonsils. Problems like cuts, rashes and swollen feet also can be shown. Patients who can't remember the name of a medication they're taking can get the bottle and show it to the doctor. In addition, being able to see and read each other's expressions improves communication and, in some cases, helps doctors assess patient health.
It's important to note that a visit can begin as a video or phone call or an e-visit and then become an in-person appointment if necessary. If you aren't sure what the best course of action is, call your physician's office, tell them what's going on and they'll help determine the best type of visit.
During the early stages of the pandemic, Medicare, Medicaid and many private insurers expanded their coverage for telehealth. The situation is evolving, so check with your carrier, but it's expected that coverage for telehealth will continue and expand.
TELEHEALTH CHECKLIST
Below are a few things to think about before a virtual appointment.
• If you need an interpreter, let your physician's office know ahead of time.
• Be sure the device you're using (phone, tablet, computer) is fully charged or plugged in.
• Make the call from a well-lit, quiet room and turn off other electronics to enhance the quality of the video and audio.
• Set your camera at eye level to provide the best view for your healthcare provider.
• Be aware that there may be lag time during your video visit. It's helpful to pause briefly after your provider speaks before responding.
• In advance, write down your symptoms, when they began and how frequent they are, and list any medications you're taking.
• Keep a pen and notepad handy to take notes during the visit.
HOW TO SET UP A VIRTUAL VISIT
Our area hospitals make it easy for patients to consult with a doctor without going to a practice in person. Here's how to book your at-home visit at each one in Bergen County:
Bergen New Bridge Medical Center: This Paramus- based hospital's telehealth service, Bergen New Bridge Cares, was introduced in Oct. 2019, but recently expanded to include COVID-19 urgent-care screening and assessment for patients exhibiting symptoms. Call the hotline at 201.204.0712 to be screened by a nurse, who will then refer you to an infectious disease doctor if need be.
Englewood Health: Most physicians in the Englewood Health Physician Network offer telemedicine visits—just call your physician's office to confirm. Both existing and new patients are welcome.
Hackensack Meridien Health: As part of their Convenient Care program, patients can have a 15-minute call with a doctor on demand for more urgent medical matters, or schedule a future appointment with a primary care physician or specialist. Sign up at convenientcarenow.com to download the app and get started.
Holy Name Medical Center: Select a provider within the Holy Name family that is in-network for your insurance plan. Then, go to northjerseytelemedicine.com to check his or her availability and to book your virtual exam.
The Valley Hospital: The Valley Health System has two options for telehealth appointments: On-Demand Urgent Care for non-life-threatening illnesses, and Online VMG Visits with your usual Valley Medical Group provider. Download the free app and sign up to be seen ASAP at valleycarenow.com, or, for the latter option, call 800.825.5391 to book your slot.
WHEN TO USE TELEHEALTH
Minor medical issues and many chronic conditions, including congestive heart failure, diabetes and asthma, can often be managed through a virtual visit. Doctors can make a diagnosis, recommend treatment and prescribe medication, if necessary, for many medical issues, including:
• Allergies
• Arthritic pain
• Asthma
• Bronchitis*
• Colds and flu
• Diarrhea
• Infections
• Insect bites
• "Pink eye" or conjunctivitis
• Rashes
• Respiratory infections
• Sinusitis
• Skin inflammations
• Sore throats
• Sprains and strains
• Urinary tract infections
• Vomiting
• Other non-emergency conditions**
*Adult patients only
**Some conditions may be adult only