The Edge of The World
Rugged Iceland is a bit like the moon, but friendlier, cozier—and a lot more convenient.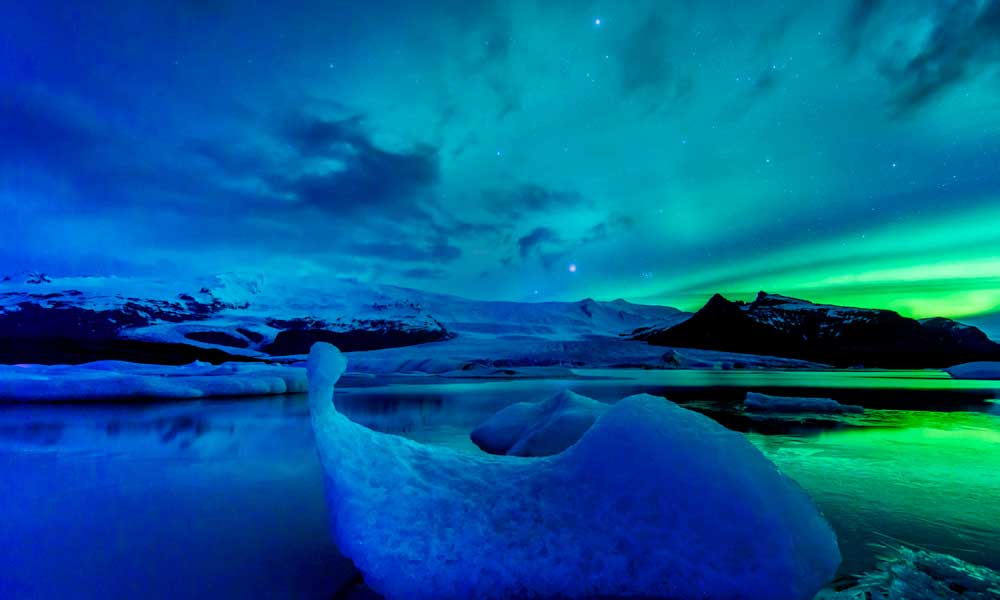 Nothing can really prepare you for your first glimpse of Iceland. I vividly recall my first trip to this rugged island in the North Atlantic. As my plane landed at Keflavik, the international airport that lies outside the capital city, Reykjavik, all I could see was a seemingly endless expanse of jagged black lava rocks surrounding the airstrip—a landscape utterly jarring and sublimely beautiful. Had we gone off course and landed on the Sea of Tranquility?
Iceland is the world's eighth-largest island, with 3,100 miles of jagged coastline and fjords. Its settlements date back to the ninth century A.D., when Norwegian chieftain Ingólfur Arnarson came ashore in his longboat. The terrain can be wild and stark, a wonderland of hot springs and geysers, with steam drifting over rocky ground.
Reykjavik is a city of 120,000 that appears to have been assembled from colored Lego blocks and is known for its all-night party scene. There are art museums and a Viking Village with special themed architecture and year-round music festivals in this compact city where everyone seems to speak perfect English. It's a great walking town, filled with shops and boutiques, and it prides itself on local designers of clothes and jewelry. Stroll along the waterfront and up to the Church of Hallgrímur, with its 244-foot steeple, for a bird's-eye view. Or venture out of town to the Blue Lagoon, a mineral-rich geothermal spa set in a lava field, and soak in the deep blue waters, which are said to be therapeutic. And if you've got stamina, hit the club scene at places like Kaffibarinn that crank until dawn.
If you visit in winter, you may see the aurora borealis, the Northern Lights, which to me look like shimmering multicolored harp strings rippling across the sky. But I actually prefer summer days, when daylight lingers nearly 'round the clock. They're perfect for hiking or salmon fishing in Iceland's wild rivers.
About an hour from Reykjavik is Thingvellir National Park, a rift valley where the Icelandic parliament first convened in 930 A.D. Ten minutes from there is the Ion Luxury Adventure Hotel, situated on the slopes of Mt. Hengill and surrounded by natural hot springs, with a view of Lake Thingvallavatn and the surrounding peaks. Designed to fit into the landscape, the Ion features a minimalist exterior of glass panels and concrete walls and pillars. And its Silfra restaurant showcases local ingredients, especially Iceland's famed lamb, arctic char and abundant shellfish. I found the Ion a wonderful base for exploring—and for a spa treatment and a hot spring soak. Oh, and when was the last time you stayed at a hotel that would ring your room—upon request, of course—to announce the appearance of the Northern Lights?