The Facts: Texting while Driving
Is your teen risking an accident by texting behind the wheel?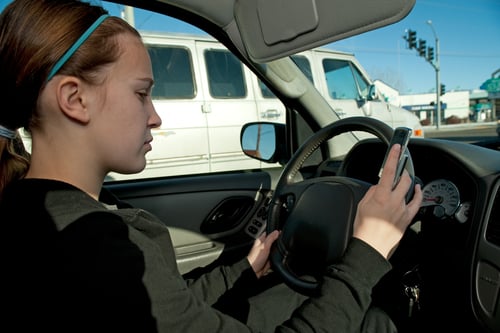 With school out for the summer, teens and young adults will be spending more time on the road, and that makes them subject to a potentially deadly temptation that's sweeping the nation: sending cell-phone text messages while driving.
The National Highway Traffic Safety Administration (NH TSA ) reports that in 2009, 5,474 Americans were killed and some 448,000 more were injured in motor vehicle crashes reported to have involved distracted driving, which includes cell-phone use and also driving while eating, drinking, talking with passengers and using in-vehicle technologies such as global positioning systems (GPS). Cell-phone use, particularly the now-ubiquitous smartphone capable of making calls, sending texts or e-mails and surfing the Internet, is the biggest danger, especially among younger drivers, accounting for one in five of those distracted-driver deaths.
"These numbers are probably low because people are reluctant to admit they were using a phone after a crash," says NH TSA administrator David Strickland. "Distraction obviously predates the iPhone or BlackBerry, but with the exponential growth of cell phones and especially texting, the problem has become much more troublesome."
And dangerous. A Virginia Tech Transportation Institute study revealed that physically dialing a phone while driving increases the risk of a crash as much as six times. Texting is even riskier, increasing the collision risk by 23 times. The greatest proportion of distracted drivers is in the under-20 age group, according to the U.S. Department of Transportation (DO T). And that cohort increasingly favors texting over phoning: More than 30 percent of teens send in excess of 100 texts a day, according to a study by the Pew Internet and American Life Project.
Younger drivers aren't only more likely to use handheld devices while driving, they are also less likely to view them as a danger. In a recent national survey by Consumer Reports National Research Center, 63 percent of respondents under 30 years old reported using a handheld phone while driving in the past 30 days, and 30 percent of them said they'd texted while driving during the same period. (That compares with 41 percent and 9 percent, respectively, of respondents 30 or older.) But among the under-30 respondents, only 36 percent were very concerned about the problem of distracted driving, and only 30 percent felt it was very dangerous to use a handheld phone.
New Jersey legislators aren't so blasé. In 2008, the state became one of the first two (with Washington) to specifically ban text messaging while driving, and bills pending this year would toughen penalties for violations. Notably, for under-21 drivers in the Garden State, cell-phone use while driving is illegal even with a hands-free device.
Just as it did with seatbelt usage, the DOT is studying programs that will teach all of us to change our habits. A pilot program aimed at heightened public awareness and stricter law enforcement now being tested in Syracuse, N.Y., and Hartford, Conn., has reduced cell-phone use by 40 to 60 percent, Strickland says. That program could be rolled out nationally once all the data are collected and studied. In the end, it all comes down to making the smart decision. "Young drivers— like the rest of us— need to know that there is no reason to be on a phone when you are under way," says Strickland. "It can wait until the end of your trip. Your primary responsibility is to drive."
ATTENTION, DRIVERS
1 Turn off your phone before getting in the car to drive.
2 If you fear that incoming calls or texts may distract you, put your phone in the trunk.
3 Check out apps like DriveSafe.ly that can be used to block texts whileyou're in motion.
WHAT PARENTS CAN DO
1 Set a good example by keeping your own phone out of sight while driving.
2 Talk to your teens about the risks and responsibilities of driving and the danger of dividing their attention between a cell phone and the road.
3 Educate yourself about the problem— go to distraction.gov.
4 Spread the word by communicating with friends and family.
5 Direct your young driver to the online "Crash Course on Distracted Driving" at distractu.com.
---
Related Article: The Volt, a Hatchback Hybrid by Chevy