The genius of follow up
A new hospital 'concierge' program saves money by helping patients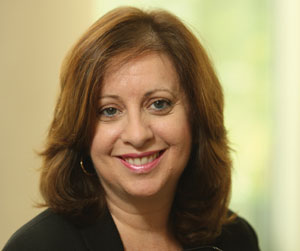 An elderly woman who al startled. "She told me no hospital has ever offered to help her with anything before," says Ginnie Costello, customer service representative at Monmouth Medical Center, who in August was installed as the hospital's first "concierge." But Costello did assist her and the nation's health care system too—by scheduling her follow-up doctor visits for after her discharge.
Hospital re-admissions cost society billions that's one thing all sides in the health care reform debate agree on. Many re-admissions are due to patients not making or keeping follow-up appointments, not taking their medications correctly and otherwise failing to follow their post discharge instructions. Monmouth's new concierge program tackles that problem head-on. The in-hospital concierge helps soon-to-be-discharged patients arrange the follow-up services they need. Doing this not only makes life easier for the patient; it also makes it less likely that they'll need another hospital stay soon.
The potential savings from such services are significant. According to a study published in the New England Journal of Medicine that looked at nearly 12 million Medicare hospital claims from 2003 and 2004, one in five patients was readmitted within 30 days. Half of all such nonsurgical patients were re-hospitalized without having seen an outpatient doctor for follow-up care. The estimated cost of unplanned hospital re-admissions in 2004 was $17.4 billion. The researchers recommended intervention at the time of discharge, including improved transition planning, reliable and prompt follow-up care by primary care physicians and aggressive management of chronic illnesses to reduce these frequent and costly re-admissions.
The Obama administration has estimated that incentives and penalties aimed at encouraging better oversight of care in the 30 days after a hospital discharge could save $26 billion over a decade—and that's just with Medicare patients. The New York Times called such a strategy "a sound idea that should also improve the lives of patients."
At Monmouth, the idea is already at work. Costello, whose background includes 14 years as an office manager at the brokerage firm Morgan Stanley, currently offers help to patients in three hospital areas: medical (which includes patients with heart, orthopedic, diabetic and other common or chronic conditions), surgical and stroke.
"I touch base with everyone on those floors and tell them about what we offer," Costello says. She meets with new patients as they arrive in the hospital and follows them right up to discharge. "I can develop a rapport with them throughout their stay here," she says. "And then, if they wish, I stay in contact with them as long as they like. My job is to ensure that the patients are satisfied and their overall needs have been met."
Costello reports that in the first month of the new initiative, about 25 percent of the patients used her help, which is free to the patient. "And every week we are getting more interest," she says. "The program eases the burden on the patients, and it also puts physicians' minds at ease by ensuring that their patients get the follow-up care they need in an efficient and timely manner following their discharge. It contributes to better outcomes and decreases unnecessary re-admissions."
The concierge program is offered under the aegis of Saint Barnabas Health Care Link, the customer service center for all patients of the Saint Barnabas Health Care System, of which Monmouth Medical Center is an affiliate.
"Since we already do so many things on behalf of patients," says nurse Belynda Delgado, Health Care Link's director, "we thought, 'Why don't we incorporate everything and focus on the patient after discharge from the hospital?' We decided to put someone right in the facility, to meet with the patients and offer assistance once they leave the hospital."
The service is especially helpful for elderly patients, she says. They can be confused by dealing with insurance companies, new doctors, new pharmacies and a host of other challenges. "But we do that all day, every day," Delgado says. "We can shop around and find them the best and most convenient follow-up care." She recalls hearing words of gratitude from an elderly couple's adult daughter. Even though she and her two siblings had been involved with their parents' care, says Delgado, "they all have very busy lives and they really welcomed and appreciated the help."
Seniors, however, are not the only ones taking advantage of the program. "I've had patients in their 20s and 30s say that they are just really bad at scheduling doctor appointments and tests, and were very pleased to have someone else take care of this for them," Costello says.
An added benefit of the program, she says, is that it has raised awareness of the benefits of using the hospital pharmacy. Many patients don't realize that, as part of the discharge process, they can have their prescriptions filled on their way out of the hospital rather than having to make a stop at their local drugstore. "This is a huge convenience to our patients, and one less thing to have to worry about immediately following discharge," Costello says. "Quality of patient care is what it's all about," she says. "Our concierge program is just one more way to help meet that goal.
To obtain more information on the concierge program at Monmouth Medical Center, please call 1-888-724-7123