The Gold Standard
With the ultimate hue of luxury, a designer makes an Alpine bathroom sleek and stunning—again.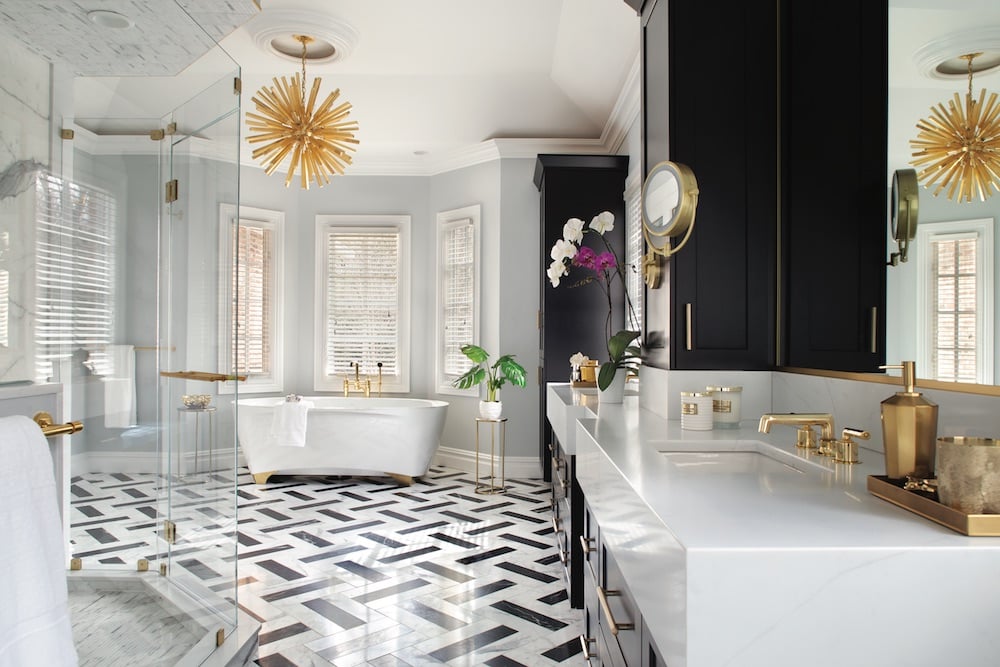 Design by Aparna Vijayan of Ulrich Inc.
Photography by Peter Rymwid
Not many designers can say they've designed the same space twice, but Aparna Vijayan can. Fifteen years before revamping this Alpine master bathroom, Vijayan, of the Ridgewood-based interior design firm Ulrich Inc., was hired by the builder to design the original bathroom in the then-spec house he was selling. "He wanted the bathroom very ornate and traditional; lots of moldings, all marble, separate vanities in dark cherry, huge step platform tub, very over-the-top," she says. But when the owners moved in—a couple with two children and a "very important dog"—they hired Vijayan themselves in the hope that she could reimagine the space in a more refined, modern way, one that still fit the house's overall traditional aesthetic but with a transitional twist.
The first step in the process? A show-stopping floor. The lady of the house knew she wanted a black-and-white element in the bathroom and thought it'd be effective on the floor, so they set out to find the perfect tiling. After thorough research, the team arrived at a custom-cut arrangement from Artistic Tile. "This floor is very dramatic, and I think it makes the bathroom," Vijayan says. "We built the room from that point on."
Then Vijayan and her team reconfigured the entire floor plan, opening up the walls, removing ornate detailing such as columns, relocating the toilet into its own separate room and installing a "performance shower" equipped with rain-head faucets. "The client wanted everything very sleek, so we used porcelain slabs in the shower to avoid a grout line," she says, adding that only the shower floor was tiled for plumbing purposes. The porcelain slabs proved to be more labor-intensive and time-consuming than anticipated, though. "It had to be very precise in terms of templating, and one of the slabs broke and we had to procure another one that looked exactly like it," Vijayan says. "We also had to bring the slabs through different doorways—but it was worth it. It looked amazing in the end." Another amazing touch is the burst of satin-gold, also one of the homeowners' color preferences, which was featured on the Emtekhardware, the WaterWorks faucetry, the custom mirror frame and the brass feet on the freestanding BainUltra tub. The Ulrich team also installed linen cabinets with ribbed glass, one continuous vanity with quartz countertops with a "beefy" 7-and-a-half-inch-thick built-up edge and two identical window seats with storage underneath. "They have that blue color [of the fabric on the seats] throughout the house in various other rooms, so it's a string that connects everything," the designer says.
In fact, the lady of the house loves a good color moment. "It's very rare that you find clients who are not afraid of color and let you run with it," Vijayan says. "Most want to be safe and have it appeal to the next buyer, but she wasn't like that. She's very embracing of different ideas and colors."
Vijayan worked with the couple on some minor cosmetic upgrades in the rest of the home's bathrooms too—for instance, installing dramatic wallpaper and upgrading to more modern faucets—and they haven't seen the last of each other. "We'll be working on the kitchen next," the designer says. "It's a much bigger project, and there are certain things this client is particular about, but that helps me as a designer. It keeps me grounded."