The Green Housewives of Bergen County 2012
Choosing an eco-smart life, two local women say, is when it truly gets real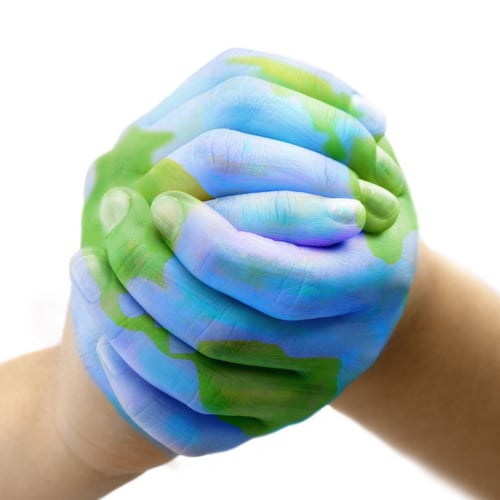 Kathryn Longo
Buy Local, Buy Responsible
THERE IS NO JUNK IN KATHRYN LONGO'S WORLD. Everything has a use, a re-use and re-re-use. So it is not by accident that Longo chose the historic train station on Maple Avenue in Oradell as the site for her gift shop, Eco Galleria.
The station has been there since 1873, a witness to decades of human progress—and all its waste; Eco Galleria is a gift shop featuring beautiful products made from, well, trash. "The ultimate recycling is this building," says the Oradell resident, whose whistle stop is a tribute to green innovation: bicycle parts turned into clocks, pages from The New York Times transformed into wallets, storage bins made from old 45 records. The products are beautifully crafted by artisans who make all that's old new—and useful—again, honoring a cause Longo has long embraced.
"I've always been eco-conscious," she says. "My job as a partner in an actuarial firm required a lot of traveling, and I'd often find myself alone in a strange city with time to shop. But I wasn't interested in the big-box stores—too much sameness." So she would seek out the quaint downtowns in search of unique stores, always dreaming of opening her own someday. When she left the corporate world to pursue her dream, opening a shop that was environmentally friendly just seemed like the natural thing to do.
Her first endeavor put her on Cedar Lane in Teaneck. Then came Wyckoff and, finally, the old station in Oradell. From the start, her waste generation was minimal. "I've never purchased bubble wrap or packing peanuts," she boasts, preferring to reuse packaging. She has even collected discarded boxes and wrapping from area businesses. Most of her display cases are repurposed too: old apple crates, shelving from her other shops and furniture rescued from an untimely end.
Walk in one day and you may hear Longo telling the stories behind every product she carries—how each was made, from what and by whom. She might even quiz you on what bottle brands you recognize in a piece of Smart Glass jewelry, which packages its creations in oxo-degradable bags that "dissolve into minerals beneficial to the earth."
California-based Fire and Light is a company Longo loves because it is both American and green. Eco Galleria is one of four shops in New Jersey that carry its products: elegant glass dinnerware made from crushed recycled glass that would appeal to any customer, not just the eco-conscious. Watchcraft is another favorite: unique timepieces created by Queens-based artist Eduardo Milieris, who is inspired by materials he finds walking along the railroad tracks near his home.
Longo believes that environmental progress happens at the community level. She advocates supporting local independent businesses and working within the community to find ways to reduce waste. In a country that, according to the Environmental Protection Agency, still sends over half of its waste to landfills, this shop is her contribution toward a greener planet.
Visit her shop at ecogalleria.com.
Karen Ranzi
For Optimum Health, It's Back to Nature
When Karen Ranzi speaks to audiences throughout the country about the fight against disease, obesity and allergies, she breaks out her secret weapon: a Vitamix blender. The author, lecturer, mother and raw-food consultant recently told students at a Penn State University lecture that "for health and mental clarity" she was making them a piña colada smoothie. In went the pineapple, the banana, the water and the … spinach.
"They looked a little upset when they saw the spinach, but I told them they wouldn't even taste it," says Ranzi. "They tried it and loved it. I tell them it's quick and they can have it in the morning instead of processed foods." Ranzi, a Ramsey resident and the author of Creating Healthy Children Through Attachment Parenting and Raw Foods, is trying to bring our diets back to nature. She does this through writing, lecturing and teaching courses on how to easily incorporate healthy, mostly raw, foods into our children's diets—and our own.
Ranzi believes eating this way is not only the path to disease prevention, but also good for our earth. "As stewards of the earth, we should support our local organic farmers. This permits us to obtain the highest-quality organic produce and reduce our carbon footprint," says Ranzi, explaining that the fossil fuels burned in transporting food long distances are thought to contribute to climate change.
Supporting local organic farmers, she adds, also reduces the amount of toxic pesticides in our soil. Conventional farming methods rely on the use of fertilizers and pesticides to get the most food to the most markets. But such toxins pose a direct danger to our water supply system. Organic farming does not rely on such pesticides or fertilizers, resulting in less water and soil contamination.
Ranzi herself is a vegan. She avoids all processed foods, animal and dairy products, and most grains. She eats fresh plant-based foods—leafy greens and most vegetables, fruit, seeds, nuts—that have not been cooked. (A raw foodist believes that foods cooked at high temperatures lose vital nutrients, while uncooked foods provide nutrient density and the water content our bodies need.)
She started eating this way 18 years ago after three years of failed attempts to treat her son Marco's recurring ear infections, allergies and severe asthma with conventional medicine. Ranzi, who had been a vegetarian already, put her family on a raw-food diet, and within 11 months Marco's asthma disappeared, as did his infections and allergies, she says. She credits the diet with clearing up her own digestive and dermatological issues as well.
Ranzi's classes "Super Healthy Children," "Eating for the A's" and "Raw Food Fun for Kids" are fun, educational experiences for parents and kids alike. "Eating for the A's" focuses on how good nutrition can help children with autism, attention deficit disorder, asthma and allergies.
See her website for a calendar of events: superhealthychildren.com.
Related Read: Green Housewives of Bergen County 2011