The Health Benefits of Pets
Our furry friends do more than fetch and purr, research shows. They help us fight disease.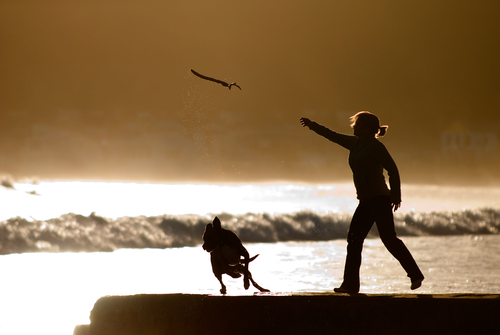 Trying to take the best possible care of yourself? You've got an ally you might not suspect. That cold, wet nose nuzzling up next to you while you watch TV may actually be helping you stay well. There's mounting evidence that pets are good for you.
In his 2003 book, The Healing Power of Pets, veterinarian Marty Becker cited findings showing that people with pet companions had fewer doctor visits and recovered more quickly from severe illnesses than those without. Since then, research has rolled in:
A study of coronary care patients post-discharge showed that pet-owning patients had higher survival rates than those who did not own animals.
Several studies have shown that adult pet owners have slightly lower systolic blood pressures, cholesterol and triglycerides levels than petless folk, and one indicated that pet owners' blood pressure rises less than that of non-pet owners in response to mental stress.
In a study of elderly people, those with pets took fewer antidepressants, and those who owned dogs tended to get more exercise—naturally enough— because those dogs required daily walks.
Research reported in the Journal of Pediatric Nursing showed that children had reduced stress levels during a routine physical examination when accompanied by a dog.
In a Purdue University study, people suffering from Alzheimer's disease showed improvement in their behavior and eating habits after a four-week exposure to aquariums filled with brightly colored fish.
"Studies like these have contributed to our developing understanding of the influence of human-animal interaction on health and development," says Layla Esposito, Ph.D., health scientist administrator at the National Institutes of Health, adding that the NIH is funding seven studies on the impact of companion animals on their owners.
---
Therapy dogs on the job
When Rolo arrives on his rounds, patients at Englewood Hospital and Medical Center in Englewood (201.894.3000, englewoodhospital.com) brighten up. The 7-year-old golden retriever, accompanied by certified handlers, visits inpatients on weekday afternoons for five to 10 minutes.
"Patients look forward to having the afternoon visit with Rolo," says Gary Wilhelm, Englewood's business and financial systems manager and Rolo's primary handler. "Some even bring dog biscuits from home."
Englewood is just one of several Bergen hospitals with pet therapy programs. At Hackensack University Medical Center (201.996.2000, humed. com), the Animal-Assisted Therapy Program has been in place since 1992, with 10 certified dogs accompanied by trained volunteers making weekly rounds for "patient petting."
The pet therapy program at Holy Name Medical Center in Teaneck (201.833.3000, holyname. org) includes seven certified dogs, with one-dog, one-handler teams making regularly scheduled visits to various units throughout the week. "The patients—and staff—love seeing the dogs," says volunteer services coordinator Nancy Teresi.
The Valley Hospital's (201.447.8000, valley health.com) pet therapy program, which began in 2003, has 36 one-handler, one-dog pet teams, says Liz Tortorella, director of volunteer resources. "Each team makes rounds for one hour," says Tortorella. "Room visits average five minutes but can be longer depending on the situation. The dogs elicit smiles, bring comfort and joy, create a positive distraction and a pleasant social experience, reduce stress, provide respite and have a calming influence."
Pet therapy programs are also frequently offered by assisted-living facilities, retirement homes and nursing homes.
---
Could your dog help?
To find out if your canine pet might be right for pet therapy, contact one of the hospitals in the article above or one of these training organizations:
The Delta Society
425.679.5500, deltasociety.org
Therapy Dog International
973.252.9800, tdi-dog.org
Bright & Beautiful Therapy Dogs Inc.
973.292.3316, golden-dogs.org
---
Related Article: Wonder Pill