The Life of a Coach
Leading a Bergen County high school football team is a double duty: winning on the field and shaping well-rounded student-athletes.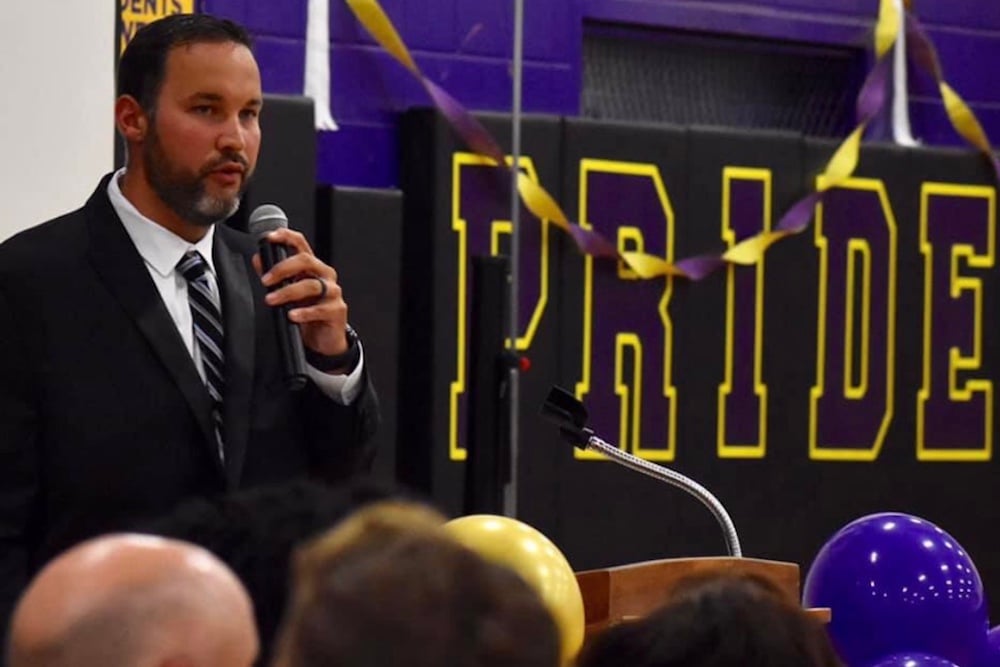 Are you ready for some football? With a Super Bowl-caliber venue and two pro teams rooted in our backyard, we'd say Bergen County is always ready for the gridiron. But the Jets and Giants aren't the only games in town: Our high school football programs compete with the best—many of the teams are in the national championship hunt annually—and produce college-level talent on and off the field. In each case, the student-athletes can thank their coaches for a part of the success. Here are snapshots of six guys at the helm of their programs, teaching kids the X's and O's of the game as well as lessons in life.
2018 record/# of seasons:
Where did you play high school football and where did you line up?
What are you doing when you're not on the sidelines?
Besides showing them how to play the sport, what lessons are you trying to teach your student-athletes?
Do you have any pre-game rituals or superstitions?
What's your favorite sports movie?
Favorite quote or inspirational saying?
Most memorable coaching moment?
Brian Appleton
Bogota
3–6, second season

I was a member of the Bogota High School Class of 2005 and played offensive and defensive line.

I teach physical education and health at Bogota High.

Beyond the X's and O's, we look for our athletes to show great character— on the field, in the classroom and at home. We expect them to follow our core values of P.R.I.D.E. (Passion, Responsibility, Integrity, Discipline and Enthusiasm).
I try to visualize the game for 15 minutes. I take this time by myself and go through the game minute by minute. I go through everything as detailed as possible—pre-game warmups, coin toss, quarter by quarter and post-game.
The Program.
"E + R = O" or "Event + Reaction = Outcome." The event will always happen; you cannot control that.
It was in 2009, my first year as an assistant coach for Bogota. We had a playoff win against Westwood in Westwood. It was a classic game—and the muddiest I have ever been a part of. Both teams played with a lot of heart, and we came out with the win.

Len Cusumano
Pascack Valley
3–6, fourth season
I was a tight end and defensive end at Passaic Valley.
You can find me at Pascack Valley—I'm a physical education and health teacher there. But if I'm not on the football field, I'm home spending time with my family and friends.
We hope they understand the importance of sacrificing time, hard work in preparation and toughness under pressure—and that they respond to situations in life with a great attitude and perseverance.
That was more prevalent when I was a player. I don't have any go-to rituals now other than making sure we cover everything we need to as a team in our pre-game walk- through.
Rocky.
"Lead, follow or get out of the way."
It's definitely winning back-to-back state championships in our 2013 and 2014 seasons.

Drew Gibbs
Ramapo
13–0, state champion 18th season
I was a wide receiver and defensive back at Midland Park High School.
You'll find me inside the school—I'm a physical education teacher.
There are five things. No. 1 is the importance of the team and willingly putting the needs of the group ahead of your own personal interests. No. 2 is perseverance, never giving up regardless of the situation. No. 3 is resilience, the ability to bounce back after disappointments. No. 4 is a great work ethic, and No. 5 is to win or lose with dignity and grace.
I try to have a Reuben sandwich from Market Basket in Franklin Lakes before every Friday night game. If we're playing on Saturday afternoon, my pre-game meal is a Taylor ham, egg and cheese from Abbie's Diner in Wyckoff.
Remember the Titans.
"The only time winning comes before work is in the dictionary."
After 18 years on the sidelines with great kids, there are too many good memories to pick just one.

Augie Hoffmann
St. Joseph's Regional
10–2, state champion sixth season
St. Joseph is my alma mater. I played here and graduated in 1999.
When I'm not coaching, I work at St. Joe's in the Advancement and Admissions office.
I believe football teaches some of life's greatest lessons. I hope my boys learn what it means to be a cog in a much greater operation. I want them to learn to sacrifice for the betterment of their teammates and that if they're selfless, great things will happen.
I always have to get a workout in on game day. I think it helps get some of the tension and anxiety out prior to the game.
The Program and Bull Durham.
"Life is a storm, my young friend. You will bask in the sunlight one moment, be shattered on the rocks the next. What makes you a man is what you do when that storm comes." —Alexandre Dumas
It was last season in the state championship, when we beat Bergen Catholic 13–0 at MetLife Stadium.

Chuck Johnson
Ridgewood
9-3, 35th season
I captained the Ridgewood football team in 1969 and played offensive and defensive tackle.
I teach a wellness and lifestyle class, a hybrid of health and PE. It's taught in the classroom, in the fitness center to show kids what an average person should be doing in a weight room, and on the track for aerobic exercises.
Football mimics the trials and tribulations in life, and it's one of the best ways to teach life ethics skills. It's a theater to model those things and create opportunities to teach. I'm not a big superstition guy.
Pre-game is all about being together. We meet in the gym before the game; the kids bring their own music and I sit with them.
Rudy and Rocky.
I try to come up with a theme each year. This year's theme is, "It's time to start grinding." We have the phrase on wristbands and a banner in the weight room.
Without question, my two greatest moments were the opportunities I had to coach my sons. Greg was the quarterback from 2005 to 2007, and Mike was a tight end in 2010–11.

DJ Nimphius
River Dell
8–4, 16th season
I was a receiver, free safety and punt returner when I played at Miller Place High School in New York.
When I'm not coaching, I'm teaching history at River Dell High School. If you don't see me on the sidelines, you can find me in the high school library.
We want to teach the kids that achieving success isn't easy. It requires hard work and may even include failure. We also want the students to learn how to play as a team, to play for and with the guy or girl next to you.
What do I do? I just disappear for a little bit.
Hoosiers and Chariots of Fire.
The poem The Guy in the Glass by Dale Wimbrow.
It really touches my heart when I see invested kids cry after a championship game or event—whether it's in victory or defeat. The humanity of it tells the entire story of what really matters.