The Moment We Met
In the spirit of Valentine's Day, Bergenites recall the first stirrings of the love that lasted.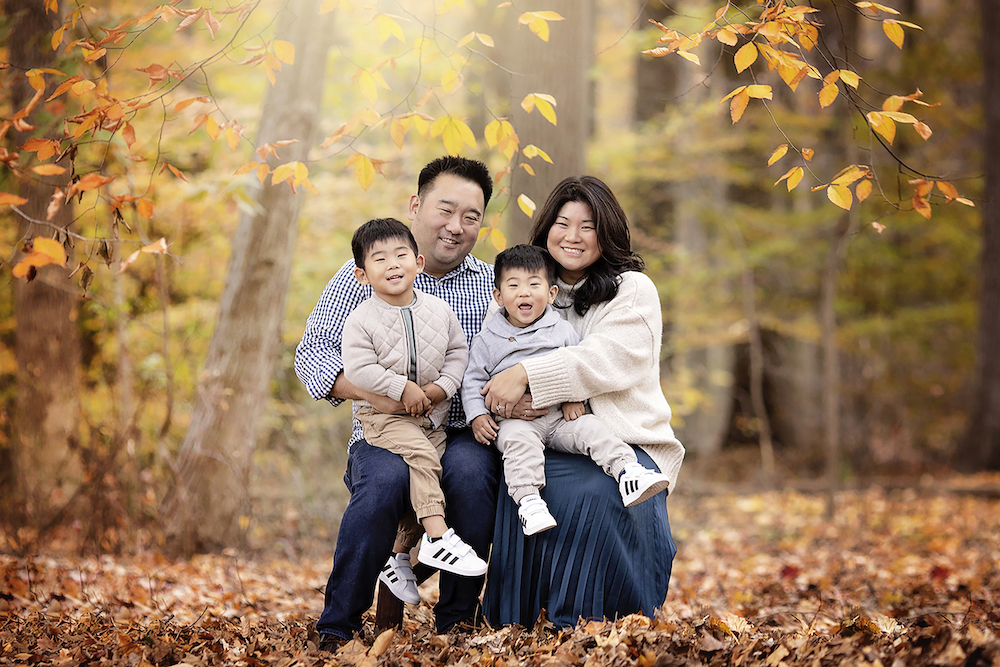 A CARPOOL-TURNED-COUPLE
Jabin and I grew up in Long Island and met through church in 1995; I was 14, he was 16. We had mutual friends but were acquaintances at best. We connected on Facebook at some point in college but that was the extent of our communication over the next few years. Fast forward to 2008, when we ran into each other in the parking lot of Mitsuwa grocery store in Edgewater; it turned out we both had moved to Bergen County. I was living in Edgewater commuting to my job in NYC, and he was living in Palisades Park and working in Fort Lee. Then in 2013, he reached out via Facebook again with a random question and we started chatting. We were both single at the time and had mutually offered to make introductions to single friends in the hopes of setting the other one up. By September 2013, Jabin had gotten a new job in the city and I joined his carpool with another friend. Meanwhile, we continued on our quest to set one another up. We talked about work, shared bad date stories and laughed a lot. As I was talking him up to my girlfriends in an effort to set him up, I wondered why I wasn't considering him myself. We got along so well and learned a lot about each other during our commutes. I realized I was looking forward to seeing him each day. He was apparently feeling the same way because in March 2014, our third carpool buddy missed one trip back home and it was on that car ride that we confessed our feelings and decided to take our friendship to the next level. We got married in November of the same year, bought our first house in Oradell in March 2016, welcomed our first son that June and our second son in December 2017. We've done a lot in a few short years but given that it had taken us so long to get together, we didn't want to waste any more time!
—Evelyn Kim, Oradell

THE NEXT CHAPTER
I met my husband Bill in 2015 at a bereavement group at Church of the Presentation in Upper Saddle River after my first husband had passed away the prior year. I was happily married to my high school sweetheart for 34 years, and Bill was happily married to his wife for 26. Bill and I became friends and we supported each other through grief. We both felt we were young and we wanted to smile and find love again, and as we healed, so did our children. We got married a year and a half ago at the same church at which we met. We are both 61 and starting a new life—a "life B," as we call it. "Life A" was beautiful, and we had our families and such wonderful memories that we could never forget and that will always be a part of us, but now we make new memories with our blended family. We both found a purpose after our losses and we now even facilitate the spousal bereavement groups we attended. We feel we are truly blessed in our lives today.
—Mary E. Barzone Rosica-Kirchner, Wyckoff

DELI DISCOVERY
I grew up in Westwood and worked at the Ginger N' Cream boutique while I was in college. Meanwhile, a new deli opened nearby and someone suggested I try the food there (and check out Tom, the cute guy who worked there). I remember seeing Tom for the first time stocking the soda cases. Needless to say, I kept going back on my lunch break (for the food!) and quickly became friendly with everyone who worked there, including Tom. We'd also randomly run into each other when he was out on deliveries, and I used to joke that he was following me. Then one day he actually did follow me—into the bank; he walked up to me when I was at the teller and gave me his number. I referred to him with my family and friends as "deli boy" when we first met and while we were dating. Now we've been married for six years. I teach second grade in Westwood and my husband opened his own deli and catering business in Fair Lawn. We have two sons who are ages 3 and 1—our future deli boys!
—Stephanie Phayre Lepore, River Vale

BOWLED OVER
I come from a family of bowlers and have been bowling since I was a little girl. My high school boyfriend and I both bowled in a league on the same team. At the end of the 2003 season, my teammates no longer wanted him on the team, but wanted to keep me. I wasn't comfortable bowling without him, and declined staying on the team. Meanwhile, someone on another team in the North Arlington Bowl O'Drome needed a female for the 2003–2004 season called to see if I would bowl with them, so I accepted. In March 2004, my then-boyfriend and I were having issues and I told Chris, another bowler, about them. He was on a different team, and the night we bowled against him I wasn't feeling well. Chris, not knowing me long at all, let me cuddle into him and helped me feel better. By the end of the month, I had broken things off with my boyfriend, and Chris and I became a couple. We've been together ever since. We have been married almost nine years and have a 3-year-old daughter and 1-year-old son. The best part of the story is we are the fourth couple in my family who met bowling; my parents met at the same bowling alley, and two sets of aunts and uncles did as well. Even weirder is each of these couples, including Chris and me, are all six years apart in age.
—Melinda Trzepla-Kelly, Lyndhurst
YOUNG LOVE
I unknowingly met my husband Alex in 1993 when we were 4 years old—my aunt, my mom's sister, married his second cousin, so we often saw each other at family events since we both have big families. I always had a crush on him, and turned out he had one on me too! There is video footage from a wedding we were both at when we were 4 where he was chasing me on the dance floor. He then went to put his finger in the cake and I pushed it away. A few years later we were at my aunt's mother-in-law's house for a barbecue and one of my friends went up to him and said "Anita likes you!" I was so embarrassed and being an 8-year-old boy, he didn't know how to handle it so he threw a water balloon at me. Throughout the years we would see each other a couple times a year at weddings or baptisms and I always left wanting more. Fast forward 10 years, we were together at my aunt's mother-in-law's house for Christmas Eve. He and I, then 18, were talking and flirting the whole night. At one point I said, "come over here I want to show you something" and we went into a room and started kissing. The following May, I officially ended things with another guy I had an on-and-off relationship with and Alex asked me to prom, which solidified our relationship. We stayed together throughout college—I went to Pace University and he went to Montclair State so we weren't too far from each other—and got engaged fresh out of college and married in 2012 at age 23. We now have two beautiful children; Mikael, who's 5, and Alina, who turns 4 in April. Alex and Alina even have the same birthday! We could not be happier or more in love.
—Anita Apanosian Atamian, Waldwick

BANDMATES— AND BEYOND
My husband Greg and I started dating in 1986 when he was a senior and I was a freshman at Garfield High School. We became friends when we were both in the school marching band; I played the clarinet and he the trumpet. It just so happened that my sister was dating his best friend at the time. I'll never forget our first real interaction: One night, Greg came to our home with his best friend and we were sitting outside on the pool ladder and I asked him out. Yes, I made the first move! We got married in 1993 and now have two children who are 20 and 16. We also both work at Hackensack University Medical Center, I for 25 years and he for 23.
—Tracey Brovero Surjadnov, Saddle Brook

MARRYING THE COMPETITION
My husband Neil and I met during our junior year at Paramus High School in 1994. Class ranks came out and we were ranked the same—he and I competed for every grade and point for months before we started to see each other as more than competitors. We became friends and saw each other at school events and parties, but we were in different crowds. He hung out with the athletes; I was with the artistic Asians. He finally made the first move our senior year and asked me to the prom. We were each other's first boyfriend and girlfriend, and he was also my first kiss! We stayed together and were long-distance in college—we had modems, pay phones and email to keep us connected—and got married in 2002, when we were 22. We tried to start a family but had lots of problems. After years of infertility, we were blessed with our first son via an egg donor. We were given a less than 1 percent chance to conceive naturally, but 15 months later we were surprised with our second son, who was conceived naturally. We have weathered the test of time and hardship—the infertility struggles, the death of my father and our grandparents, and most recently, a move and rebuild of a house—but we've been happily married for about 18 years, and our boys, Will and Jake, are now 11 and 10.
—Laura Astmann, Fair Lawn