The Office opens in Morristown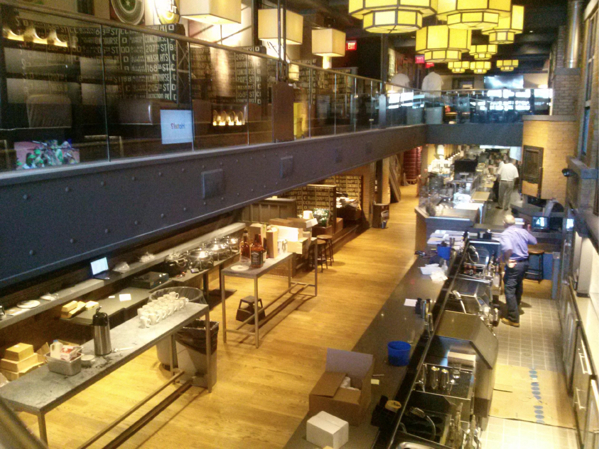 In two weeks, the doors of 3 South Street will reopen to the future of The OFFICE Brand. The NEW OFFICE Tavern Grill has prevailed through 2 years of planning, a complete gut renovation and a brand new design which has transformed the space from a 88 seat restaurant to a two story 176 seat restaurant. This includes an outdoor patio area, private dining room and a balcony overlooking the two-story bar, which boasts 40 taps for our extensive craft beer selection.
Being a craft beer bar, it was important to the team to create a menu that pairs with craft beer and show cases classic American fare with a modern twist. "When we started to develop the menu we were able to design exactly what we thought would showcase our philosophy on excellent ingredients which pair together to create unique flavors which surprise our guests." Stated 40NORTH Executive Chef, Kevin Felice, "We created this menu for any type of guest, so whether you are coming in for happy hour or to share dinner with friends and family, we have something for any pallet". Working with Chef Kevin Felice is our Executive Chef of The OFFICE Tavern Grill Chef Jonathan O'Neil. Coming to the kitchen with over 15 years of experience, Chef John will make our open format kitchen operate with ease and execute each dish with precision for all of the guests who come through the doors. "We are excited to share our menu with our guests. We hope to make each person feel as though they are in our home and can taste the love we have for cooking in each dish".
The menu is comprised of unique appetizers such as ginger beer infused deviled eggs, homemade truffled tater tots and sweet potato nachos with apple butter BBQ pulled pork. There is a raw bar, salads made from locally sourced ingredients, tavern style entrees such as braised short ribs, steaks and chicken made in our in house rotisserie. There is also another exclusive feature in our kitchen. A stone-fired oven built and shipped to The OFFICE Tavern Grill from Naples Italy. This oven will produce flat breads, desserts and other items that will be finished in 800 degrees.
To go with the menu, the bar will be producing artisan cocktails infused with beer, bitters, fresh herbs and fruit and homemade infused simple syrups. There is also a hand selected wine list featuring west coast wines and imported wines or select a draft of any of our 40 taps including domestic craft beer, imports, root beer or prosecco. "We are excited to share with the community all that has gone into The OFFICE Tavern Grill. Working with Designer, David Jackson, we have been able to create an amazing place for people to relax and enjoy company over a pint or two with crafted food in a unique environment" Stated Kathleen Janssen, Marketing Manager of 40NORTH Restaurants.
Learn more about The Office here and 40NORTH here.