The Park Medical Group
Samuel Bae, M.D.
Matthew Blaszka, M.D.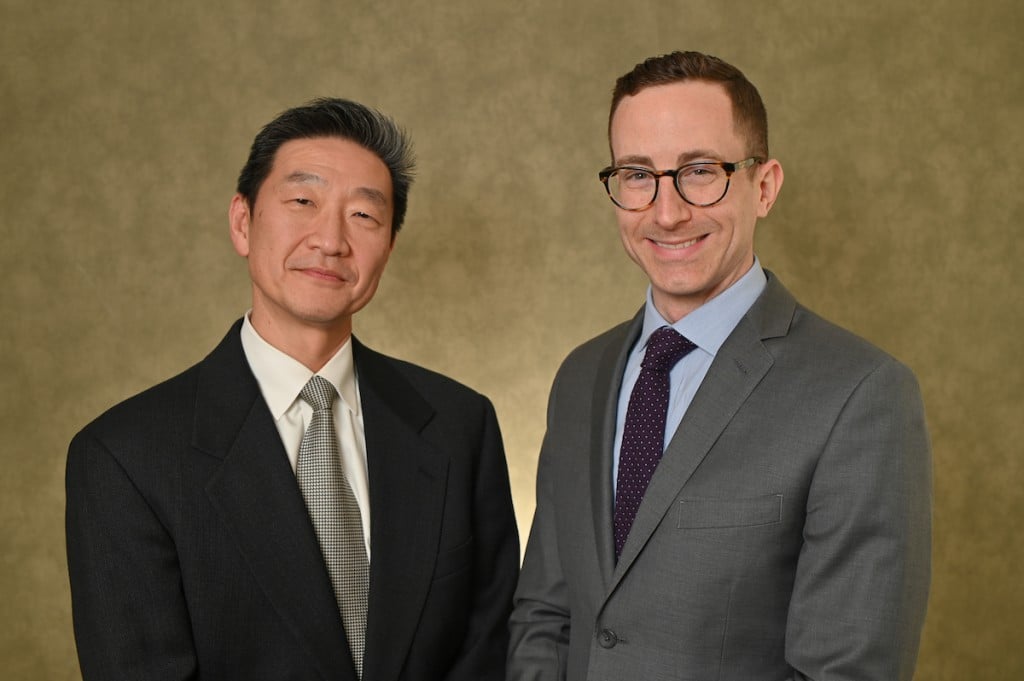 1555 Center Ave., Fort Lee, NJ 07024 • 1 North Washington Ave., Bergenfield, NJ 07621
220 Livingston St., Suite 202, Northvale, NJ 07647 • 24 Elm St., Harrington Park, NJ 07640
274 County Rd., Tenafly, NJ 07670 • 201.510.4451 • www.englewoodhealthphysicians.org
The Park Medical Group congratulates Dr. Matthew Blaszka and Dr. Samuel Bae for their recognition as Top Docs in Bergen County. Dr. Blaszka and Dr. Bae, both highly regarded board-certified gastroenterologists, are two of the many compassionate physicians at The Park Medical Group, a multi-specialty practice for a wide range of health and wellness needs including endocrinology, gastroenterology, geriatric medicine, internal medicine, podiatry, sleep medicine and women's health and wellness. The practice is affiliated with Englewood Health and has five offices throughout Bergen County.
The doctors focus on digestive and intestinal health using varied approaches from traditional to the most advanced methods in their field. Dr. Blaszka was fellowship trained at SUNY Downstate College of Medicine and has a particular interest in viral hepatitis, ischemic bowel disease and irritable bowel syndrome. He has published in the American Journal of Gastroenterology and presented his research at numerous scientific meetings. Dr. Bae completed his fellowship at Memorial Sloan Kettering Cancer Center in New York City and has a special interest in cancer prevention and early cancer detection. They share the same philosophy to honor the doctor-patient relationship with trust and transparency.
Tackling the challenges of the most complicated cases, the physicians are committed to ensuring patients have the best possible outcomes. Although gastroenterologists undergo the most extensive training in performing colonoscopies and other endoscopic procedures, their rates of polyp detection can vary significantly. Dr. Blaszka and Dr. Bae pride themselves on a polyp detection rate that is above the national average.
Dr. Blaszka and Dr. Bae as well as the entire GI practice at The Park Medical Group welcome new patients. For more information or to schedule an appointment, visit www.englewoodhealthphysicians.org or call 201.510.4451