The Pleasures of Placid
Just one place in America has twice hosted the Winter Olympics. Could it be your next getaway?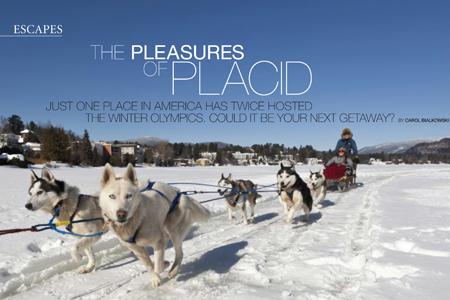 Looking to escape Monmouth County for a ski weekend or a weeklong vacation this winter? Head north—to Lake Placid, a postcard-perfect Adirondack village that has been a favorite of winter-sports enthusiasts for more than a century.
Skiing on world-famous Olympic trails is just part of the appeal of Lake Placid. You can enjoy just about any winter sport or activity here—snowboarding, cross-country skiing, snowshoeing, ice climbing, snowmobiling, sleigh riding, dogsledding and ice skating on the oval where Eric Heiden won five gold medals for speed skating in 1980. And for visitors like me, who don't care very much for snow or ice (unless I'm sitting in a horse-drawn sleigh, tucked under a warm blanket), there's a vibrant Main Street lined with shops and restaurants, plenty of après-ski opportunities, historic Olympic venues to explore and an award-winning resort to return to at the end of the day.
About that resort: With its massive log beams, native stone fireplaces around every corner and beautiful handcrafted furnishings, Whiteface Lodge looks more like a luxuriously homey Adirondack Great Camp than a hotel. And since it was originally designed as a private residence club, each "room" is a spacious suite (one, two or three bedrooms) featuring all the comforts of home—and then some: a fully equipped kitchen, gas fireplace, pillow-top mattress, flat-screen TV, jetted tub and radiant floor heating in the bathroom, which is a treat when you step out of the shower.
Whiteface Mountain, which features the greatest vertical drop east of the Rockies (3,430 feet), is 20 minutes away in Wilmington. Yes, it's an Olympic mountain, but only about a third of the 87 trails are rated for experts. There's fun for skiers of all levels here, as well as excellent skiing and snowboarding programs for kids and a nursery for the youngest members of the family. If you're not a fan of the powder, Whiteface is still worth a trip. Take a ride on the Cloudsplitter Gondola to the top of Little Whiteface. The 15-minute ascent will take you over ski trails, woods and scenic overlooks. At the summit, an observation deck awaits—perfect for picture taking.
Another "must" experience: a bobsled ride at the Olympic Sports Complex just outside the village. The billboard on the front of the venue calls it "the ride of a lifetime," and that's the truth. Your ride begins at the half-mile point on the track, where you're fitted for a helmet, introduced to your driver and brakeman, and told what to do. (Basically, you sit in the sled and hold onto the straps on either side of you.) The brakeman then gives the sled a push, hops in the back, and you're off, thundering through turns and down straightaways at speeds of up to 50 mph until the intense, brain-rattling ride ends less than a minute later. My friend called it exhilarating. I called it crazy. But I'm glad I did it—and I have the "team photo," T-shirt and commemorative pin to prove it. (For a less intense experience on the ice, try the toboggan chute on Mirror Lake.)
When you've had your fill of sports for the day, it's time to exercise your credit card in some of the distinctive shops and boutiques on Main Street—Candy Man for delicious locally made chocolates; The Glassblowing Shop, where you can watch the artisans in action; Lake Placid Christmas Company, where it's December 25th year-round; Fortunes of Time for interesting souvenirs and gifts; and Imagination Station, a cool toy store with unusual items you won't find back home. Hungry? Skip the pricey, touristy places on Main Street and head to Redneck Bistro, a new, no-frills joint tucked behind Lake Placid Chocolatier on Saranac Avenue. Your reward— for counter service, paper plates and minimal decor—is the best burger in town, perfectly cooked and starting at just $7.50.
Of course, you'll want to spend a lot of time discovering all of the activities and amenities back at Whiteface Lodge. There's a heated indoor/ outdoor pool and hot tubs; private, lighted ice-skating rink (skate rental included); sledding hill (sleds provided); snowshoeing trail (shoes and map provided); 56-seat surround-sound movie theater serving fresh-popped popcorn; an upscale game room with pool, shuffleboard, air hockey, foosball, ping-pong and a two-lane, 10-pin bowling alley; and a bonfire with s'mores every evening. And you'll want to set aside some time to visit the luxurious spa, perhaps treating yourself to a relaxing steam bath followed by an aromatherapy massage. (I loved the calming, grounding scent called Fresh.)
When it's time for dinner, one option is to go gourmet at Kanu. Request a table by one of the floor-to-ceiling fireplaces, enjoy the Angus New York strip and save room for the toffee ice cream sandwich and a flight of cognac or maybe Madeira. For a more casual meal there's Kanu Lounge, where you can sink into a comfy couch or club chair and dig into a platter of handcrafted truffle salt fries. Don't ask; just order them. And don't bother to pretend that you're not going to finish them. Beyond that, there are burgers, salads, sandwiches and knockout signature cocktails—try The Campfire, even if you don't like scotch or bourbon. You won't be disappointed.
If the kids are clamoring for pizza, stroll across the street and take them to a local gem called Caffe Rustica. Here they can enjoy a wood-fired pizza and you can savor delicious "adult" food along the lines of prosciutto spiedini, pan-roasted goat cheese, porcini-crusted hanger steak and orecchiette with Italian sausage and broccoli rabe.
When the fun is done and you're on your way back to New Jersey, be sure to stop at South Meadow Farm Maple Sugarworks (on Route 73, past the Olympic Sports Complex) and pick up some pure maple syrup for your pancakes at home. You're on the honor system at this unusual shop; take what you want off the shelf and slip the cash or a credit card slip into the box provided. You won't find that in Monmouth County!
-Carol Bialkowski