The Secret to Controlling Hunger
Don't fight your stomach—fill it. But fill it smart.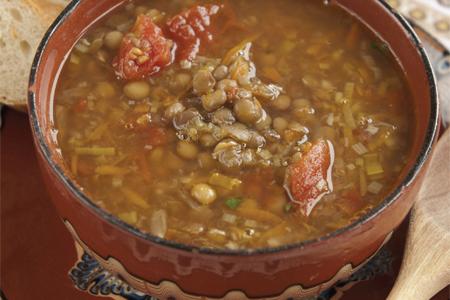 How's this for a novel approach to weight management? Eat till you're satisfied. That is, eat the right foods—those that are nutritious, tasty and full of good-for-you things like fiber— and reap the benefits of satiety, the delightful state of feeling comfortably full.
In general, foods that are both good for you and filling have what's known as a low energy density, meaning they have relatively few calories per serving. Examples include non-starchy vegetables, fruits, broth-based soups and low-fat dairy products.
Foods that contain lots of water tend to be low in energy density. For example, you can get 110 calories from a ¼-cup serving of raisins or from 1¾ cups of grapes. The grapes will make you feel fuller.
Low-energy-density foods also tend to have significant amounts of fiber, which takes a relatively long time to digest, allowing you to feel full longer. Such fiber-rich items include artichokes, sweet potatoes and whole grains like oatmeal and brown rice.
Very high-density foods, on the other hand, represent true splurges because they pack so many calories into small amounts—for example, crackers, chips, chocolate, nuts, butter and oils. You've got to eat much more of these to feel full. One paltry ounce of potato chips "costs" 155 calories; three cups of airpopped popcorn also weigh about an ounce but provide greater bulk at a mere 93 calories.
High density though they are, fats are still an essential part of a healthy and satisfying diet. Just stick to the "good" monounsaturated and polyunsaturated fats found in nuts, seeds and vegetable oils (such as olive and safflower oils). And keep the amounts small, bearing in mind that a mere 24 almonds contain 163 calories, mostly from fat, and that olive oil is 120 calories of fat per tablespoon.
A Tip For Each Meal:
"You should eat every three to four hours," says Angela Langner, a registered dietitian with the Nutrition Center of Bergen County, who offers these suggestions for using high-fiber, low-density foods to achieve that satisfying feeling of fullness without overeating:
Breakfast
Try steel-cut or Irish oatmeal sweetened with apple purée, a handful of chopped apples or pure stevia (in the raw or in drop form). Add a tablespoon of raisins, slices of banana or a couple of dried prunes or dried apricots. Quinoa made with water and some milk is also a satisfying, wholesome breakfast. Or try an oat-bran muffin with dried fruits and nuts.
Lunch
Think high-fiber soups, such as lentil or split pea (the Amy's and Wolfgang Puck brands have good low-sodium options) or a salad with high-fiber dark greens such as spinach, arugula or kale. Use a light vinaigrette dressing and keep add-ons—almonds, dried fruits, low-fat feta cheese—to one tablespoon so you get the taste but not all of the calories. When you have time to cook ahead, make vegetarian chili or black bean cakes.
Snacks
Choose a food or combo that has at least two of these three: fat, fiber, protein. Good choices include ¼ cup trail mix with no added sugar; pistachios, which give the highest amount of fiber for the fewest calories (50 pistachios, 150 calories); a hard-boiled egg; fruits such as raspberries, a pear, an apple; and fat-free Greek yogurt. Air-popped popcorn can be topped with a spritz of olive oil or a bit of Brummel & Brown (a butter substitute made with yogurt).
Dinner
Shoot for this ratio: Fill half of your plate with vegetables, one-quarter with protein and one quarter with whole-grain carbohydrates, along with a tablespoon of healthy oil. Choose chicken breast without skin, a lean cut of beef such as filet or sirloin, or fish (a highfat fish like salmon has more calories but is also more filling than a white fish like flounder or tilapia). In-season vegetables such as squash, pumpkin and yams are great choices, as are artichokes and Brussels sprouts (roast them with balsamic vinegar). Wild rice has even more fiber than brown rice; enhance it with herbs, spices and chopped vegetables. Farro, a variety of wheat, cooks like other grains and is high in fiber and protein.
"If your balance of foods is right, you will find this schedule satisfying," says Langner. "This will keep your metabolism going, which keeps weight down."
Morning Glory Muffins
Ingredients
Cooking spray
1 cup whole wheat flour (about 4¾ oz.)
½ cup all-purpose flour (about 2¼ oz.)
1 cup regular oats
¾ cup packed brown sugar
1 Tb. wheat bran< /br> 2 tsp. baking soda
¼ tsp. salt
1 cup plain fat-free yogurt
1 cup mashed ripe banana (about 2 bananas)
1 large egg
1 cup chopped pitted dates (or dried apricots)
¾ cup chopped walnuts
½ cup chopped dried pineapple
3 Tbs. ground flaxseed

(about 2 Tbs. whole)
PREPARATION
Preheat oven to 350°.
Place 18 liners in muffin cups; coat liners with cooking spray.
Lightly spoon flours into dry measuring cups, and level with a knife. Combine flours and next 5 ingredients (through salt) in a large bowl; stir with a whisk. Make a well in center of mixture.
Combine yogurt, banana and egg; add to flour mixture, stirring just until moist. Fold in dates, walnuts and pineapple. Spoon batter into cups. Sprinkle with flaxseed.
Bake at 350° for 20 minutes or until muffins spring back when touched lightly in center. Remove muffins from pan immediately; cool on a wire rack.