The Staff of Life
Nothing beats the flavor, texture and nutritious goodness of an "artisanal" loaf of bread freshly baked the old-fashioned way.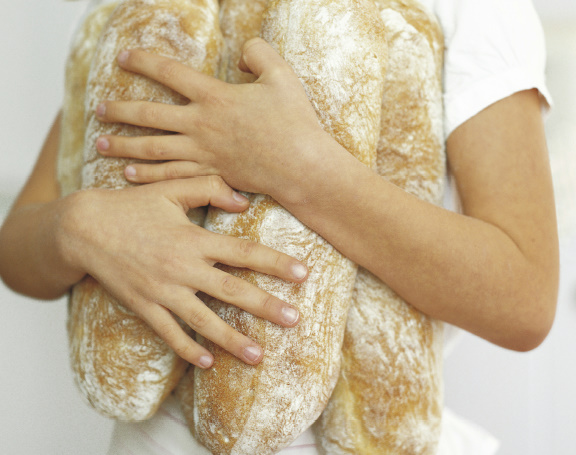 In its most basic form, a loaf of bread is nothing more than flour, yeast, water and salt. Yet in almost all cultures since the beginning ofcivilization, bread has been revered as the staff of life. When Christians pray, "Give us this day our daily bread," bread signifies sustenance in general. For the same reason, our slang for money is "bread" or "dough," and the head of a household is the "breadwinner."
When grains were first harvested, ground, combined with water and exposed to heat, the source of heat was probably a rock warmed by fire—a precursor of the process used for today's flatbreads. But at some point—about 10,000 B.C., experts estimate—the grain-water mixture was left to sit out exposed to naturally occuring airborne yeast spores, which mystically transformed it into a light, airy and irresistibly fragrant wonder.
The transformation of wheat and yeast into bread is almost as magical to us today. Baking bread is part science, part art. To be sure, the Industrial Revolution brought us scientifically produced loaves, with their bleached white flour, highspeed mixing and rising and chemical "improvers" and "conditioners." But the desire for a return to breads with more complex tastes and textures—not to mention the wholesomeness and nutrition that come with ditching the artificial ingredients and preserving the fiber, essential oils and vitamins that whole grains impart—is behind the current popularity of artisan bakers. Their alchemy includes employing Old World methods and using pristine, locally sourced ingredients.
Nina White, who, with her husband, Jonathan, owns Bobolink Dairy & Bakehouse in Milford, is one such practitioner. While Jonathan is in charge of cheesemaking, Nina produces about a dozen different multi-grain loaves, from a rustic, multi-grain loaf and plain ciabatta to an authentic medieval rye—all in a woodfired oven. "It's the flours that set my breads apart," she contends. "They are all organic and come from regional sources, and each of my breads contains at least three kinds. When I get my flours, they've been milled within the last two weeks. Whole-grain flours degrade quickly. What you find on the shelves of a grocery store is ancient by comparison!"
Like many like-minded practitioners, White also does long fermentation of her natural starters (with a bit of yeast added in a few of the styles), and slow, cold rises that allow the dough to relax and aerate. "This lets the deep flavors of the grains develop," she explains. The third component of the artisanal process, beyond impeccable ingredients and exacting, time-consuming methods, is the actual baking. "The oven is very important," White says. "We have a single- chamber, wood-fired oven. We heat it, then rake out the coals before we bake. This is the retained-heat concept, which improves the texture of the bread. We take care to put in a full load of dough, so that the chamber retains the needed moisture. It's the old-time way."
White conducts breadmaking classes at Bobolink (visit cowsoutside.com for details) for those looking to produce the crisp crust, satisfying texture and complex flavors of artisanal breads at home. In fact, home bread bakers swear—with tongue only half in cheek—that it is as effective at relieving stress as yoga, meditation and aromatherapy. It forces bread makers to take time out from their busy schedules for mixing and kneading (yoga), waiting attentively for the bread to rise (meditation) and inhaling the wonderful aromas as the bread bakes (aromatherapy). Plus, they get to share the result with family and friends.
---
Where to Buy Artisanal Bread
Balthazar Bakery
214 S. Dean St., Englewood
201.503.9717, balthazarbakery.com
Fairway Market
30 E. Ridgewood Ave., Paramus
201.444.5455, fairwaymarket.com
Fort Lee Farmers' Market (Meredith's Bread)
Fort Lee Community Center
1355 Inwood Ter., For t Lee
201.693.2763, fortleenj.org
The Market Basket
813 Franklin Lake Rd., Franklin Lakes
201.891.2000, marketbasket.com
Ridgewood Farmers' Market (Baker's Bounty)
Ridgewood Train Station
6 Garber Sq., Ridgewood
201.445.2600, ridgewoodchamber.com
---
Related Read: Farmers' Markets in Bergen County