The state's most popular birthplace
More babies are born at Saint Peter's than at any other hospital in the state—and no wonder. Saint Peter's University Hospital is the largest provider of maternity services in New Jersey, with about 6,000 deliveries a year.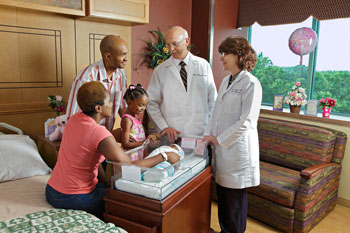 More babies are born at Saint Peter's than at any other hospital in the state—and no wonder.
Marcela caro of Somerset knew she would be having twins at Saint Peter's University hospital—she just didn't know it would happen in July. Her caesarean section was scheduled for august 9, but the two babies couldn't wait. when labor pains began on July 18, her obstetrician—Matilda Miranda, M.D., of Somerset ob/Gyn associates—told her to come in to the hospital.
"When we got there, it was an instant delivery," recalls caro, 40, who is employed as program coordinator for the Rutgers Study Abroad program at Rutgers University. "Our twin sons, Dylan and Connor, were born within an hour."
Maybe Caro and her husband—Tony Doody, 42, Rutgers' director of Programs and leadership for Student Life—were bound to recall this birth more happily than that of their first son, kyle, two years ago at another hospital. that earlier delivery, after all, took 48 hours. But the fact is, they found their experience at Saint Peter's more positive in every way.
"It was like night and day," says Doody. "we were so happy we wanted to tell someone."
That's just what John A. Carlson Jr., M.D., chair of Obstetrics and Gynecology at Saint Peter's, likes to hear. "We're the largest provider of maternity services in New Jersey, with about 6,000 deliveries a year," he says. "as a regional perinatal center—the first in the state—we offer expertise at all the levels of care a mother would ever need. whether or not your birth is complicated, you can come here and have a great experience, with doctors and nurses who know how to provide caring services."
When Caro and Doody found out that they were having twins, they told a colleague at Rutgers who had also had twins. "She raved about how well they took care of her at Saint Peter's, the education she received and how nurturing they were," says Doody. "that's exactly what we were looking for."
The couple learned that the colleague's recommendation was right on the money. "the whole staff—from the security people who helped Marcela out of the wheelchair, to the folks in admissions, to the people who took her up to labor and Delivery—did a great job. It was amazing how well everyone worked together," Doody says. "It was like an army with three battalions, one for Marcela and one for each twin. It all was so smooth and calm."
"Every single person introduced himself or herself and told me what they would do for me," Caro says. "Two anesthesiologists came over and explained the injections I would receive and how I would feel. the whole experience was not scary at all. It was very comfortable."
After Dylan and Connor were delivered (at 5 pounds, 7 ounces and 5 pounds, 10 ounces, respectively), Caro needed to spend three and a half days recovering in the hospital.
"I was blown away when we got in the room," says her husband. "I travel all over the world, and I told my wife her room was nicer than a ritz-carlton. It was gorgeous, with cherry hardwood floors and molding, and a new and modern bathroom that looked like a spa. It was luxurious."
During their stay, the couple made personal connections with just about everyone with whom they came in contact. "Everyone took time to get to know me," says Caro. "There was a different nurse each day who introduced herself, wrote down her name and the patient care technician's name on a blackboard, and said 'I will be taking care of you.' Even the cleaning lady took time to get to know me and congratulate me about my twins. This is a very vulnerable time, and it meant a lot that everyone showed concern for me."
Dad got similar treatment. "Whenever I walked around the hospital, if someone saw my two arm bands, which signified I had new twins, they always said, 'Congratulations, it's so exciting!' I was impressed. You see so much bad customer service these days, but this was like hanging out with friends." Of course, even when a delivery is relatively uncomplicated, as those of Dylan and Connor were, it's good for peace of mind to know that a facility is prepared for the unexpected. "Saint Peter's is ready for anything where maternity care is concerned," explains Dr. Carlson. That care typically begins in one of the 16 private labor, delivery and recovery rooms. All the rooms have electronic fetal monitors hooked up to the centralized nurses' station, where the nursing staff—whose members average more than 20 years of experience—keeps a close eye on everything that happens.
For those cases that need more advanced care, the hospital offers high-risk pregnancy specialists—physicians specializing in maternal fetal medicine, or MFM. "MFM specialists have additional training beyond residency in Ob/Gyn," Dr. Carlson says. "They can care for women with advanced medical or obstetrical problems. For example, women with triplets or with severe diabetes, or babies with suspected complications would be cared for by MFM specialists."
And if a baby needs intensive care once he or she is born, the Neonatal Intensive Care Unit (NICU), which is part of The Children's Hospital at Saint Peter's, is ready to help. "With 54 bassinets, we have one of the largest NICUs on the East Coast," Dr. Carlson says. "If a baby is born premature or with special problems, we have an incredible team of neonatologists who are fellowship-trained and nurses who are certified in caring for critically ill newborns."
Saint Peter's also has the advantage of being a teaching hospital. Its Ob/Gyn residency program trains 17 residents, which not only helps more experienced physicians stay abreast of the latest innovations and best practices, but also means doctors are in the hospital around
the clock.
"We have a team of physicians and residents on site 24/7 to take care of any obstetric emergency that may arise," says the doctor. "If it's 2 a.m. and a woman is suffering internal hemorrhaging, we have the specialists here to care for her."
Dr. Carlson also makes sure continual practice helps his staff stay ready to handle such emergencies. "We monitor our performance all the time. We compile statistics on a semiannual basis to monitor our C-section rates, complications following delivery, infection rates and deliveries before 39 weeks' gestation. We also monitor the performance of each physician individually and each team collectively, looking for the same things as above—basically, how well our mothers and babies do."
Saint Peter's, through its Neonatal Transport Program, works in partnership with other area hospitals to transport premature or fragile newborns to Saint Peter's in order to provide the level of specialized care found only in a regional perinatal center. "We offer highly coordinated care by experts in their fields," Dr. Carlson says. He wants the community to know that Saint Peter's can take care of just about any mom and baby—including, but not limited to, "uncomplicated" babies like Dylan and Connor.
"I am amazed at how many services we received, from lactation consulting to a video for our older son, Kyle, to watch about his new siblings," says Doody. "A nurse even spent time with me and showed me how to feed the babies correctly. I learned I was using a poor burping technique and the angle at which I was holding the bottle was wrong," he says with a laugh. "I also relearned how to
change a diaper on a smaller baby."
"Even the food was outstanding," Caro recalls. "It's all very healthy, and the nurses made sure I ate well. One of them was from Russia, where she had been a midwife, and she could answer all my questions about medicines and about caring for my babies and me. The whole staff helped with everything I wanted to know. And all of that set the tone and put us at peace for when we came home."
Saint Peter's University Hospital is the largest provider of maternity services in New Jersey, with about 6,000 deliveries a year. A regional perinatal center, Saint Peter's offers expertise at every level of care. John A. Carlson Jr., M.D., chairman of the Department of Obstetrics and Gynecology, and nurse Sharlene Wolfe, director of Women and Children's Services at Saint Peter's, lead the hospital's skilled team of physicians and nurses.
To learn more about having your baby at Saint Peter's University Hospital or for a tour of the hospital's Women and Children's Services, please call Parent Education at 732-745-8579. "We have one of the East Coast's largest neonatal intensive care units, with a team that's certified in caring for critically ill newborns." —John A. Carlson Jr., M.D.