The suite life- Franklin Lakes homeowners make their home spa-like
Thanks to a new spa-inspired master bedroom and bath, a Franklin Lakes couple learns there's no place like home.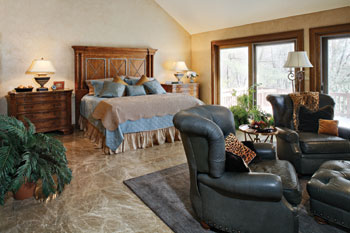 Call it the postvacation blues—that slight pinch of wistfulness that comes from returning to normal after a superb trip to far-flung lands. But for one Franklin Lakes couple, that feeling was exacerbated by the sad state of the home to which they'd returned: With its dark and drab master-bedroom suite, it was a far cry from the top-notch hideaways they'd slumbered in abroad.
"They are huge travelers and have stayed at five-star hotels," says interior designer Jean Neri of Jean Neri Interior Design in Franklin Lakes. "They know that the home should be a retreat."
Neri was already familiar with the globe-trotting couple's style, having worked on a home they own in the Virgin Islands. In viewing the stateside suite, she knew it had the potential to become the sanctuary they sought. "Architecturally, the bones of the space were good," says Neri.
For Neri, the key to upping the luxury factor here was adding marble—and lots of it. All told, the bed-and-bath suite now features more than 900 square feet of a lush golden-toned Emperadore marble, on the walls and underfoot. It was this material that inspired the suite's serene colors of rich amber and warm mahogany, with a pop of blue as accent.
"The palette exudes a Zen, spa-like, ambience," says the designer.
With a generous 700 square feet to work with in the master bedroom, Neri set about creating two distinct areas: a chic space for slumber as well as a snug sitting nook. In the latter, she made the fireplace the focal point by replacing an entire wall with the suite's trademark marble. Its cool sleekness is offset by two comfy leather club chairs, whimsical leopard pillows and an elegant new rug in a slate one shade darker than the bedding. An ottoman and a gold-toned side table complete the cozy corner, now a lovely spot for relaxation or conversation.
In the adjacent master bath, long gone are the cavernous shower, sunken brown tub, matching brown tile and outdated wallpaper. Instead, the
space now epitomizes the suite's sanctuary theme, thanks to an oversized whirlpool soaking tub and a separate sleek glass shower with a marble bench. Custom his-and-her mahogany vanities are topped with a dark-brown granite that contrasts nicely with the golden marble, while leopard makes a reappearance in the form of playfully patterned towels.
The suite is also notable for what it lacks: any window draperies. Since the property sits on a spacious wooded lot that affords much privacy, the designer opted to keep the windows bare. This allows for expansive views and enough bright sunlight to remind the residents of their tropical travels—but with all the comforts of home.