The Tub's for Two
Bathrooms are all about routine. But thanks to a luxe redo, this one says adventure too.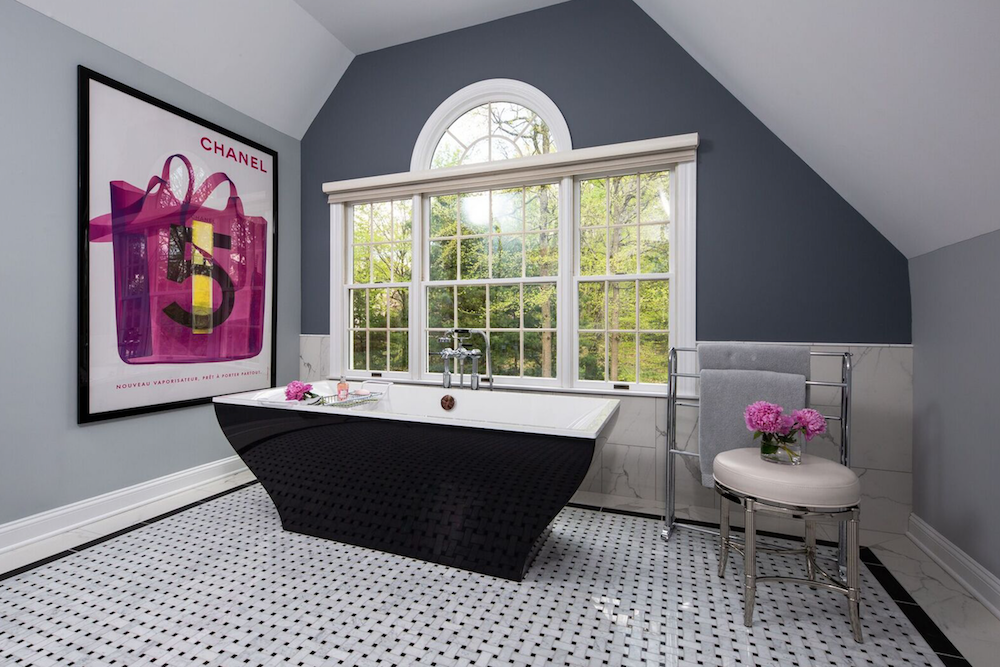 Now two Pascack Valley empty nesters can be reminded of global travel every time they step into their colonial's master bathroom. As original owners, they had lived with a mauve carpet and traditional step-up Jacuzzi in this space for some 25 years. But then their two adult children left the nest, and in late 2017 it was time for a "bright and bold" design to carry them through their golden years. Enter Toni Saccoman of the Ridgewood design firm Ulrich. Her mission: to harmonize the couple's diverse tastes, yet avoid major construction by preserving the double- room format that gives the tub its own sanctuary. To evoke the luxurious spirit of global travel, Saccoman drew from the poshest bathrooms to infuse a "wow" factor into what she describes as a transitional with a modern edge and a "twist on an art deco style."
"I travel for business all over the world," says the homeowner, "and I started taking note of hotel bathrooms." Although he and his wife are self-proclaimed shower people, they knew the tub had to take center stage in the more spacious of the two rooms. With its sexy curves, the black soaker for two (by Villeroy & Boch) performs that starring role in a stage serenely set with a park-like view. Saccoman mastered the challenge of an asymmetrical room with shades of gray to restore balance.
Some highlights: a "very 21st century" Wood-Mode vanity with bright white finish and Robern his-and-hers medicine chest mirrors; a punch of pink from a Chanel No. 5 poster; and black-and-white marble tile flooring in a basket-weave pattern unifying this room and its slender cousin.
Don't be surprised to find the smaller room also loaded with bells and whistles. Did we mention that the Toto Washlet (combo toilet and bidet) lights up, opens when you approach and works with remote control? The luxury continues where these shower aficionados are most likely to find refreshment, with rain and hand-held showerheads in an enlarged enclosure with a bench seat and a built-in niche for essentials. When the couple are not off on an exciting trip, staying home now can be its own adventure.