The Winners of our "Picture of Health" Contest!
Here we present the two Bergenites who wowed us with their healthy, balanced lifestyles.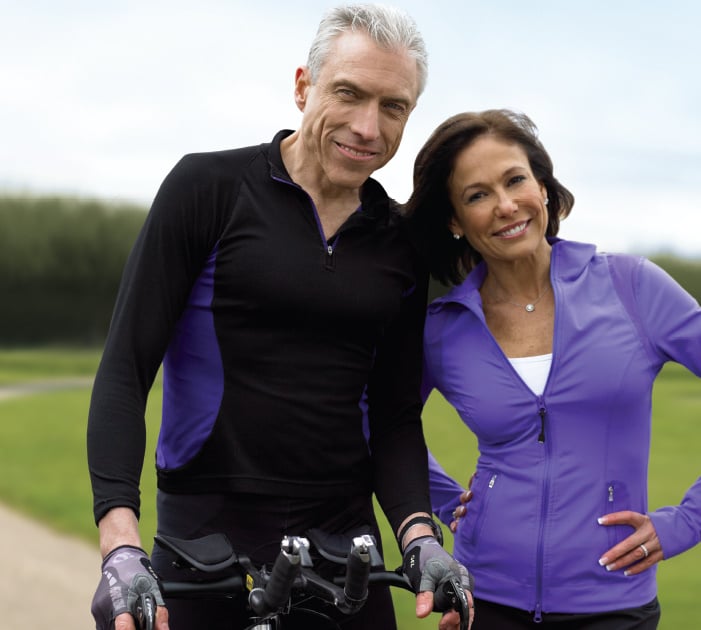 We asked you to tell us about Bergen County women and men who exemplified healthly living, and the nominations rolled in! Here we present the two Bergenites who wowed us with their healthy, balanced lifestyles.
Gladys Ditroia
"There is no simple, cookie-cutter solution to weight problems," says Gladys Ditroia, a certified weight management specialist in Wyckoff. Dhe believes that proper eating, exercise and education are the keys to successful weight loss and maintaining a healthy lifestyle.
Healthy nutrition is more than a job for Ditroia—it's personal. sixteen years ago, her 4-year-old daughter, Samantha, was diagnosed with diabetes, and it was up to Ditroia to m
anage the child's new nutritional program. She has also faced the challenge of building up her own weight after digestive problems, emergency bowel surgery and a consequent infection. These struggles inspired her to assist others with nutritional health. "I know from personal experience how much we need someone to help us closely when it comes to nutrition," Ditroia says. "Knowing you don't hav
e to go through it alone makes it so much easier."
Working out of her home, Ditroia designs customized weight-loss programs for her clients, who range from recent college graduates to local police officers, and encourages them all to stick to their individual programs.
"Gladys motivates me and prepares me for every obstacle life throws at me," says Craig Simko, a happy client from Wyckoff. "She teaches me what to eat at parties and encourages me to check menus at restaurants before I go."
Ditroia also preaches exercise—and practices it too. "I make my clients agree to weight-train at least twice a week as part of their program," she says, explaining that such activity boosts metabolism. And she personally enjoys kickboxing, spinning and seeing a personal trainer. "Fitness is a huge part of my life," says Ditroia, "and my daughters often join me in my training sessions and spin classes." Ditroia lives with her husband, Ed, and her daughters Samantha, 20, and Brooke, 14.
Ditroia also uses cognitive therapy to help clients change their behavior by changing their thinking. She encourages them to write their long-term goals on cards and refer to them twice a day so they can keep their weight-loss goal in perspective.
"The first time I met Gladys, I felt her passion for living a healthy and happy life," says Samantha Leone from Franklin Lakes, another client. "She is a terrific nutritionist, mentor, coach and f
riend."
Check out Gladys' site at gladysditroia.com.
GLADYS DITROIA'S 5 FOOD RULES
1 Don't drink your calories.
2 Live by the 80/20 rule: 80 percent of the time, eat what you know you should be eating, and 20 percent of the time, allow yourself to stray a little.
3 Don't turn a bad meal into a bad week. If you made a poor food choice, don't throw in the towel. Jump right back into things.
4 Identify and avoid your "trigger" foods.
5 Be prepared: Check restaurant menus online and always keep emergency snacks handy.
---
Larry Grogin
Triathlons are more than a sport —they're a therapeutic way of life," says Larry Grogin, a chiropractor and acupuncturist from Franklin Lakes. An athlete himself, he stresses to his patients that exercise can be used as medicine to help treat a variety of health issues.
Dr. Grogin, who has been practicing for 30 years and works out of his home, combines alternative medicine practices such as acupuncture with chiropractic manipulation to help relieve his patients' pain and stress. "He approaches health holistically, considering the physical body, the energy within, the mind, the emotions and the spirit," says Erica Conway, a patient from Ho-Ho-Kus who credits Dr. Grogin with helping her recover from injuries sustained in a serious car accident.
Dr. Grogin believes the body can heal itself from within and relates his philosophy about health to the Chinese concept of yin and yang. "It is all about balance," he says. "It is important to develop a sense of one's inner power and strength while also relying on others for help, support and wisdom."
Dr. Grogin balances his busy practice with exercising with patients at the local Y, training for triathlons and spending time with his wife, Cheryl, and twin 20-year-old sons. He's known for his 28-day "Back to Life" DVD program, targeted at those suffering from back pain—and for his sense of humor. "He can take an old grammar-school joke and, with his delivery, get you laughing at it all over again," says client Jim Megin of Oakland.
With 27 years of triathlon experience, 21 of them as an Ironman triathlon participant, Dr. Grogin encourages both his patients and his family to take an active role in protecting their good health by participating in sports and keeping fit. He has even launched what he calls The Back to Life Triathlon Camps for people interested in training for these events.
Dr. Grogin defines success (including his own) not as winning, but as continually trying to the best of one's ability. And the most rewarding aspect of his job? The enjoyment of working one-on-one with patients, he says. "I feel privileged to have such great people trust me with their health and overall well-being.
LARRY GROGIN'S 5 HEALTH RULES
1 Shop the perimeter of the grocery store so you e
at fresh, unprocessed foods.
2 Drink at least 10 glasses of water a day and avoid soda, juices and alcohol.
3 Exercise every day in some way.
4 Do breathing and stretching exercises frequently; they're a wonderful way to reduce anxiety, agitation and stress.
5 Give and get a hug and laugh every day!
---
Related Article: The Winners of our Green Housewives of NJ Contest