The Yard Insisted
Who dared disobey when a large lawn in Demarest demanded, "Put in a pool?"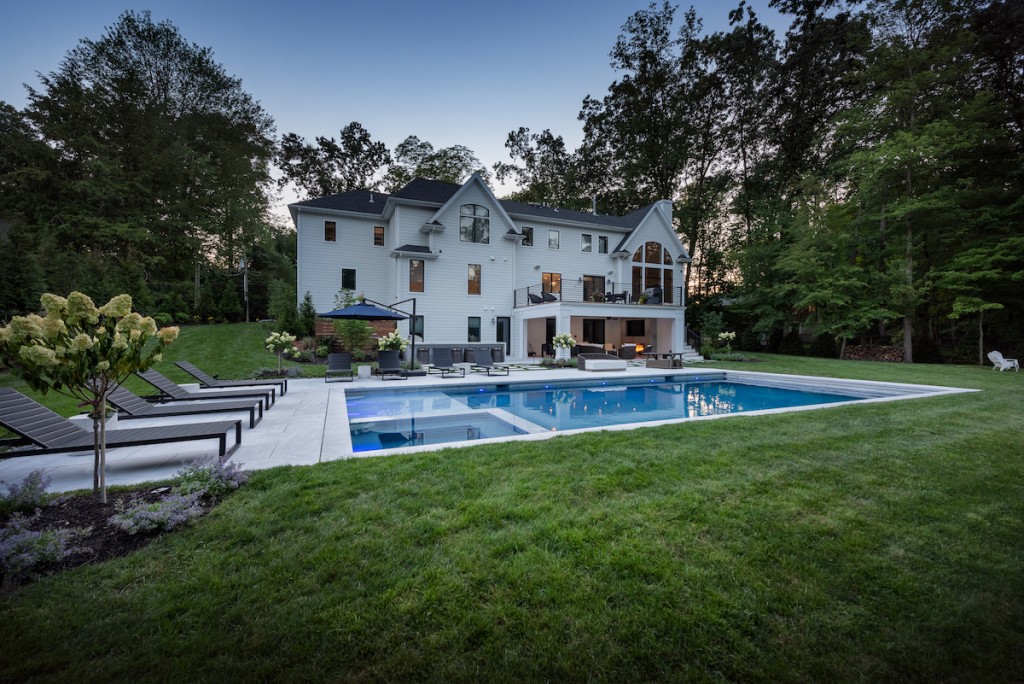 People often ponder what they'd learn "if these walls could talk." So perhaps it's not too much of a stretch for a sizable backyard to, as homeowner Brett puts it, "cry out" for a swimming pool.
Though the Demarest couple and their three girls, ages 4, 8, and 10, all embraced the idea of turning underused grass into the immersive hub of outdoor family living, the backyard itself was an eloquent influence.
"It's big enough that it was almost necessary to put a pool in to justify the yard," Brett says, estimating the entire lot at over an acre. The idea gained momentum during COVID, which "gave us perspective on what we want to do as a family," he says. "We decided to bring the vacation to us."
Completed in July of 2021, the resort-like transformation drew the kids away from gadgets to quality family time. Pandemic or not, the family would have succumbed to the backyard's pool pressure, he says—eventually. Reflection sped up the process. (A pool often provides reflection; here it was the other way around.)
Enter Welington Gomes, owner and designer at Paramus-based SJ Pools and Landscaping, with a plan to "create a nice entertainment area for them and their friends" with a 42×20-foot Gunite pool in just the right shade of custom blue as its focal point.
Beyond the pool, this entertainment hotspot has these main draws: a three-season room with a fireplace, a balcony above it and an outdoor kitchen with a bar. Brett says it's hard to pick a favorite feature since each area has its fans, but a sure highlight is watching TV with a fire crackling—toasty yet close to the falling snow.
As the designer of this "resort," Gomes made sure to keep it sleek and complement the home's arctic white-and-black exterior. The chaise lounges, chosen by homeowners Brett and Alison, introduce deeper tones, as does the wicker seating in both the outdoor kitchen and the three-season room by Restoration Hardware. Conversely, the sandblasted marble on the pool's perimeter is light like the house itself. Alison wanted a Hamptons vibe, so if the pool seems to sink into the lawn, mission accomplished. For the main attraction, Gomes used Hydrazzo plaster for a polished pool surface that "feels really smooth when you step on it." Sandblasted marble—"the coolest stone you can put around"—makes up the perimeter and withstands the elements quite well. And heating, lighting and more can all be mastered by cell phone.
Guests, of course, don't need to know all that tech stuff: They can simply unwind at the in-pool hot tub, sip mojitos at the outdoor bar or watch the game on a water-submerged bench courtesy of a swivel TV. Meanwhile, you'll find the wee ones happily splashing in the kiddie pool.
One outstanding feature, unheard of years ago, is the use of a quartz-like material for calacatta elegance in the outdoor kitchen/bar, says Gomes. The game changer, he adds, is Dekton for the countertop's waterfall effect.
Another secret: It took more than a fireplace to give the adjacent room, styled to be modern but inviting, its three-season status. Heaters are implanted in the ceiling, and remote-control screens block 90 percent of the wind in spring and fall. "If you create the right environment, it [a pool] can be used from March to Thanksgiving," he advises.
Located off the kitchen, the balcony, which Gomes built after a smaller version's demo, gets lots of everyday use, whether it's BBQ or firepit time. Contrasts return with the white stone table and black wicker chairs, but what's underfoot is also remarkable, Gomes explains: ipe wood that can retain beauty for 80 years.
As finishing touches, Gomes stationed tall hydrangea trees on which to hang lighting and speakers, so "at night everything feels like you're at a high-end resort." Stepping stones laced with artificial grass lighten up the patio with a "natural feel."
Now that the backyard has spoken, Brett can clearly say that this is "probably the best decision we have made" as far as the family's home is concerned. And even his youngest has learned to swim.
Text by Donna Rolando
Design by SJ Pools and Landscaping
Photography by Jimi Smith Photography