There's Something Fun For Everyone This Weekend!
June in Bergen is filled with Pride, carnivals and food festivals. Here are a dozen places to find all the action.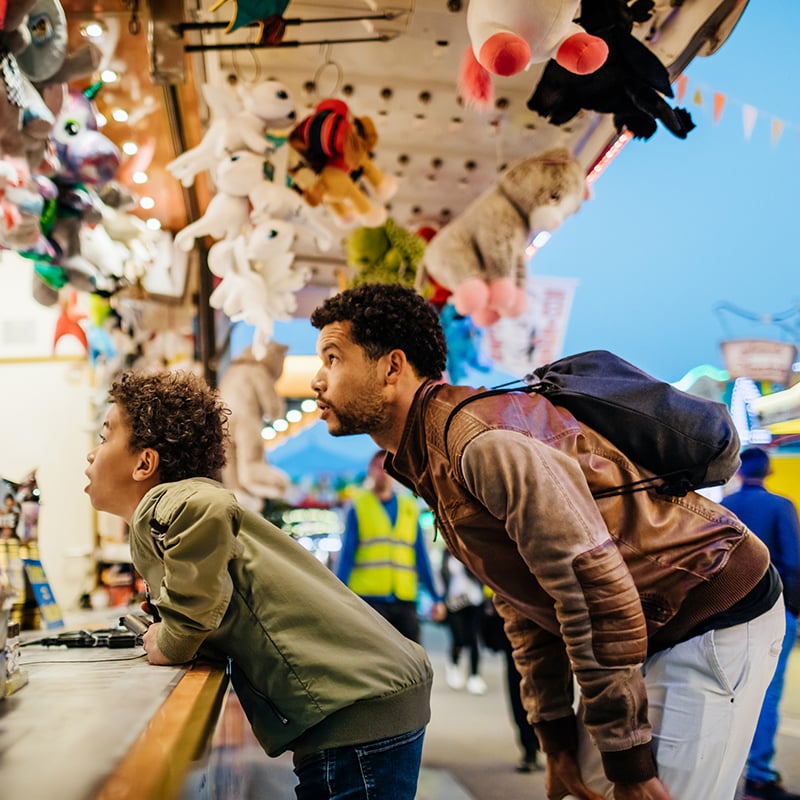 Taylor Swift has come and gone, but summer fun in Bergen is just getting started. If you thought last weekend was packed with things to do, we have exciting news for you: There's just as much to celebrate over the next three days.
From carnivals and car shows to Pride month parties and food fests, there's something happening for everyone taking place this weekend. Below are a dozen events where you'll find non-stop fun and excitement.
June 9–11: L.E.A.D. Fest Carnival, Garden State Plaza, Paramus, Friday, 5 p.m. to close, Saturday and Sunday, 2 p.m. to close. Bring the entire family for a day/night of rides, games, food, magic shows and more! Admission: $5, rides: 11 tickets for $15, 22 tickets for $25
June 9–11: Madonna Church Carnival, Madonna Roman Catholic Church, Fort Lee, Friday, 6 to 10 p.m., Saturday, 4 to 11 p.m. and Sunday 4 to 9 p.m. Rides, games, activities, fair food—need we say more?! Admission: Free
June 9–11: Greek Festival, Ascension Church, Fairview, Friday, 6 p.m. to midnight, Saturday, noon to midnight and Sunday, noon to 8 p.m. Stop by for delicious Greek food as well as games, music and vendors. Admission: Free
June 10: A Touch of England Car Show, The Hermitage, Ho-Ho-Kus, 9 a.m. to 4 p.m. Check out classic British automobiles and motorcycles, then enjoy a tour of the historic mansion. Fish and chips is available for purchase from an English food truck. Admission: $10 for adults, $5 for children ages 6 to 12
June 10: Ridgewood Pride Day, Van Neste Square, 1 to 2 p.m. The entire community is invited to celebrate with local speakers, performers, friends, family and neighbors. Admission: Free
June 10: Proud, Loud and Funny: A Celebration of Pride 2023, Hackensack Performing Arts Center, 8 to 9:30 p.m. Funnywoman Julia Scotti, who's appeared on America's Got Talent, will entertain the audience in support of the LGBTQ+ community. Admission: $35
June 11: Warriors Run — Motorcycle Ride for Military, American Legion Post 170, Rochelle Park, 8:30 a.m. registration, 10:45 a.m. ride departs. Motorcyclists can participate in a charity ride and enjoy breakfast and an after party (included with registration). Registration: $25 per rider, $15 per passenger, $10 for walk-ins
June 11: Carlstadt Street Fair, Hackensack Street, 11 a.m. to 5 p.m. A full day of family activities is on tap for this annual event, including children's rides and games, music and entertainment, food and beverages and much more! Admission: Free
June 11: Paramus Food Truck Festival, Paramus Park, 11 a.m. to 7 p.m. Bring your appetites, friends and family to this event, featuring 20 gourmet food trucks, a beer and sangria garden, a petting zoo, kids' games and activities, vendors and more. Admission: $5 for adults, free for kids under 5. Attendees are asked to donate a non-perishable canned or boxed food item for the Paramus Food Pantry.
June 11: Wood-Ridge Town Day, Valley Boulevard, 2 to 7 p.m. The neighborhood will come to life with live music by The Benjamins, rides and games, food, a tiki bar and much more! Admission: Free
June 11: Montvale Mile Long Street Fair, Paragon Drive, 2 to 9 p.m. The street will be filled with more than 100 merchants showcasing their antiques, artwork and crafts as well as food vendors, kids' rides and activities and live music. Admission: Free
June 11: Mahwah Pride Celebration, Commodore Perry Field, 3:30 to 6:30 p.m. The township's third annual event includes guest speakers, live music and entertainment, family arts and crafts, resources tables and more! Admission: Free
What's on tap for your family this weekend? Tell us on Instagram @bergenmagnj.