To BNB or not to BNB
Home-sharing services like Airbnb are a boon for travelers, an income source for homeowners—and a bone of contention for Bergen towns.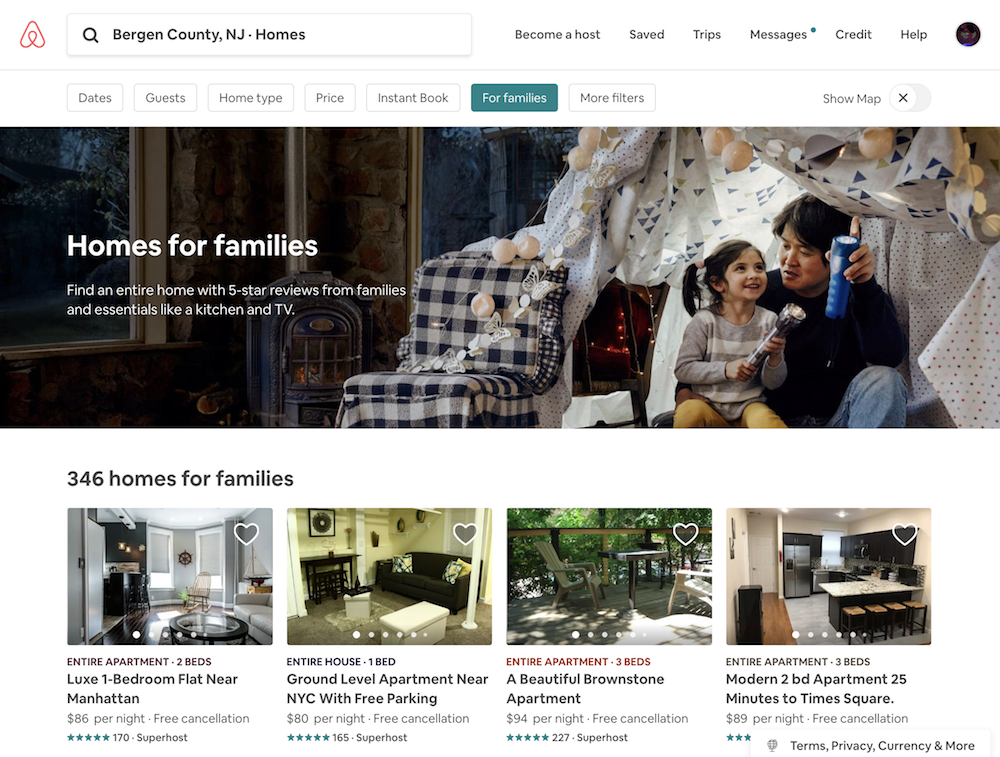 It doesn't look like a battleground. The spacious contemporary home is on a wooded lot in Montvale, overlooking a small stream. The online photos show an open-concept main floor lit by a bank of skylights; airy, art-filled bedrooms; and a stunning pool area with a leafy backdrop and a vine-draped arbor. Over the past three years, the house has been a home away from home for guests from around the world, who praise it as "serene," "beautiful" and "incredible." But similar houses—along with hundreds of apartments, guest cottages, finished basements and spare rooms—have become the subject of heated arguments in town council meetings throughout Bergen County.
Over less than a decade, home-sharing—through websites such as Airbnb, HomeToGo, VRBO and FlipKey—has made extraordinary inroads across the county. On Airbnb alone, there were 640 active "hosts" in Bergen as of July 1, and they'd rented short-term to some 25,000 travelers and brought in a total of $3,648,000 over the prior year. Hosts say they've come to depend on the income, and renters have clearly embraced the idea of kicking back in a home environment.
Elena, the owner of the Montvale home (who asked to remain anonymous), decided to become an Airbnb host when her grown children moved out. "I travel a lot, and the rental income helps to cover my taxes," she says.
She imposes what she calls "strict house rules" and expressly forbids large parties, and she's never received a complaint from neighbors.
But not everyone shares her enthusiasm for home-sharing. More than a dozen Bergen County towns have passed ordinances banning short-term home rentals, and others are considering such bans. Complaints raised against home-sharing range from quality-of-life concerns, such as noise and parking (or the lack thereof), to the fear of strangers coming-and-going in once-stable neighborhoods to unfair competition for traditional hotels and motels. It remains to be seen whether these ordinances endanger home-sharing in Bergen County or simply signal its inevitable growing pains.

"People buy into single-family zones because of their stability," says James W. Hughes, dean of the Edward J. Bloustein School of Planning and Public Policy at Rutgers University, "so I can see that the pressure on municipal officials would be to ban shortterm rentals." At the same time, he adds, "we do have an underutilized housing stock—people are away for vacation and the like, and houses are sitting vacant, and they might really be better off having someone living in them during that time period."
Tess Balagtas turned to Airbnb to fill the vacant second-floor apartment in her two-story home in Lodi—a home, she says, that short-term renting has helped her keep. "I'm a single mom—I'm the only one making money in the family," she explains. Unlike some hosts, who only have a room or two to rent, Balagtas could find a long-term tenant for her entire upstairs apartment. But based on past experience, she'd prefer not to. A previous tenant still owes her $8,000, and evicting him was time- and moneyconsuming. "You know how New Jersey is," she says. "It's hard to evict someone."
Her future as an Airbnb host could depend on what Lodi decides. The borough is still looking into the feasibility of a ban on short-term rentals, similar to those enacted by Closter, Cresskill, East Rutherford, Edgewater, Englewood Cliffs, Fairview, Fort Lee, Paramus, Palisades Park, Ridgewood, Woodcliff Lake and Wyckoff. Most only allow rentals of 30 days or longer and impose fines on noncompliant homeowners that can range from a few hundred dollars per day to more than $2,000.
Before Ridgewood enacted its ban on short-term rentals, resident Susanne Warfield was earning $14,000 to $15,000 a year through Airbnb. "I'm a senior who's trying to stay in my home," she says, "so the money I was making on Airbnb essentially paid my taxes."
Liz DeBold Fusco, Airbnb's Northeast spokeswoman, says there are lots of hosts like Warfield. "Some are young families saving for college; some are paying off student debt or mortgages; some are seniors trying to age in place." Warfield, who's hoping to do just that, is still on Airbnb, but now she's booking only long-term rentals, which hasn't been as easy or remunerative.
No one complained about her tenants, she insists. "The people staying with me were grandparents coming to visit their grandchildren, or people looking to move into the area," she explains. That may not have been the case in Cresskill, which banned shortterm rentals in 2017 after residents in one neighborhood raised the alarm about allnight partying.

"People were renting out some of the bigger houses, and they'd throw huge parties, sometimes upwards of 200 people who would pay to get in," says Cresskill's chief of police Edward Wrixon. "There was no quality of life for anybody in the neighborhood—we had all the residents saying, 'We can't even sit in our backyards anymore.'" Wrixon saw a ban as the only way to curtail the partying, and since it went into effect, he says, he's heard no complaints from residents.
The same problem—guests renting houses for the express purpose of throwing large, pay-to-play parties—was behind Fort Lee's ban. Palisades Park officials cited a threat to already scarce parking space as one of the reasons for the borough's 2016 ordinance outlawing short-term rentals. And Wyckoff's ordinance was reportedly inspired by a litany of quality-of-life assaults: "overcrowding, excessive noise, unruly behavior, obscene language, fighting, littering, parking of vehicles on lawns, public urination, sanitation issues, poor maintenance of the property and grounds, and violation of trash collection ordinances."
Some of the loudest complaints about Airbnb and other short-term rental agencies have come from the hotel industry, though not specifically in Bergen County. The American Hotel and Lodging Association, a national trade group, seems to tacitly acknowledge that short-term rentals are hurting the industry when spokesman Troy Flanagan argues that "Airbnb is operating a lodging industry, but it is not playing by the same rules." Studies funded by the organization indicate that many hosts were, in effect, landlords who didn't live in the homes they rented, and that none were subject to the regulations regarding safety and security—or the taxes—imposed on hotel owners.
In Bergen County—and in the rest of the Garden State—the latter complaint, at least, is no longer an issue. In July, Governor Murphy signed into law a bill mandating that short-term rentals be taxed the same way hotel stays are. Under the new law, municipalities may also levy fees that could be an incentive for some communities to consider allowing the rentals.
Not everyone in the lodging industry looks at short-term rentals as a threat to business, particularly in the more remote areas of Bergen County, where hotels are relatively scarce. Kim Gagnon, general manager of the Teaneck Hampton Inn & Suites and Homewood Suites, both of which opened this August, believes that a significant group of travelers will always prefer hotels to home rentals. "Although renting a home does offer convenience to travelers, especially if they're traveling with a large family, many of our travelers still appreciate the modern conveniences of a hotel," she says. She adds that lodgings such as Homewood Suites offer the comforts of a home stay—including multiple rooms and well-stocked kitchens— along with traditional hotel amenities like fitness centers, pools, restaurants and concierge service.
Airbnb's Fusco notes that not every town has a hotel nearby, "so the ability to have home-sharing is actually a way of increasing tourism to some of these communities." Airbnb considers New Jersey's new law taxing short-term rentals "a pretty significant step forward. We're not opposed to regulation," Fusco says. "What's key for us is to be sure that regulations are meeting the needs of the community." In fact, the company recently worked with two New Jersey municipalities, Brigantine and Jersey City, to craft regulations governing short-term rentals. Hosts in Brigantine are required to obtain an annual license from the city at a cost of $100. Jersey City doesn't require a license but mandates that hosts live either at the rental property or adjacent to it.
There may be an additional incentive for towns to allow short-term rentals. Though it hasn't happened yet in Bergen County, officials across the river in Irvington, N.Y., are actually crafting an ordinance to make the rentals legal, in an effort to help residents cope with rising property taxes. Hillary Kelbick, a Leonia resident who's an Airbnb host at another of her homes in Greenport, N.Y., on Long Island, believes much of the pushback against short-term renting is overwrought. "There are people who do Airbnb in Leonia—and I can't reveal who they are," she says. "But they do an awesome job and they're always there when the people come, and the town has bullied them and tried to create hysteria about bringing unwanted people in." In fact, Greenport seems about to pass a ban on rentals shorter than 14 days, and Kelbick is cautiously optimistic that renters will be willing to pay for a two-week stay, even if they only intend to use the property on weekends. She and her husband had hoped to find longer-term renters for the house, which they plan to use someday as a personal family compound, but, she says, "the world is different now—many people don't rent a home for a season because they can go online and get a weekend or three or four days."
For good or ill, that's part of the new reality Airbnb and its competitors have helped to forge. As Susanne Warfield notes, "it's a sharing economy"—and that, at least, isn't likely to change any time soon