Too Busy to Get Fit?
That was this Ramsey woman in law school. But now, as a busy lawyer-mom, she's shed her excuses—and 65 pounds.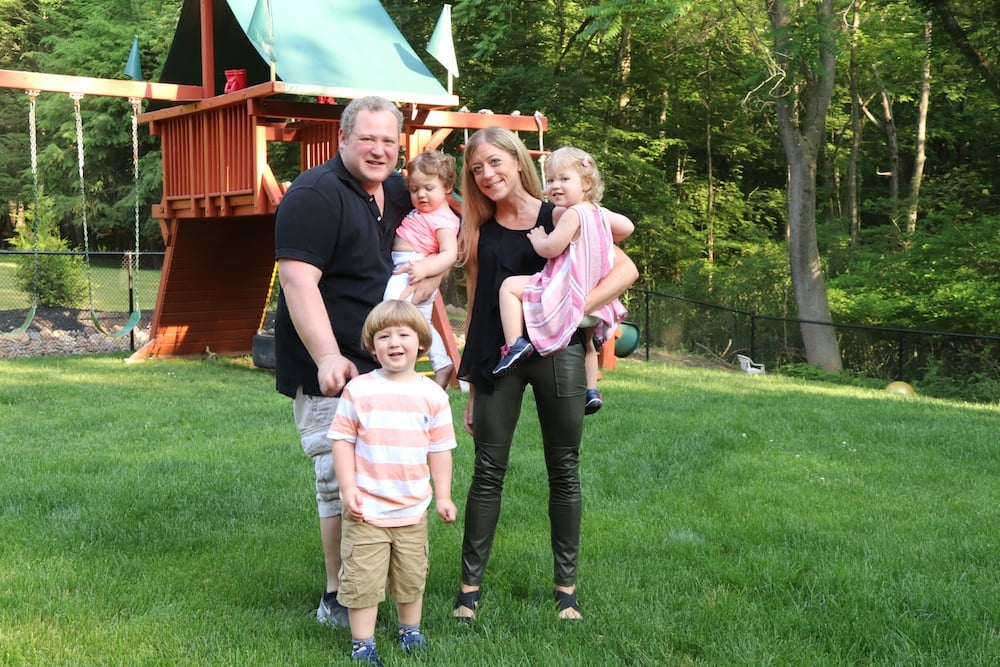 You gotta hate Gia Norris—in a friendly way. A 36-year-old attorney and mother of three small children, the Ramsey resident has busted the myth of "not enough time" for exercise, leaving all the rest of us excuseless. She's lost 65 pounds and she's in the best shape of her life.
Take a look at Norris's "after" photos. She spends only 30 minutes five days a week to stay in shape. No classes, no training partners, no hours on a bike or treadmill, no struggles under a barbell. (Although be aware that her half- hour workouts are all-out efforts.) She doesn't hop on the scale to measure her success, and only occasionally does she use a mirror. Her real test is how her clothes fit.
Norris has discovered that the benefits of being healthy go beyond the physical. "My body is transformed, but my mind is as well," she says. "Getting fit has made me a better mother, wife and attorney—a better person, really. Everyone says exercise gives you energy, and it does, but I was surprised at how much it improved my outlook on life and my overall happiness."
But Norris wasn't always a fitness winner. Follow her journey on the next page.
Growing Up
Like many women, Norris grew up with body-image challenges. She was athletic, playing softball and soccer, but saw herself as "a little chubby." For a time in her teens, she even wrestled with an eating disorder. "My insecurity about my body image—along with my love for food— resulted in my developing bulimia," she says. "I believe I was trying to control something I felt I couldn't control, balancing my love for food in an Italian-American family in which food often took center stage with my negative perception of my body. I credit my recovery from that period to getting even more involved with sports and developing a closer relationship with my older brother, Ryan Brock, and his friends. Many years later, I ended up marrying his best friend!"
College and Law School
Whether college students are driven by fun or focus, there's the inevitable weight gain. Norris attended competitive academic institutions— Johns Hopkins University and the University of Pennsylvania—and was extremely focused on her goal: getting a law degree. With studies her priority, she succumbed to the "freshman 15," gaining weight in undergrad and then graduate school. "My diet was pretty typical for a college student: cafeteria food and late-night grilled cheeses," she admits. But being young, she was able to avoid major weight gain with occasional dieting and some exercise.
Into the Real World
After she entered the workforce at a law firm, there were new challenges: late nights and long hours, which weren't conducive to getting in shape and eating right. But she was dating someone who was physically active, and that influenced her to get back into sports. For a short time she practiced mixed martial arts and regularly attended classes—until she suffered a back injury.
Raising a Family
When Norris got married, she and her husband decided to have their children close together. She now has three, ages 1 to 3. Fortunately, after each birth she was able to drop most of her extra pregnancy weight in about four months. "With all three pregnancies, I gained at least 40 pounds," she says. "To be honest, I just stopped counting when I hit 40. I would actually get on the scale backwards so I didn't have to look." Her fear was that if she didn't develop a good exercise regimen, she would never lose the weight from the first child before having the second and third. "So during my first pregnancy I started to think about how I wanted to deal with the excess weight. It was then that I found high- intensity interval training, or HIIT."
How She Did It: Excercise
To Norris, going to the gym is boring and inconvenient. So a home-based workout fit both her preferences and the time she budgeted for exercise. Beachbody's "Insanity" is a DVD she used for a total body, at-home workout. Each workout employs the HIIT method and includes a lot of high- intensity cardio (jogging, jumping, jumping jacks) and strength-training moves (squats, lunges, pushups, triceps dips). They last between 35 and 60 minutes, and you're encouraged to do them six days a week for the first two months. "After I completed that program, I realized I couldn't maintain the length of workouts with my schedule, so I looked for a shorter program that would get me comparable results," says Norris. She turned to another DVD, "T25," that prescribed somewhat shorter sessions—"helpful for moms of young ones, or anyone who is busy," she says, "and a bit less intense."
How She Did It: Diet
Traditional diets have never worked for Norris. Today she doesn't count calories or weigh her food. Her guidelines are basic: "I try to eat 'clean' as much as possible. I stay away from white sugar and white flour." Yet, she adds, "For me, eating clean 100 percent of the time is not realistic. I love bread and cheese. But I've learned that if I don't deprive myself of those things, I don't binge on them as much." Luckily, Norris loves to cook. So most of the meals she prepares are homemade and full of veggies, proteins and healthy fats.
How She Keeps It Off
Now Norris—who maintains that she's never worked for nor had contact with the Beachbody company—has moved on to another DVD, "Insanity Max 30," that she calls "probably the most intense workout I've ever done," she says, even though "It's only 30 minutes, five days a week. When I finish this two-month program, I'll likely go back to 'T25,' which is very good for maintenance." Her progress has been so impressive that a bodybuilder-type recently called her "shredded."
Advice For Other Moms
Norris knows that the hardest part is getting started. But "I'm evidence that it can be done," she says. She usually starts her workout at 7 a.m. to get it done before her day gets busy. "After I get the kids set up with breakfast, my husband takes over," she says. Occasionally, when she just can't fit in a workout in the morning, she'll exercise on her lunch hour. "My advice to others is to believe in yourself and set small goals," says Norris. "You have to want it and give yourself the opportunity to succeed."
Note: BERGEN magazine does not endorse "Insanity" or any other training method or DVD.
This Training Method is a HIIT
Fans of HIIT say that on top of the calorie-burning benefits, the workouts are more stimulating than plodding along on a treadmill for a half hour. With a fast-paced HIIT workout, you won't have time to be bored. HIIT also typically takes less time than many traditional workouts.Ramsey lawyer-mom Gia Norris's experience mirrors a current fitness trend. Studies have shown that high-intensity interval training, or HIIT, is significantly more effective at burning calories than steady, lower-intensity exercise. In addition, HIIT promotes the "after-burn effect," also known as excess post-exercise oxygen consumption (EPOC). The more intense the exercise, the more oxygen your body consumes afterward, which keeps your calorie-burning metabolism in high gear. What's the catch? You need to be working super-hard: 70 to 85 percent of your max heart rate.