Total Team Effort
MMC SURGEONS COLLABORATE ON AN ADVANCED SURGICAL PROCEDURE TO TREAT RARE INTESTINAL CANCER.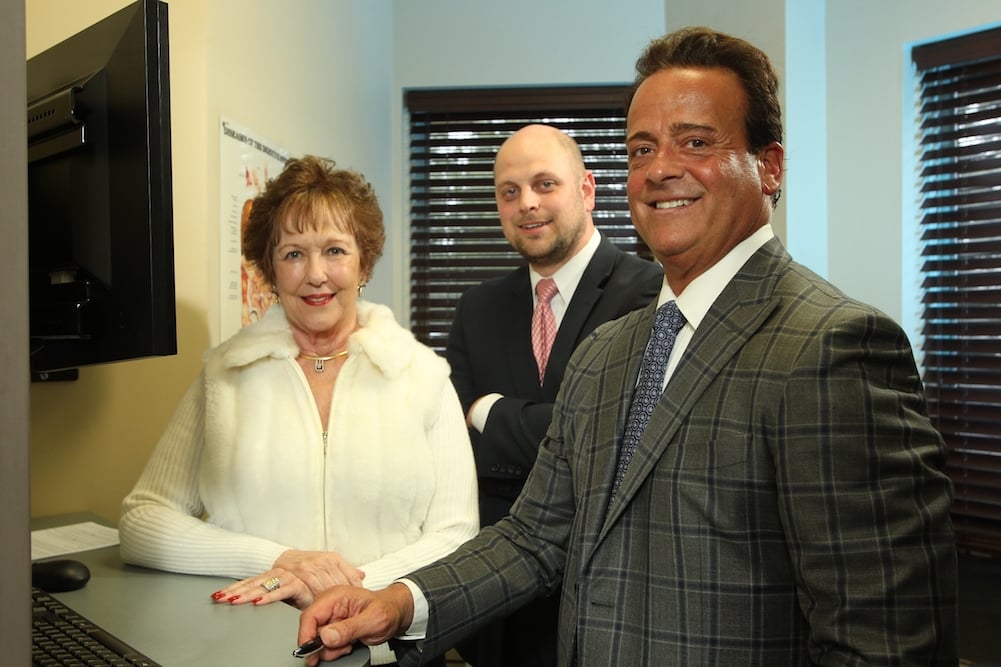 PATRICIA FERDINAND IS A RETIRED PERSONAL chef who is described by her surgeon as a "young 72."
Indeed the active Manalapan resident was devoted to her personal training sessions and had just celebrated her five-year milestone as a breast cancer survivor when she began to experience symptoms typical of gallstones. The health setback turned out to be truly fortuitous, as a routine presurgical workup led to the serendipitous discovery of a rare, early stage cancerous tumor of her small intestine.
"This was a very interesting case because a diagnostic ultrasound showed gallstones, as well as a dilation of her bile duct, which is very common with gallbladder disease, but can also be due to the existence of a tumor," says Stephen A. Chagares, M.D., a board-certified general surgeon at Monmouth Medical Center. "Her gastroenterologist, Dr. Amy Tilara, decided to do additional testing, and following an endoscopic ultrasound, discovered a mass not related to the gallbladder. A special CT scan subsequently showed a tumor of the small intestine that was separate and distinct from the issues with her gallbladder."
On April 5, Dr. Chagares teamed up with Michael Jaronczyk, M.D., a board-certified surgeon who recently joined the staff at Monmouth Medical Center and Monmouth Medical Center, Southern Campus, to remove her gallbladder and a golf-ball size tumor as well as a small section of her intestine.
Like Dr. Chagares, Dr. Jaronczyk trained in general surgery at Monmouth Medical Center. He went on to fellowship training in advanced gastrointestinal, minimally invasive and bariatric surgery at Saint Francis Hospital and Medical Center in Connecticut.
"I decided to work with Dr. Jaronczyk to do the bowel resection at the same time that I performed the gallbladder removal," Dr. Chagares says. "The patient was thrilled because the entire procedure was done laparoscopically, with both of us working through the same four very small incisions."
Afterward, Patricia spent one night in the hospital and following her discharge was referred to an oncologist for surveillance of the cancer, which should require no further treatment. Within a few short weeks, she had recovered completely and was back to the gym and her active lifestyle. Dr. Chagares notes that Patricia's intestinal cancer is not usually found at an early stage, as it doesn't produce symptoms until it is advanced, but fortunately for her it was found during the unrelated scan of her gallbladder.
"I felt very good after the surgery," says Patricia, who along with her husband, Jeffrey, has two children and three grandchildren. "I stayed just one night in the hospital and immediately felt 100 times better thanks to Dr. Chagares and Dr. Jaronczyk. They took great care of me."
"Monmouth Medical Center has been at the forefront of advanced laparoscopy for many years," Dr. Jaronczyk says. "It is commonplace to have surgeons with different specialties in different practices work in collaboration with the goal of outstanding patient outcomes such as this. Our ability to offer this advanced team approach furthers Monmouth Medical Center's position as the premier hospital for minimally invasive surgery, and for Patricia, our ability to use the same four incisions for the cancer resection after the gallbladder was removed was the key to her great outcome."
"MONMOUTH MEDICAL CENTER HAS BEEN AT THE FOREFRONT OF ADVANCED LAPAROSCOPY FOR MANY YEARS. IT IS COMMONPLACE TO HAVE SURGEONS WITH DIFFERENT SPECIALTIES IN DIFFERENT PRACTICES WORK IN COLLABORATION WITH THE GOAL OF OUTSTANDING PATIENT OUTCOMES."
—MICHAEL JARONCZYK, M.D.
TO LEARN MORE ABOUT ADVANCED SURGICAL OPTIONS AT MONMOUTH MEDICAL CENTER, CALL THE CENTER FOR MINIMALLY
INVASIVE SURGERY AT 732.923.6070.
TO SHARE THIS ARTICLE ON YOUR FACEBOOK PAGE, VISIT MONMOUTHHEALTHANDLIFE.COM.