Traffic Trauma In Bergen
Our county's a great place to live, but its roadways are notoriously congested. Fixing that problem will require creativity—and money.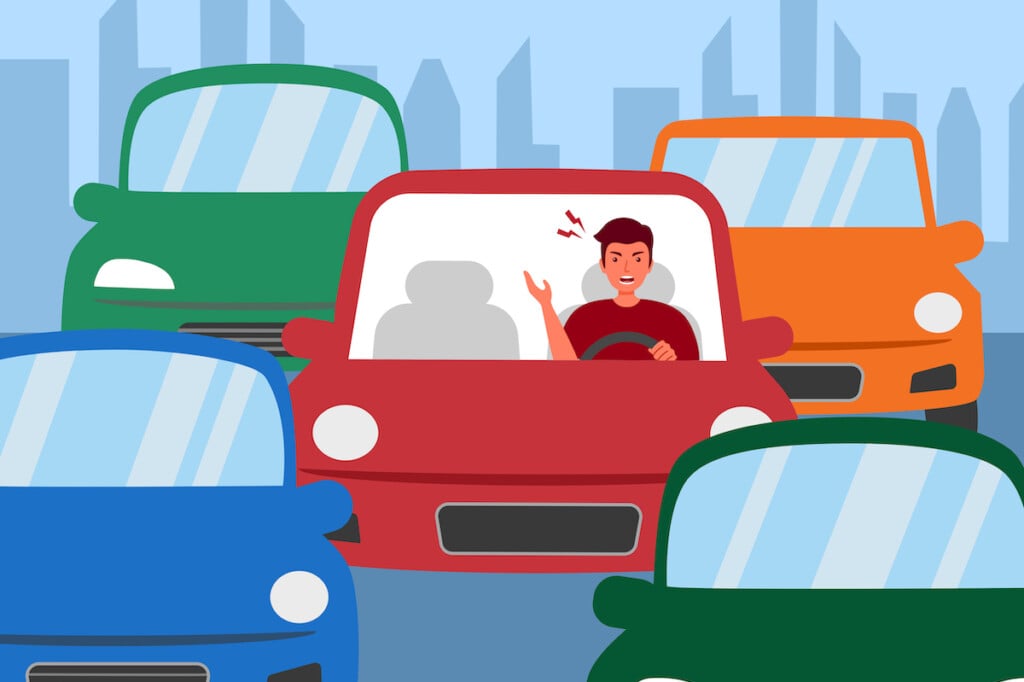 Like many Bergen County residents, Rose Frontignano long knew that traffic was an inevitable part of her daily life. A resident of Rochelle Park, she works in Hackensack, and a commute that should take no more than 10 minutes usually stretches to 45. But it wasn't until the pandemic lockdown that she understood how traffic was affecting her emotionally. "I didn't realize how much stress it was creating," she says, "until I didn't have to deal with it."
Virtually every Bergen resident has his or her nightmare destination: that road or intersection that always seems to be impossibly, stress-inducingly snarled. For Michael Phelan, who runs a process-serving business in Englewood Cliffs and spends eight to 10 hours on the road every day, one of those nightmares is the Jones Road bridge between Englewood Cliffs and Leonia that crosses over Route 4 and is in the process of being replaced by the state Department of Transportation with $20.7 million from the federal government. Ironically, road repairs— designed to help ease traffic—are often the cause of congestion, sometimes for months or years at a time. "The repairs there started perhaps six months ago," Phelan says, "but days can pass with no work being done at all, no matter the weather."
Bergen County is known for its leafy bedroom communities, its panoply of shopping venues and its top-rated schools. Alas, it's also legendary for its congested roads—a result of its density, its large population of commuters (66 percent of whom drive to work, alone), and that panoply of shopping (including six malls, among them New Jersey's largest, Westfield Garden State Plaza), which draws county residents and nonresidents alike, most of them in cars. The county is home to some notorious traffic magnets, including the stretch of Route 17 between Rochelle Park and Paramus, which the website OnlyInYourState.com anointed the most congested roadway in New Jersey, and the intersection of routes 95 and 4, singled out by the American Transportation Research Institute as the worst bottleneck in the country for four years in a row.
Though Bergen's traffic headaches eased for many during the height of the pandemic, congestion has had an unwelcome resurgence throughout the tri-state area. Shoppers are back in force, and while many former commuters are still working remotely, many of those who've gone back to the office are driving rather than taking public transport.
FIXING BAD ROADS
If you're thinking that there has to be a better cure for the county's traffic ills than a global pandemic, you may be onto something. Several plans that could make a significant difference by altering roadways are in the offing or at least getting serious consideration:
• Easing the Route 17 bottleneck. For decades, county residents and officials have been well aware of the traffic-plagued stretch of Route 17 in Maywood, Rochelle Park and Lodi. One attempt to fix it began in 2006, when the state's Department of Transportation funded a study looking at ways to improve the roadway. Although the study was completed in 2012, it went nowhere. In 2022, however, the state awarded Bergen an $870,000 grant to bring the study up to date, and that update was revealed to the public in January. Proposed improvements include an additional traffic lane in both directions, a new southbound exit ramp to Central Avenue and modified exit and entrance ramps at Mildred Avenue, replacement of six bridges and construction of four new bridges and improved connectivity between Route 17 and local streets. County Executive Jim Tedesco, an enthusiastic supporter of the plan, is sanguine about its prospects this time around. "We're very optimistic," he says, "that this will go forward for the first time in over 30 years of trying."
Mitigation of traffic here is more than just a quality-of-life issue for residents. "Bergen County is the economic engine for the state," says Joseph Baladi, director of Bergen's Planning Division, "and that section of 17 is the lifeline of the Northeast." The poor roadway has been the cause of countless accidents, which endanger the public, slow commerce and create further congestion in the area.
The ambitious $97 million project, funded by New Jersey's Department of Transportation, is no quick fix. After the public weighs in, engineering plans have to be made final, local roads have to be improved to take over traffic during Route 17 repairs and utility relocation has to be completed. Baladi says that those local improvements should be under way by 2028.
• Removing the GWB tollbooths. Traffic on the George Washington Bridge doesn't just affect drivers on the bridge itself; it also has the potential to snarl access roads and even the roads that adjoin them. To help mitigate that, in 2022 the Port Authority stopped collecting tolls via its series of tollbooths, opting instead for electronic collection via overhead gantries. That allowed for the realignment of the roadways through the tollbooths, allowing for less merging in the toll plazas, which reduced both travel times across the span and accidents in the plazas. "Since we went live with the gantries in July, in the first 12-week period after that we saw a 75 percent decrease in crashes in the upper-level toll plaza," reports Kenneth Sagrestano, general manager of the George Washington Bridge. And by decreasing crashes—which are a significant cause of traffic delays—the move has also cut travel time across the bridge.
Over the next couple of years, Sagrestano says, the Port Authority will be removing the actual tollbooths and realigning the roadways, moves that should help to decrease bridge traffic even further.
REDUCING THE CAR COUNT
Fixing roadways alone isn't likely to solve all of Bergen's traffic problems. In a dense, wealthy county where the average household has two cars, and a plenitude of shopping attracts drivers from beyond the county lines, we have to find a way to get some of those vehicles off the streets. "We should try to be creative in making sure that we have other options besides single-occupancy cars," says former Bergen resident Zoe Baldwin, New Jersey Director of the nonprofit Regional Plan Association, which recommends ways to improve quality of life in the tri-state region.
• Putting in people movers. One way to do that, Baldwin suggests, is through the use of people movers, also known as bus rapid transit (BRT), in large shopping districts set out along a single route, as on Route 17 in Paramus. BRTs go in a relatively small circuit, moving shoppers from one store or multiple-store plaza to another. "Traffic exists in that little corridor," she says, "because you can't walk to the next store—you have to get in your car and go the little quarter-mile down the road."
• Deleting curb cuts. A curb cut is, as you might imagine, a cut in the curb allowing cars to enter or leave roadside areas such as parking lots. And, says Baldwin, an excess of curb cuts can lead to traffic congestion. "You have so much ingress and egress that it affects the way traffic is moving," Baldwin explains. With future construction in mind, she adds, it would make sense to couple a reduction in curb cuts with a decrease in space between stores to additionally reduce the number of cars going in and out along a highway.
• Opting for on-demand transit. Another way to cut down on traffic is to create systems for on-demand transit, something that's been done successfully in Jersey City. These systems work very much like ride-hailing apps Lyft and Uber. Riders use an app to book, pay for and track rides, in which they're shuttled, along with other passengers, from one corner (similar to a bus stop) to another. On-demand transit systems in Bergen might be run by the county or an individual municipality.
• Extending the Hudson-Bergen Light Rail (HBLR). Like the project on Route 17, New Jersey Transit's extension of the HBLR—a light rail system that runs through Bayonne, Jersey City, Hoboken, Weehawken, Union City and North Bergen—has been talked about for years, but very little has been done to bring it to fruition. The line's name itself is misleading. "I believe it's a misnomer to the people of New Jersey to call it the Hudson-Bergen Light Rail," says Tedesco, who notes that it doesn't, in fact, go through Bergen County at all. The 9-mile extension would run through the east side of the county, connecting North Bergen, Fairview, Ridgefield, Palisades Park, Leonia and three stops in Englewood. It would take a significant number of cars off the roadways, and, if a similar light rail through Hudson County is any indication, it would also be an economic boost for the towns it traverses. "When you look at how successful the light rail has been in Hudson County and what it's done to the communities it goes through and how those communities have flourished and been able to maximize the light rail to their advantage and to their residents' advantage, we feel that it could be done here in an even greater fashion," Tedesco says. There's a glimmer of hope that the project could move forward: In December 2022, the Federal Transit Administration awarded New Jersey Transit a $592,000 grant to study the feasibility of extending the line. It will undoubtedly take many different creative solutions—and the funding to implement them—to truly improve the traffic situation in Bergen, but the need is urgent. As Baldwin notes, "Traffic affects the environment, slows down business and screws with your quality of life." Ameliorating it, then, would go a long way toward making Bergen an even better place to live.
UNTIL THE FIXES ARE DONE . . .
Short-term strategies for dealing with Bergen's traffic woes? Tech offers three. Roughly analogous to the three ghosts who visited Ebenezer Scrooge overnight on Christmas Eve, they involve:
• The recent past. Using Waze or a similar traffic app, over a period of a week or two, find out when those nightmare destinations have the least congestion. Then plan trips accordingly.
• The present. Take a look around—at your planned destination, that is. The website ezeRoad.com shows you traffic conditions on all the major roads in any given area, helping you decide, for example, whether you'd do better heading to the Trader Joe's on 17 or the Whole Foods on 4.
• The future. Google Maps has a new feature that offers a two-hour peek into future traffic, so you can decide whether to run your errands now or a couple of hours from now.