Tried and True Hanukkah Recipes
The story of Hanukkah and two traditional recipes for latkes and sufganiyot.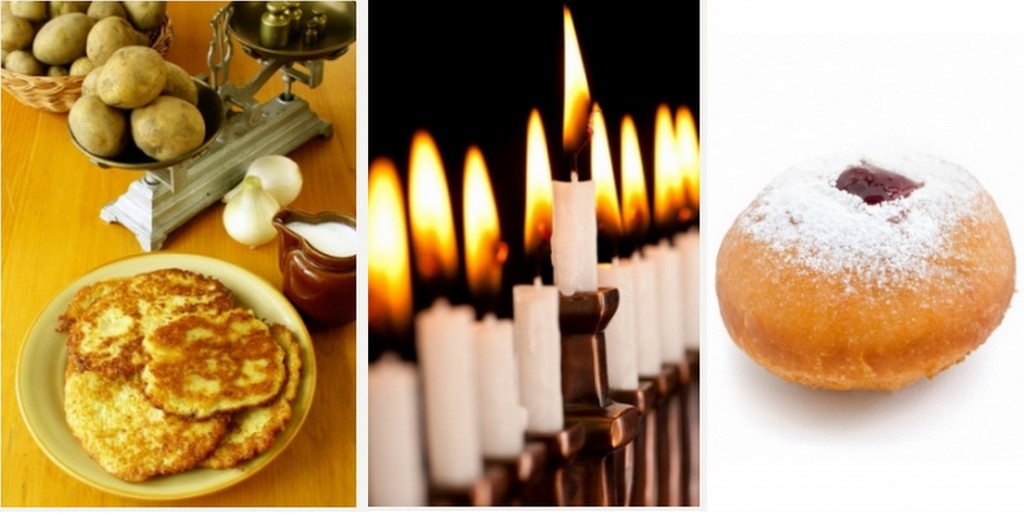 Hanukkah*, the Festival of Lights, is an eight-day celebration commemorating an ancient miracle and the Jewish struggle for religious freedom.
In 168 B.C., the Jewish holy temple in Jerusalem was overrun by Greek-Syrian soldiers. The temple was defiled and by the next year, the Greek-Syrian emperor outlawed Judaism and forced Jews to workship Greek Gods. The Jewish rebellion to this persecution began shortly after and by165 B.C., the Maccabees (Jewish rebel army) were able to reclaim the Holy Temple. In an effort to purify the Temple, they wanted to burn oil in the Temple's menorah for eight days. However, the temple had been ravaged of many supplies and only had enough oil to burn for one night. The Hebrews lit the lamp and it miraculously stayed lit for eight days.
This is the miracle that is commemorated every year by the ritual burning of candles, starting with one candle on the first night and ending with eight candles on the eighth night.
According to Jewish law, Hanukkah is one of the less important religious holidays. But because of its proximity to Christmas, it has become more popular and widely celebrated in many countries including America.
Because oil is the most important symbol of the holiday, food is traditionally fried for the eight days of Hanukah. The most popular dishes are potato pancakes, called latkes, and sufganiyot, which are jelly or cheese-filled homemade doughnuts.
*Sometimes also spelled Chanukkah or Hanukah.
Traditional Recipe for Latkes (Potato Pancakes)
Ingredients
2 cups peeled and shredded potatoes
3 Tbsp grated onion
2 medium eggs, beaten
2 Tbsp all-purpose flour
1 1/2 tsp salt
1/2 cup peanut oil for frying
Directions
Place the potatoes in a cheesecloth and wring hard, extracting as much moisture as possible.
In a medium bowl, combine the potatoes, onion, eggs, flour and salt together.
In a large heavy-bottomed skillet over medium-high heat, heat the oil until hot. Place large spoonfuls of the potato mixture into the hot oil, pressing down on them to form 1/4 to 1/2 inch thick patties.
Brown on one side, then turn and brown on the other.
Let drain on paper towels. Serve hot with sour cream and apple sauce.
Traditional Recipe for Sufganiyot (Homemade Doughnuts)
Ingredients
2 1/2 tsp active dry yeast
1/4 cup white sugar
3/4 cup warm milk (110 degrees F)
2 1/2 cups all-purpose flour
egg yolks
1/4 tsp salt
1 tsp ground nutmeg
2 Tbsp butter, softened
Apricot or strawberry preserves
2 cups vegetable oil
1/2 cup confectioners' sugar
Directions
Dissolve the yeast and 2 tablespoons white sugar in the warm milk.
Sift flour into a large bowl, make a well in the center and add the yeast mixture, egg yolks, salt, nutmeg, butter and remaining sugar. Stir flour into center.
Once combined, turn dough out onto a lightly floured surface and knead until dough is elastic.
Cover and let dough rise overnight in the refrigerator.
Remove dough from the refrigerator and roll on a lightly floured surface to 1/8 to 1/4 inch thick.
Cut into 2 inch rounds.
Cover and let rise for about 15 to 20 minutes.
Form dough rounds into a ball and insert about 2 teaspoons of jelly into each of the rounds.
In a heavy pot, pour in oil to about the 2 1/2 inch mark. Heat to 375 degrees F.
Drop sufganiyot (doughnuts) into the oil, turning carefully when browned.
Drain on paper towels and roll in confectioners' sugar.