Turkey Not Included
The Thanksgiving bird is a given. But it's the side dishes that truly make that bird sing. Try these feast-worthy recipes from local chefs. Who knows: A new family tradition might emerge.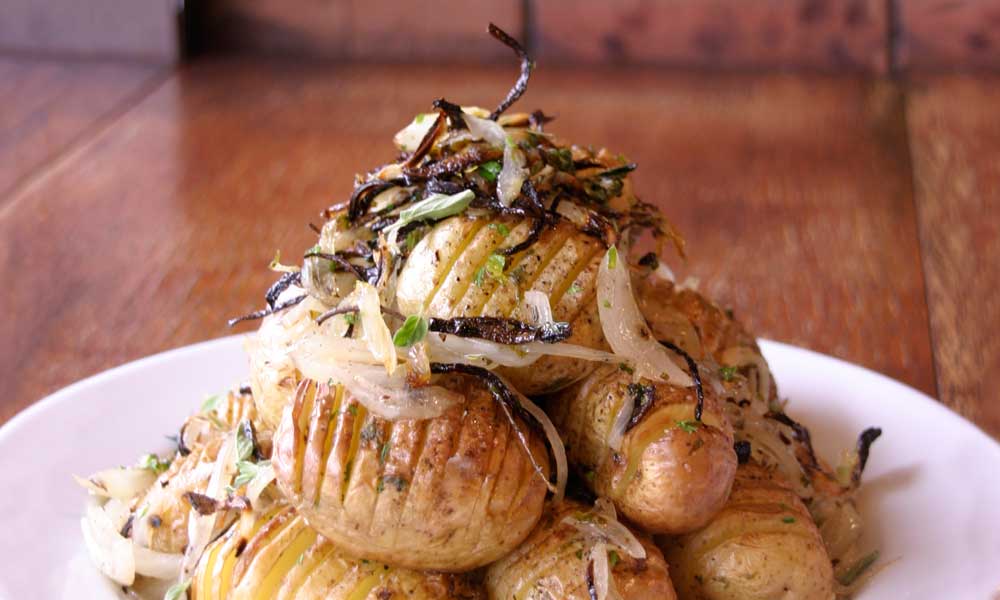 Herb-Roasted Potatoes and Onions
17 Summer Restaurant, Lodi, Chef Joseph Cuccia
Yield: 4 servings
Ingredients
2 lbs. Dutch yellow potatoes
4 large sweet yellow onions
1 bunch fresh thyme
1 bunch fresh sage
1 bunch fresh parsley
½ cup extra-virgin olive
1 Tbs. kosher salt
1 Tbs. freshly ground pepper
Directions
Preheat oven to 350°F. Cut potatoes in half and place them in a large mixing bowl. Slice onions thinly and add them to the bowl. Finely chop the thyme, sage and parsley and add them to the bowl with the potatoes and onions. Then, add the extra-virgin olive oil, salt and pepper. Mix everything together thoroughly and spread out the mixture on a nonstick baking sheet. Place the tray in the oven for 40 minutes or until fork-tender; serve.
Roasted Brussels Sprouts with Pastourma
Axia Taverna, Tenafly Chef Alex Gorant
Yield: 4 servings
Ingredients
9 oz. Brussels sprouts
4 oz. water
2 Tbs. olive oil
1 oz. pastourma, thinly sliced
Salt and pepper to taste
Directions
Preheat oven to 350°F. With a paring knife, trim off the bottom of the Brussels sprouts by cutting them high enough to remove the tough, outer leaves. Then, cut them in half down the middle. In a bowl, toss the sprouts with 1 Tb. of the olive oil, a pinch of salt and a pinch of pepper until they're well coated.
Arrange the sprouts in one layer in an 8-inch sauté pan with the flat sides facing down. Bring the water to a boil on the stovetop, then pour it over the sprouts until they're covered halfway. Drizzle with remaining oil and place the sprouts in the oven. Roast for 5 minutes, then toss in the pastourma and cook the dish until the pastourma is crisp and the sprouts are tender, about 5 minutes more. Plate and serve.
Smoked Bacon-Wrapped Black Mission Figs
St. Eve's, Ho-Ho-Kus Chef Steven Christianson
Yield: 4 servings
Ingredients
16 fresh Black Mission figs, hollowed out
½ cup soft goat cheese
8 slices smoked applewood bacon
Pumpkin seed oil
Baby arugula (or kale)
Directions
Preheat oven to 400°F. Cut the tops off of the figs and use a small spoon or melon baller to remove some of the insides. Then stuff the figs with the goat cheese. Cut the bacon strips in half (make sure they're at room temperature). Wrap a bacon half around each fig and secure with a toothpick. Place the bacon-wrapped figs in the oven for 10–15 minutes or until the bacon is crispy.
In a bowl, toss the arugula with the pumpkin seed oil. Serve the mixture with the figs.
Celery Root (Knob) Salad
Madeleine's Petit Paris, Northvale Chef Gaspard Caloz
Yield: 4 servings
Ingredients
1 medium sized celery knob
2 Golden Delicious apples
2 Tbs. mayonnaise
½ oz. lemon juice
2 oz. dried cranberries
Salt to taste
Directions
Peel the celery knob with a knife, slice it and then julienne into 2-inch pieces. Peel and julienne both apples as well. In a bowl, thoroughly mix the celery root, apples, mayonnaise and lemon juice; add salt to taste. (Refrigerate the mixture if not serving immediately). Sprinkle ½ oz. of dried cranberries on top of each serving.