Twin Patriots
Two NFL players share a genetic makeup, a New England team affiliation, identical Super Bowl rings—and lots of Montvale memories.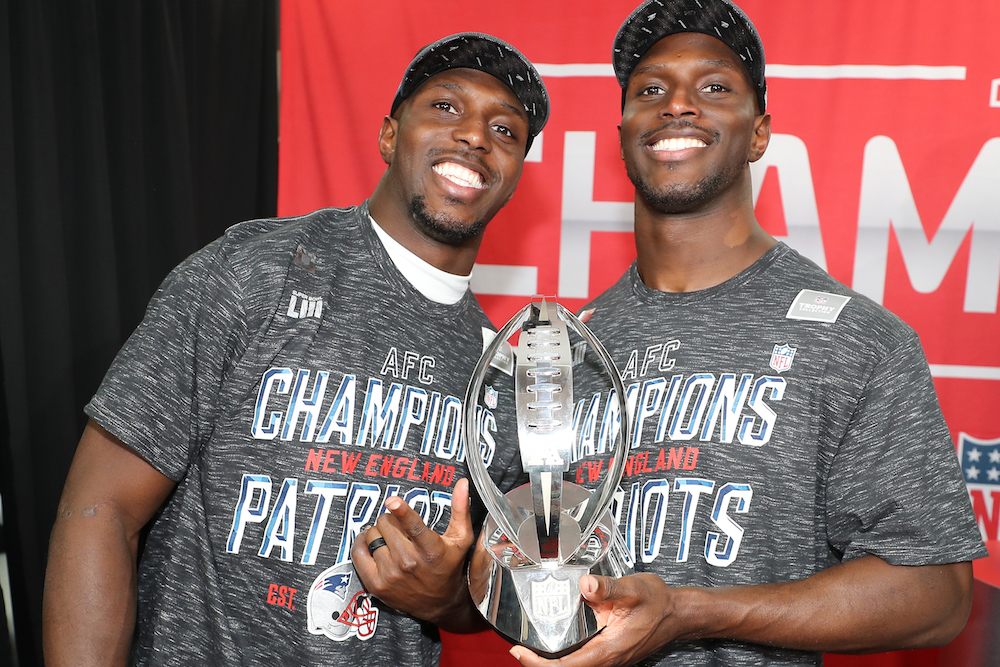 Even in an area where the Jets and Giants hold sway, it's hard not to root for Devin and Jason McCourty of the New England Patriots. The 32-year-old identical twins hail from nearby Nyack, N.Y., and both now spend most of their time near the Pats' facility in Foxboro, Mass., but they have strong ties to New Jersey. The brothers attended Saint Joseph Regional High School in Montvale, graduated from Rutgers (they even returned in May to deliver the keynote commencement speech) and established philanthropic groups in the area. Yes, they're teammates of the great (and sometimes notorious) Tom Brady, but Devin and Jason have made names of their own in the National Football League. The guys recently took a break from the gridiron to chat with BERGEN about growing up, playing and winning together.
You two were teammates throughout high school and college but were drafted by different NFL teams in 2010 [Devin by the New England Patriots, and Jason by the Tennessee Titans]. A trade brought you together again in 2018, when the Patriots acquired Jason. How did it feel to be reunited?
JASON: It was a very surreal feeling. There was one season we thought I would be traded from the Titans to the Patriots, but I eventually signed in Cleveland. I think after that we were kind of content that it never was going to happen. Then for it to happen organically was really cool. When I was traded, I took a flight [to Foxboro], and Dev picked me up at the airport. It was really special.
DEVIN: I was in New Jersey when he was traded [Devin resides in Alpine during the off-season] and then I drove up to see him and welcome him to the team. It was everything that we could have dreamed of as kids. To be able to live out a dream and to do what we did in Pop Warner at the highest level was awesome.
And not only did you play together, you won the Super Bowl together.
D: I'll admit when Jason joined the team I thought, "It would be awesome to win a Super Bowl together." After all the ups and downs throughout the whole season, to be there on the field hugging each other with both our families and our mom celebrating was cooler than us actually winning. Seeing people happy for us was a really good feeling.
J: I hadn't played a playoff game yet in my career, so getting a chance to do it with Dev and actually win meant a lot. With our family out on the field and everybody back home rooting for us, it's a special feeling that's hard to top.
Devin, you mentioned ups and downs during the 2018 season. What's it like to play with your brother—do you two treat one another the same as other teammates, or are the standards even higher?
D: We always push each other because we have high expectations. If somebody else messes up in their life I won't really get mad, but if Jason messes up doing the same thing I'd be really mad—and vice versa. When you're a twin, the way you think about yourself is the same way that they think of you, with the same expectations and standards. So we've always pushed each other, but also encouraged each other at the same time.
J: I think what also helped with our communication is that we get along so well. We have a good understanding of what the other one's thinking. We've gotten into big arguments and fights throughout our careers growing up, but we're always challenging one another to be the best we can be.
And family plays a part in your game rituals.
D: I have our numbers, 30 and 32, written on the back of my cleats. It was always cool, when we didn't play together, to think of us as always being together by writing our numbers on our cleats.
J: And during the national anthem, I would always have a conversation with our father, who passed away when we were young.
Your football careers really got going at St. Joseph. What are your fondest memories of playing with the Green Knights?
D: I'll never forget the games against either Bergen Catholic or Don Bosco at home. The crowds we would play in front of were packed. Looking back, we probably had about five or six guys in those games who ended up in the NFL. Being a part of those games was always cool.
J: For me, I loved the camaraderie of being alongside those guys for four years. High school was just carefree, no job, no responsibilities; you're just going out there and enjoying the game.
And what about playing under legendary Coach Tony Karcich? What lessons about life on and off the field did you learn from him?
J: Playing for TK was awesome. He was a tough coach. The most important thing he taught me was hard work. Whether it was hills after practice or extra conditioning, he expected and demanded a lot from us. I think that not only helped me in football, but also in life.
D: He did a great job preparing us for what was to come. Going to college and now the NFL, I never had a coach where I was like, "Man, this is too hard, I couldn't play for him." I think that started with Coach Karcich, from how hard he was on us, how he worked us and prepared us to make it to the next level. That was a big lift.
What players did you idolize or try to emulate?
D: I was a huge Emmitt Smith fan growing up. I read a biography on him and it made me a huge fan.
J: I was always a big fan of the Cowboys growing up because of our older brother Larry. There was Deion Sanders, Michael Irvin, Emmitt Smith, Troy Aikman and all those guys. As I got older, I became a Champ Bailey fan.
D: Let me add I was a big fan of Curtis Martin when he was playing on the Jets. I know he played for the Patriots too, but I wasn't a Patriots fan. The Jets were our local team!
Speaking of local teams, is it extra special when you return to the area to play the Jets or Giants at the Meadowlands?
J: What goes through my mind most is the amount of ticket requests I'm going to get and having to pay for them. It's always cool to be back home.
Who's asking for tickets? Do you still keep in touch with guys from St. Joe's?
D: There are two guys I hang out with all the time during the off-season: Edwin Marcellus and Brandon Hayward. We all went to St. Joe's, and they're still two of my closest friends.
Where did you two hang out after class, practice and games?
D: We always went to A&J Bagels around the corner from St. Joe's between school and practice.
You still have a presence in the community doing charity work. Why is this important to you, whether it's a youth football camp you're running in your hometown or your Tackle Sickle Cell foundation?
J: I think that's something our mom instilled in us early on. She says that much is given and much is expected. With the platform that we've been blessed with, we feel it's important to give back. We do a football campaign in our hometown every year to really show the kids who grew up in the same area we did, going through the same experiences, that you can have a positive impact on society. And sickle-cell disease runs in our family: Our father had the trait, and our aunt and uncle both suffer from the disease. Our father passed away when we were 3, and our aunt was a huge part in our life, trying to be there to help in whatever way she could. We grew up very close with her and we watched her go through the sicklecell crisis throughout her life, along with different surgeries. Once we were in the NFL, our mom told us we needed to find something we wanted to get behind and really advocate for, and we chose sickle-cell disease awareness and research.
You both returned to your alma mater in May to deliver Rutgers' commencement speech. Was it exciting to go back?
D: It was fun, nerve-racking and exciting. It was a huge honor for someone to think two 32-year-olds had enough life experience to give something positive to students. We wanted to encourage the students that you have to continue to redefine success and make sure you never get content with where you are, and to continue to push yourself and try to do everything that you believe in.
J: And it was also nerve-racking trying to figure out how we were going to do it with two microphones. But we had a ton of fun doing it together.
Sizing Up the Foes
Maybe no one can appraise gridiron greatness like the fellows who go up against it. In that spirit, BERGEN asked the twin-brother New England Patriots, free safety Devin McCourty and cornerback Jason, to name the players they most respect. The twins are identical— their views, you'll notice, aren't.
Toughest receiver to cover? Jason: Andre Johnson, Calvin Johnson Devin: Brandon Marshall (while he was with Miami)
Toughest player to tackle?
J: Maurice Jones-Drew D: Marshawn Lynch
Toughest quarterback to read?
J: Peyton Manning
D: Tom Brady
Toughest opposing fans?
J: Jets
D: Bills