Uncertainty On Tap
Lead levels and "forever" chemicals prompt the question: How safe is Bergen County's drinking water?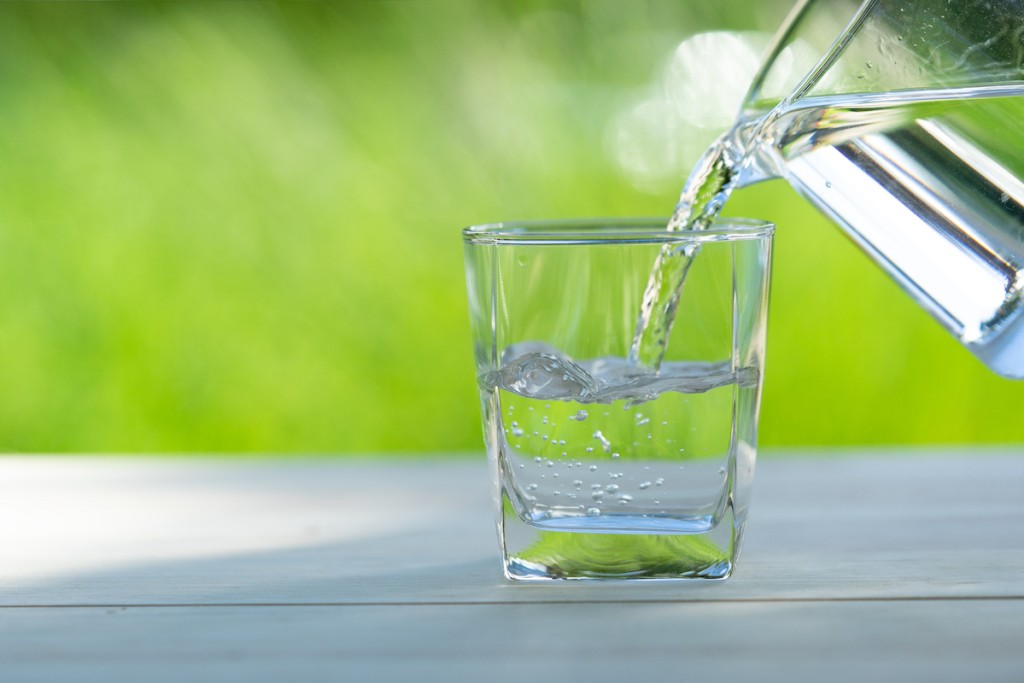 In March 2021, two months after giving birth to her daughter, Ali Horneff received a notice from the Borough of Waldwick Water Department advising her that the town's tap water contained elevated levels of perfluorooctanesulfonic acid, or PFOS, one of a group of manufactured chemicals known as PFAS (for per- and polyfluoroalkyl substances). Frequently referred to as "forever chemicals," PFAS—used in food wrapping, nonstick cookware, fire-retardant and stain-resistant clothing and upholstered furniture, among other products—don't break down in the environment and can take years to be eliminated from the human body. Research indicates that they may be associated with a number of health risks, including fertility problems, reduced fetal growth, kidney and liver disorders and impairment of the immune system. Although the Waldwick Water Department's notice advised residents that there was nothing they needed to do, Horneff says that she and her husband were sufficiently concerned about "all the detrimental effects they have on children, specifically, and women in general, with respect to fertility" that they installed a home water filtration system.
As of this writing, Waldwick is one of 34 New Jersey municipalities, and one of seven in Bergen County, reporting high levels of PFAS—including PFOS, PFNA (perfluorononanoic acid), and PFOA (perfluorooctanoic acid). In fact, a 2020 survey by the nonprofit Environmental Working Group ranked Bergen fourth in the nation with respect to elevated PFAS levels. (Some water suppliers may have taken the interim step of shutting off contaminated wells or buying water from other systems—check with your supplier to find out if this is the case.)
PFAS aren't the only substances causing concern about Bergen's drinking water. In 2019, Suez Water, the utility that serves close to one million residents in northern New Jersey (part of Suez North America, a subsidiary of a five-continent environmental and water company based in Paris), sampled 108 homes in Bergen and Hudson counties and detected elevated levels of lead in 15 of them.
The discovery resulted in the ongoing replacement of thousands of lead service lines, the pipes connecting water mains in the street to a homeowner's property. Over the past three years, the utility has removed 7,700 lead pipes in the region, but work continues. Earlier this year, Suez sent out 180,000 letters to residents throughout New Jersey, notifying them that their water was being delivered through a lead line. Faced with the one-two punch of lead and PFAS, many Bergen residents are wondering whether the water running through their pipes is safe to drink—and if it isn't, what they can do about it.
What's Wrong With Lead
By the early 1900s, lead was already widely used in service lines across the U.S. thanks to its malleability. But even then it was understood by some that those pipes could be a source of lead toxicity, and by the 1920s many municipalities were banning or restricting the use of lead pipes. Lead manufacturers, however, fought back with a determined publicity campaign, the effects of which we still face today, in the form of some 10 million lead pipes in place across the U.S.
Lead exposure is especially dangerous to children and can damage the developing brain and nervous system. In sufficiently large amounts, it can also cause hypertension, heart and kidney disease and fertility problems in adults. The state and federal "action level"—the amount of lead in water that requires action to remediate it—is 15 parts per billion (ppb). In late 2018, Bergen's level was 18.4 ppb. Three years into Suez's removal efforts, according to company spokesperson Debra Vial, it's now at 6.1 ppb, the lowest level in the three decades since the U.S. Environmental Protection Agency set rules for testing lead in water.
"All our systems statewide are in compliance with federal and state health and safety regulations with lead," says Vial. "So while we're removing lead pipes because we believe it's the right thing to do, we want all of our customers to know that the water they're receiving meets all standards." Suez is also treating the water with an anti-corrosive, which coats the inside of pipes throughout the system, making it harder for lead to leach out into the water.
Losing The Lead
To determine whether your drinking water is contaminated with lead, you can request a free test from your utility company. Suez customers can find out if their homes are served by a lead line at suezwq.com or by checking their account at MySuezWater.com/njwq; they can also call or email Suez customer service at 800.422.5987 and sueznjcustserv@suez-na.com. "We've trained all of our customer service agents to respond to all questions about lead, including what our records show that they have," Vial says.
Until recently, Suez was only removing the pipes running from the water main to the curb. Because pipes that run from the curb into the house are considered the owner's responsibility, owners would have had to remove those pipes at their own cost. Now, however, Suez is offering free removal of the customer's side—which, says Vial, "is really speeding up the process."
Even after the service line is replaced, you can still have elevated lead levels in your drinking water if you have interior lead pipes or lead solder on those pipes. If that's the case, you can pay a plumber to renovate your piping. Or you can purchase a filter that removes lead from your water. (Make sure the filter is certified by a certifying agency like NSF International, formerly the National Sanitation Foundation, or the WQA—the Water Quality Association—and that the label states that it meets Standard 53.)
The Persistence Of PFAS
Unlike lead, which enters drinking water as it travels through pipes in the system or inside your home, PFAS leach into the water at the source—a well or reservoir— from contaminated soil, so water with elevated PFAS levels needs to be treated at the source. Ridgewood Water, a private utility that serves the Village of Ridgewood, has installed a granular activated carbon (GAC) filtration system to remove PFAS. "It's a long-term solution," says director Rich Calbi, "but it is expensive to install and maintain, as the carbon media requires replacement every one to two years." The utility has joined others across the country in a suit against manufacturers of PFAS, alleging that the presence of the chemicals in drinking water has caused economic losses, including personal injury, a need for medical monitoring and property damage.
In fact, the discovery of PFAS in various water systems in Bergen and across the country has led to a rash of lawsuits to cover the expense of costly remediation systems—a cost that, in most cases, will be (or is being) passed along to the customers in the form of rate increases. In April, Mahwah resident Shenell Harris filed a class-action suit against the township, seeking compensation after a letter from the township's water department announced the discovery of PFOS in one of its wells and advised residents to use bottled water for cooking and drinking and to seek medical advice about potential dangers of ingesting PFOS.
"It was an alarming letter," admits Mahwah's mayor, Jim Wysocki, who says the town's water department sent it out without consulting him first. He notes that the level of PFOS in the water was .0016 parts per trillion (ppt), which was considered acceptable until the state lowered the standard to .0013 ppt in 2020. The town is now looking into filtration systems for the well in question (number 19) and testing its water more frequently. While the lawsuit demands that the township close down the affected well, Wysocki says that would be problematic. "All our wells are integrated," he says. And No. 19 "is a very powerful well—it produces so much water for fire protection that it's hard for us to shut it down."
Purging PFAS
As of this writing, seven municipal water departments in Bergen don't meet the standards for PFAS: Garfield, Ho-Ho-Kus, Mahwah, Oakland, Park Ridge, Ridgewood and Waldwick. Others, like Bergenfield, were out of compliance previously but have since met current standards. Until all of Bergen's systems are in compliance, residents can protect themselves through home filtration. "If homeowners are concerned about PFAS or lead in their drinking water, they can install a reverse osmosis water filter," says Christopher Obropta, a specialist in water resources for the Rutgers Cooperative Extension Water Resources Program. That's what Waldwick residents Ali and Wil Horneff did, both at their home and at Juice Me Organic, the juice bar they opened in Waldwick in 2021. "That was kind of a must for me if I was going to be serving anything made with water, like cashew milk and ice," says Ali. The couple also installed a mineralizer, which restores the minerals the filter removes. "It's very expensive," Ali says, "but we felt it was necessary."
Like the Horneffs, Garfield resident Ellen Bigos was alarmed when she received a letter from her municipal water department notifying her that the town's drinking water had elevated PFAS levels. Though she and her husband have long relied solely on bottled water from Poland Spring, she says, "we were concerned about showering, so we're looking into shower filters." According to Obropta, that shouldn't be a concern. "You probably only need to install a filter on the kitchen sink," he says, "since ingesting water with PFAS and lead is what causes health issues. It's safe to bathe in water that has PFAS."
In spite of such reassurances, of course, the idea of potential contaminants in the county's water is unsettling. And while we know a great deal about the effects of lead on the human body, researchers are still studying the health impact of PFAS and working to ascertain safe levels in drinking water. The federal Environmental Protection Agency hasn't yet set PFAS standards for drinking water, but it recently announced a new initiative on PFAS whose goal is to fund additional research, determine how to keep PFAS from entering the water system in the first place and accelerate its cleanup. Meanwhile, Bergen municipalities are moving forward with remediation efforts of their own, prompted by state standards that are among the most stringent in the nation, with the goal of ensuring that residents are forever protected from chemicals that have no place in the water we drink.
By Leslie Garisto Pfaff